---
---
by
Kim Sunée
• June 7, 2016
---
Yield:
MAKES 1 1/2 TO 2 CUPS •
Total Time:
1 HOUR 10 MIN
---
---
If you haven't already tried bacon jam, here's a go-to condiment that you can make ahead, keep in the refrigerator, and pull out at the last minute to add richness and depth to almost anything you're cooking. A smoked bacon is perfect for this, but the main point is to cook the onions in the fat until it all turns into a glossy caramelized marmalade. Sometimes, I add a pint of ripe tomato or thinly sliced fennel bulb along with the vinegar and mustard.
Aside from eating this straight off the spoon, you might wonder what to do with this sticky salty sweet treat? Often, a good jam just needs a proper piece of toast and nothing else, which is my favorite way to enjoy. But this jam also wakes up a grilled burger or fish sandwich; spread it on grilled bread and top with tomatoes or goat cheese. The rich marmalade can also dress up chicken or a platter of roasted vegetables and adds a layer of bacon loveliness to your next quiche. Slather some onto flatbreads and dot with olives for a small bite to begin a dinner party. Or sandwich into a grilled cheese or quesadilla before heating. I like to double the recipe and keep it on hand or give as a gift to parting guests who, in their bacon-jam-induced high, lick the last spoonfuls, wondering when they will get their next fix.
Note: This can be made, cooled, and stored in an airtight container in the refrigerator up to a couple of weeks. Also, this recipe is easy to double or triple.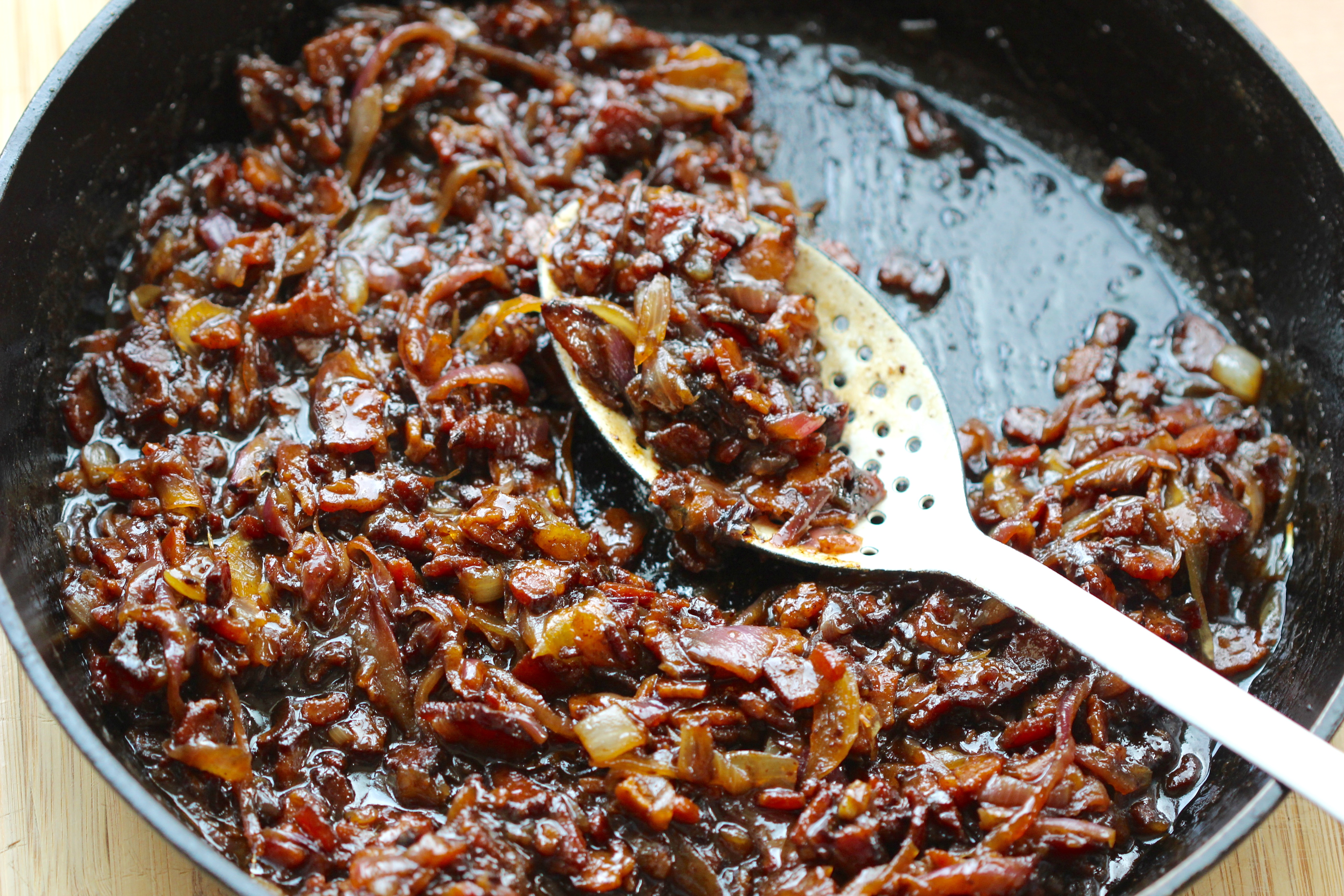 ingredients:
1 pound thick-cut bacon, cut into ½-inch pieces
2 to 3 sprigs fresh thyme or 1 teaspoon dried thyme or herbes de Provence
1 medium sweet onion, peeled, halved and thinly sliced
1 large shallot, peeled and thinly sliced
OPTIONAL: 1 small fennel bulb, thinly sliced or 1 pint ripe cherry tomatoes
1/3 cup maple syrup
1/4 cup balsamic vinegar
2 tablespoons Dijon mustard
2 teaspoons Worcestershire sauce
Salt and fresh ground black pepper, to taste
directions:
Place a large Dutch oven or heavy-bottom skillet over medium-high heat. Add bacon and cook, stirring occasionally until golden brown and starting to crisp, about 20 minutes. Gently tilt pan and scoop out about 2 tablespoons bacon grease; reserve, if desired, for another use. Add thyme, onion, and shallot to the bacon; stir and reduce heat to medium; cook, stirring occasionally, 8 to 10 minutes or until onions are soft. If using, add fennel or tomato, maple syrup, vinegar, mustard, Worcestershire sauce, salt and pepper. (Start with 1/4 teaspoon salt and 1/8 teaspoon pepper.) Bring mixture to a low boil, stir, and reduce heat to low and cook, stirring occasionally until mixture is glossy and jam-like, about 60 minutes. Taste and add more salt or pepper, as needed. Let cool and store in an airtight container in refrigerator until ready to use. Bring to room temperature or rewarm before serving.
---
---
---
---
---