---
Almond Orange Blossom Cakes
---
---
Yield:
makes 12 cakes •
Total Time:
30 minutes
---
---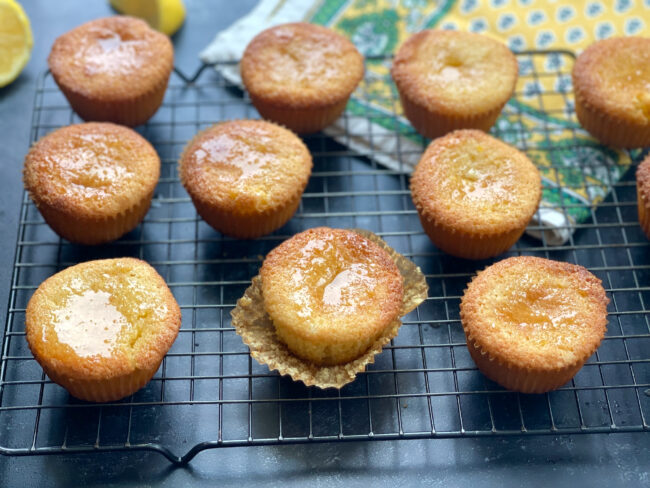 photo by Kim Sunée
These delicate tender cakes–bright with citrus–come together in about 30 minutes. As always, especially with baking, it's best to gather and prep the ingredients ahead of time. Orange and lemon pair well here but lime or grapefruit would be wonderful additions. Just note, you'll need about one large orange and two medium-to-large lemons for this recipe. Orange blossom water is very fragrant, so a little goes a long way, but the essence works beautifully here. Include a bit of orange blossom water in baking, salads, syrups, and ice creams. Look for glass bottles of orange blossom water in the international foods section of the grocery store. Other additions to consider include a hit of vanilla bean in the syrup or a bit of almond extract (if not using orange blossom) in the batter. A simple syrup adds a bit of pizazz but for a more festive treat, try drizzling with melted chocolate or top with candied citrus peel or maybe even a light dollop of crème fraîche swirled with citrus curd. 
ingredients:
2 cups fine (blanched) almond flour, such as Bob's Red Mill
3/4 teaspoon baking powder
1/4 teaspoon salt
3/4 cup/1 1/2 sticks unsalted butter, room temp or softened at room temp
3/4 cup sugar
1 tablespoon grated orange and lemon zest (or lime and grapefruit)
3 large eggs, lightly beaten
2 tablespoons fresh squeezed orange and lemon juice
1 teaspoon orange blossom water, or to taste
Vanilla Citrus Syrup
1 teaspoon finely grated lemon and orange zest
1/3 cup combo fresh squeezed lemon and orange juice
1/3 cup sugar
1/2 vanilla bean, split in half lengthwise
Optional Garnishes: candied citrus peel; dried rose petals; lemon curd; fresh berries
directions:
Heat oven to 350°F. Line cups of a standard (12-cup) muffin tin with paper cupcake liners.
In a medium bowl, whisk together almond flour, baking powder, and salt; set aside. Grate zest into a bowl from 1 large orange and two lemons and set aside; juice the orange and lemons (you'll need a generous half cup of fresh-squeezed juice).
Place softened butter, sugar, and orange and lemon zest in a mixing bowl or bowl of a stand mixer. Beat on high until butter and sugar are very creamy and light and fluffy (about 5 minutes). This is an important step for light and airy cakes. Add eggs, one at a time, and then beat on medium for one minute until glossy and well-combined. Add dry almond flour mixture, a little at a time, citrus juice, and orange blossom water, if using. Beat one minute.
Divide batter evenly among muffin cups. NOTE: I spray a tablespoon measure with cooking spray and use to scoop out batter. Use an offset spatula or back of a spoon to smooth out tops. Bake until cakes are golden and tester inserted in center comes out mostly clean, 25 to 30 minutes.
While cakes are baking, make syrup by combining in a small saucepan, citrus zest, sugar; scrape vanilla bean and add to pan; add scraped bean as well. Bring mixture to a gentle boil, swirling pan or stirring, to dissolve sugar; reduce heat and let simmer a few minutes until mixture is thick and syrup. Remove from heat.
When cakes come out of oven, brush each top of cake with syrup. Brush again. NOTE: any leftover syrup is delicious over pancakes or stirred into a cocktail. Set muffin pan on a wire rack and allow cakes to cool before turning out of pan.
---
---
---
---
---