---
Summer Berry Galettes: Free Form Tarts
---
by
Kim Sunée
• July 14, 2023
---
Yield:
8 •
Total Time:
1 HOUR 45 MIN
---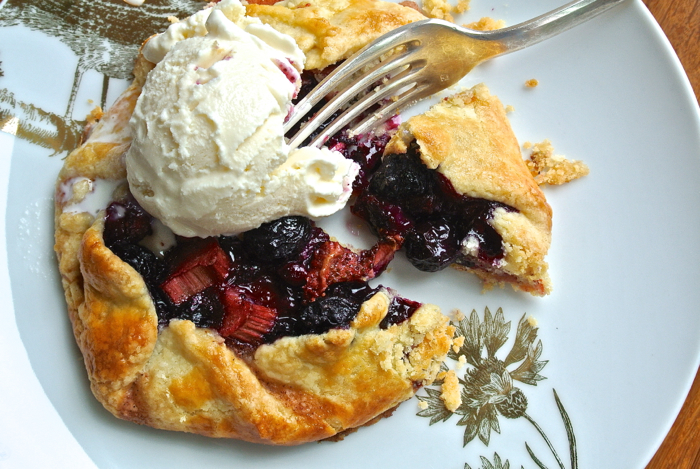 ---
photo by Kim Sunée (Food styling by Jennifer McGovern)
Galette.  Crostata.  Any way you call it, this open-faced free-from tart is easy to make and so delicious.  This recipe is adapted from my good friend, Sara Foster, when we worked together on many food stories for Cottage Living magazine.  The dough for the pastry crust is super easy to work with and turns out flaky and buttery.  Make this tart with your favorite seasonal fresh fruit, such as rhubarb, peach, cherry, and all sorts of berries.  I like to make individual galettes–they make for a pretty presentation–but you could use the dough to make one large rustic tart.
ingredients:
For the Pastry Crust:
2 cups all-purpose flour
3 tablespoons granulated sugar
1/2 teaspoon salt
1 cup cold unsalted butter, cut into pieces (about 16)
1 large egg yolk
3 to 4 tablespoons ice cold milk (or water)
For the Berry Filling:
3 cups total fresh fruit, such as chopped rhubarb, blueberries, raspberries, blackberries
1/3 cup granulated sugar, plus more for sprinkling on top
3 tablespoons cornstarch
1/4 teaspoon ground cinnamon
1/4 teaspoon salt
1 teaspoon vanilla extract
4 tablespoons butter, cut into 8 pieces
1 large egg + 1 to 2 tablespoons milk
directions:
Make the Pastry Crust:
Combine first 3 ingredients in the bowl of a food processor (or a large bowl if not using a processor). Mix in butter with a pastry blender or two forks or pulse a few times until mixture resembles bread crumbs. Whisk together egg yolk and 3 tablespoons of milk and pour into flour mixture, pulsing or mixing, until dough comes together and starts to form a ball. If dough is still dry, add up to another tablespoon of milk. Press together with lightly floured hands and form into a flat round; wrap in plastic wrap and chill at least 20 minutes and up to overnight. Note: Dough can be frozen and thawed just before using.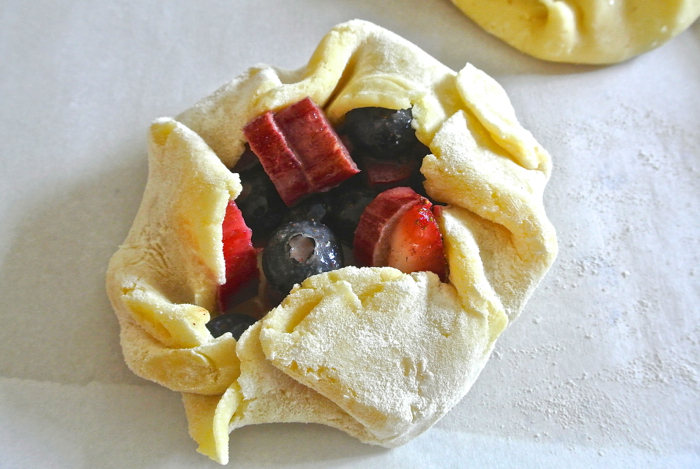 Make the Berry Filling and Galettes:
Preheat oven to 375°. Line 2 large baking sheets with parchment paper (or lightly grease them).
Combine fruit , 1/3 cup sugar, and next 4 ingredients in a large bowl. Toss gently to combine. Remove dough from refrigerator; divide evenly into 8 pieces. Roll, using a rolling pin, each piece on a lightly floured surface into about 6-inch rounds. Place rounds on the baking sheets. Scoop about 1/4 cup fruit mixture into center of each round; top each with butter. Fold about 1 inch of dough over fruit all the way around to form a rim.
Combine egg and milk and brush outside crust of each galette with mixture. Sprinkle tarts lightly with sugar. Bake for 40 to 45 minutes or until golden brown, rotating baking sheets halfway through to ensure even cooking.Let cool on pan 5 minutes. Remove to a wire rack to cool. Serve with fresh whipped cream or vanilla ice cream.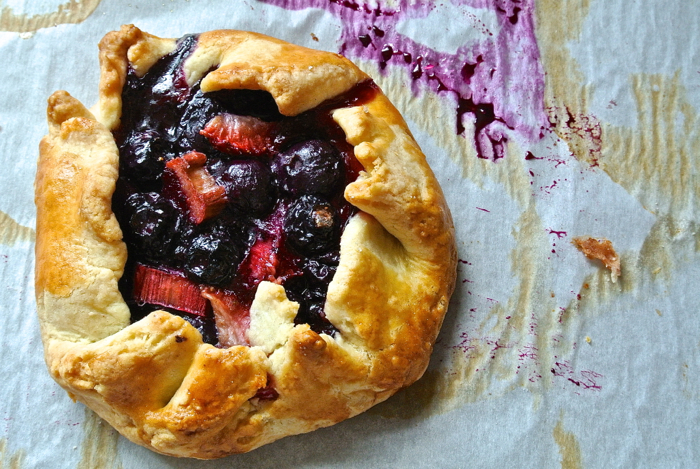 ---
---
---
---
---