---
Cereal Toffee Crunch Cookies
---
by
Kim Sunée
• October 23, 2022
---
Yield:
16 to 18 cookies •
Total Time:
25 minutes
---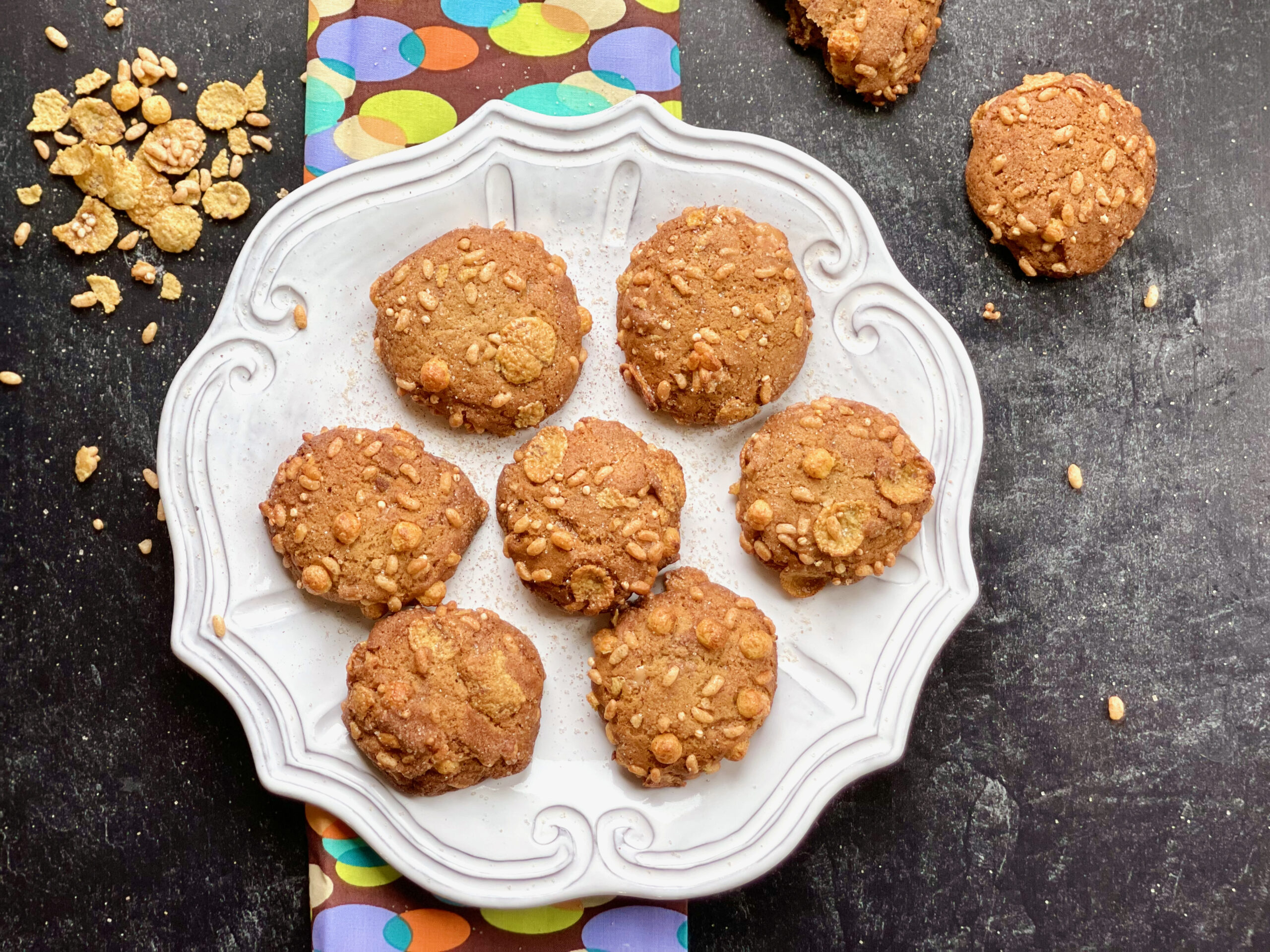 ---
These cookies—crunchy and both sweet and savory, with lots of texture and depth—balance "healthful" morning cereal with toffee-laden candy.
In my early twenties, living and teaching in Sweden, I fell in love with a Norwegian-Swedish candy bar, called Daim—a chocolate-almond-toffee explosion that I often chopped up and tossed into whipped cream or pie fillings and other baked goods. Similar to Heath candy bars, for testing purposes, I tested with both Heath and Daim, and the cereal I had on hand, Nature's Path Sunrise Crunchy Cinnamon Cereal, which has puffs and flakes and other crispy bits but any similar cereal with lots of crunch and texture would do well here. Depth and nuttiness come from browned butter and cinnamon, although you might be inspired this time of year to try other warming spices like nutmeg, cardamom, and ginger. With family in town visiting, after the first taste test, I had to make a double batch as these cookies somehow disappeared the minute they were cool enough to palm.
ingredients
1 cup/2 sticks unsalted butter
2 cups/250g all-purpose flour
1 teaspoon baking soda
3/4 teaspoon fine salt
2 to 3 teaspoons ground cinnamon, divided
Optional:1/4 teaspoon freshly-grated nutmeg; pinch Cayenne; 1/2 teaspoon ground ginger or cardamom
3/4 cup/115-120g packed brown sugar
1/3 cup/about 60g granulated sugar, divided
2 large eggs
1 teaspoon pure vanilla extract or vanilla bean paste or 1/2 teaspoon almond extract
5 to 6 ounces toffee crunch candy bars, such as Daim or Heath, finely chopped
About 3 cups cereal such as Nature's Path Sunrise Crunchy Cinnamon Cereal
directions
Arrange two oven racks in middle of oven or middle and upper third. Heat oven to 350°F. Line two baking sheets with parchment paper.
Cook butter in a medium saucepan over medium heat, carefully swirling pan often and stirring occasionally until butter begins to foam, then brown. NOTE: You'll start to see bits of dark brown at bottom of pot when swirling/stirring and the butter will smell nutty and delicious. This will take about 5 to 8 minutes; adjust heat, as needed, to prevent burning. If, for some reason, butter burns, start over since this is a crucial step. Pour browned butter and scrape any brown bits into bowl of a stand mixer (or large mixing bowl if using an electric hand mixer). Allow to cool slightly while measuring dry ingredients.
Whisk together flour, baking soda, salt, and 1 to 1 1/2 teaspoons cinnamon (and any other spices, if using) in a medium bowl; set aside. To the bowl of brown butter, add brown sugar, half of the granulated sugar and blend, using paddle attachment (or electric hand mixer) on medium speed until well blended and creamy, about one minute. Add eggs, one at a time, beating just until blended after each addition. Continue to mix about thirty seconds more until smooth; beat in vanilla. Reduce speed to low and add flour mixture, a little at a time, and mix until almost all blended; add chopped candy bar pieces, and beat a few more times to bring everything together. The dough will look glossy and a little loose compared to other cookie dough. Cover and place bowl in fridge 10-15 minutes for flour to absorb ingredients and come together and tighten up.
Place cereal in a small bowl. Mix remaining sugar and cinnamon together in another bowl. Scoop about 2-tablespoonsfuls of dough into hands and quickly form into a ball (don't worry about making them perfect; you don't want to over handle the dough) and add to bowl of cereal, turning ball to coat evenly and pressing lightly to help cereal to adhere to dough. Then add cereal-coated ball to sugar and cinnamon and toss to coat, pressing gently to help sugar adhere. Continue with remaining dough and cereal and spiced sugar; place balls on prepared baking sheets, about 2 inches apart. If your kitchen is warm, pop the baking sheets in the fridge for about 10 minutes before baking.
Bake, rotating cookie sheets halfway through for even baking, and until edges are set, and center is slightly puffed, 12-14 minutes. Remove cookies to a cooling rack. Allow cookies to cool completely before storing in an airtight container, at cool room temp.
---
---
---
---
---