---
Cream Cheese Thumbprint Cookies
---
by
Kim Sunée
• December 17, 2022
---
Yield:
30 to 40 cookies •
Total Time:
30 minutes plus chilling time
---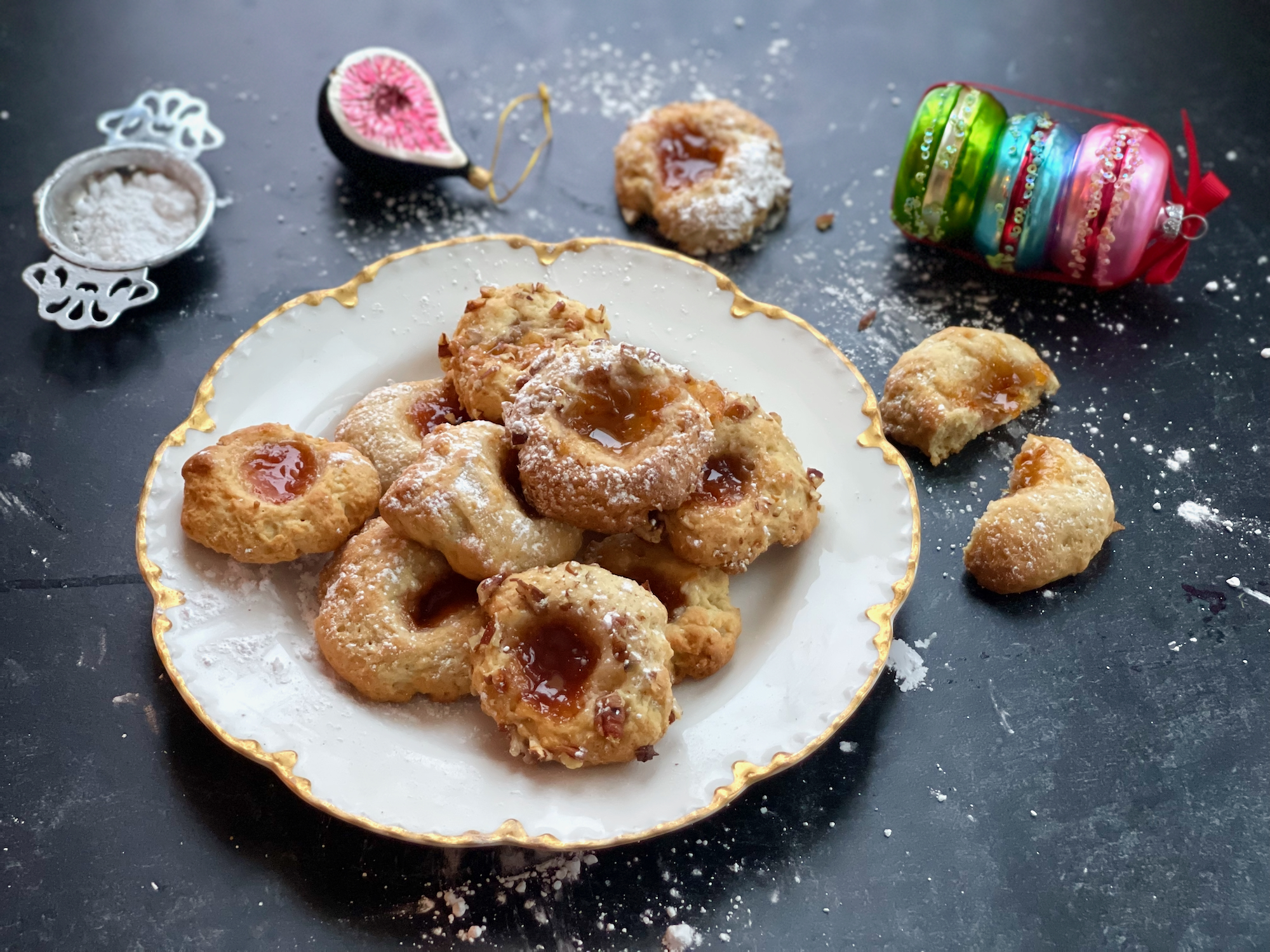 ---
As if classic thumbprints needed a boost, here's a version with the addition of cream cheese for a tangy rich cookie filled with your favorite jam flavors, including apricot, raspberry, and wild blueberry; roll in finely-chopped pecans or almond slices to add texture and crunch. A few tips to keep in mind when getting started: Make sure the butter and cream cheese are "softened" ahead of time. Softened butter and cream cheese can be kept at "room temp" if temperature is around or just under 68°F, the temp at which butter begins to melt. Properly softened butter should still feel cold but hold a thumbprint when pressed; or it should offer little resistance when cut with a knife. If you need to soften quickly, unwrap butter and cream cheese and (separately) give each a quick blast in the microwave at 10-second intervals until just softened but not warm. Leave enough time to properly chill the dough, first after mixing and then again after shaping. If you want perfectly round cookies, use a tablespoon measure to scoop dough before rolling. These will keep, in an airtight container, up to a week, if they last that long.
ingredients
2 1/2 cups all-purpose flour (315g)
1 teaspoon baking soda
1/2 teaspoon fine salt
1 (8-ounce) package full-fat cream cheese, softened to room temp (about 68-70°F)
1/2 cup/1 stick (113g) unsalted butter, softened
3/4 cup granulated sugar (150g)
1 teaspoon pure vanilla extract
1 large egg, at room temp
3/4 cup jam, such as raspberry, apricot, blueberry, etc.
1 cup finely chopped pecans or almond slices
Powdered sugar, for dusting
directions
Whisk together flour, baking soda, and salt in a medium bowl; set aside.
In a large bowl using an electric mixer or a stand mixer fitted with paddle attachment, beat (softened) cream cheese on medium-high until completely smooth and creamy, one to two minutes. Add (softened) butter and beat until combined, one minute, scraping down sides of bowl, as needed. Add granulated sugar and beat on medium-high until creamy, about two minutes. Add egg and vanilla and beat until combined, one minute. Scrape down sides of bowl and blend, as needed.
Slowly add flour mixture to butter mixture and beat on low until combined. Dough will be creamy and sticky. Cover bowl or roll dough into a disc and wrap in plastic wrap; chill dough at least two hours and up to 48 hours.
When ready to bake, heat oven to 350°. Line two large baking sheets with parchment paper or silicone baking mats.
Remove dough from fridge and roll dough into balls (1 tablespoon each). If dough gets sticky, very lightly dip fingers in all-purpose flour or powdered sugar as you work. Roll each ball into chopped pecans or sliced almonds. Place on prepared baking sheets leaving about 2 to 3 inches between cookies. Using your thumb or the round end of a small wooden pestle or spoon dipped in flour, make a well in center of each cookie. Fill each indentation with about 1/2 teaspoon jam (be careful not to overfill as the jam will spread while baking). Place baking sheets in fridge (or on an outside table if cold out) while oven heats to 350°F and at least 10 minutes.
When oven is to temp, bake cookies, switching between lower and upper racks and rotating pans halfway through for even baking, until golden, about 13 to 15 minutes. NOTE: ovens vary so check cookies after 12 minutes. Cookies should be golden and very lightly browned around the edges. Cool cookies on baking sheets five minutes before moving to a cooling rack. Let cool before dusting with powdered sugar.
NOTE: Cookies can be baked ahead and cooled completely before being stored, in an airtight container, at room temp up to 3 days or in fridge for 1 week.
---
---
---
---
---