---
Roasted Brussels Sprouts and Squash with Brown Butter and Crispy Sage
---
by
Kim
• October 14, 2022
---
Yield:
makes 4 to 6 servings •
Total Time:
25 minutes
---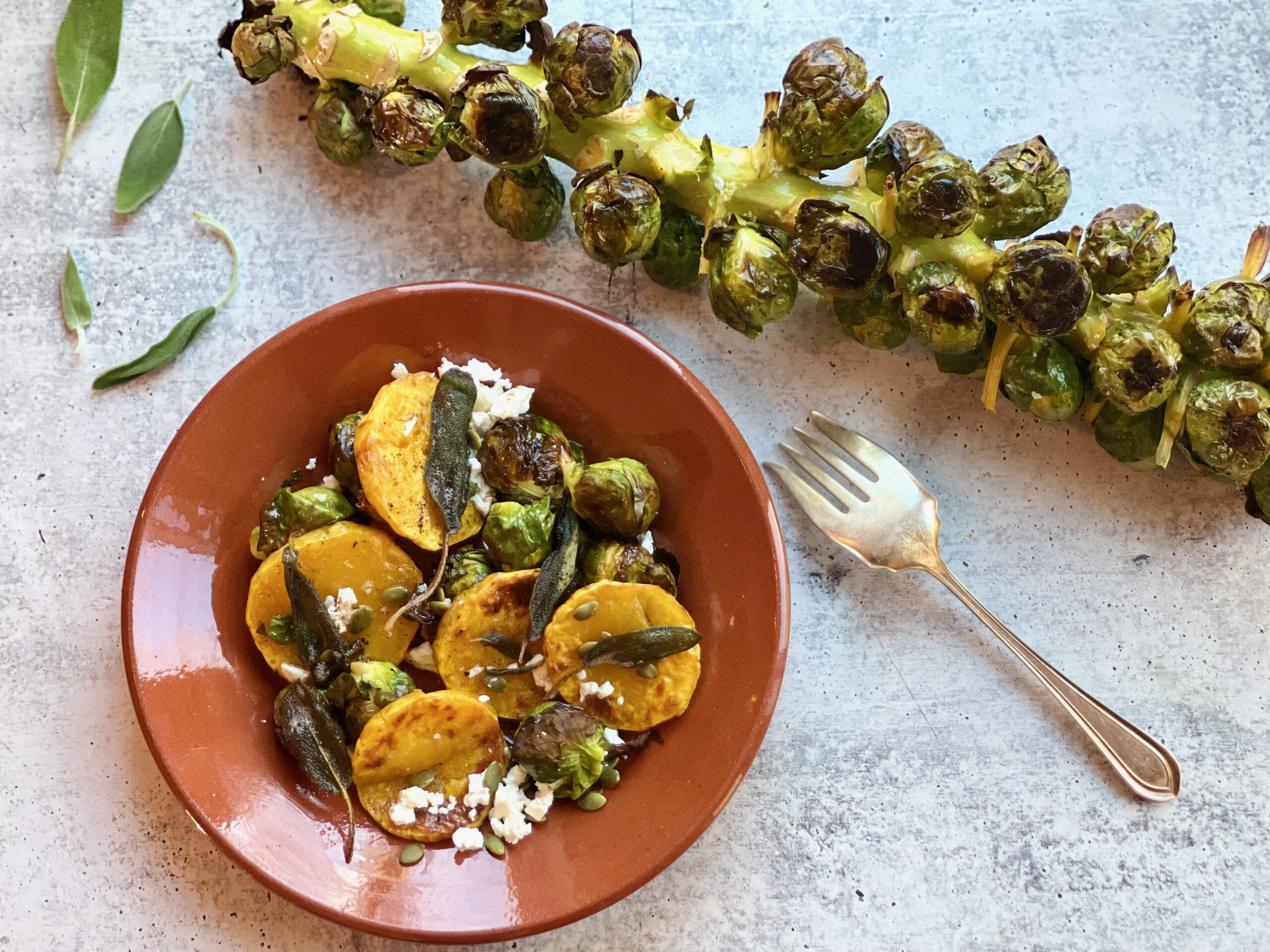 ---
Brussels sprouts on thick burgeoning branches have been popping up at local farmers markets, accompanied by oohs and ahhs as well as puzzled looks as to what to do with them. They make for a gorgeous way to showcase the oft-scorned brassica and are easier to roast than individual sprouts, which need trimming and cutting. I've been roasting the branches whole and snipping off the creamy-on-the-inside, crispy-on-the-outside edible buds with kitchen shears to serve with tzatziki, pesto or lemon-tahini sauce.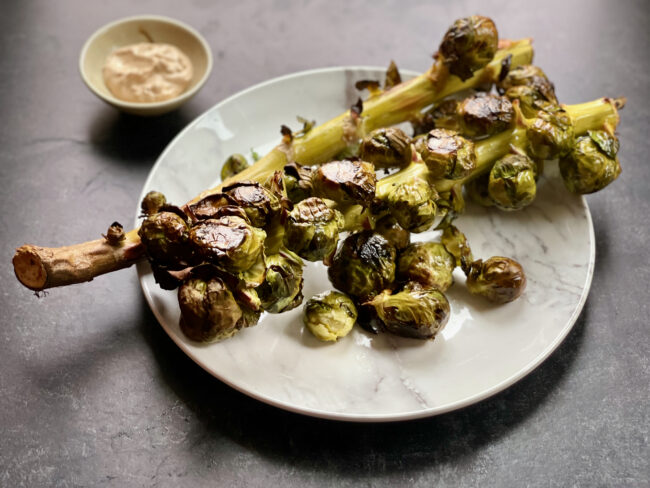 Brussels sprouts also pair well with the abundance of fall pumpkins and other squash currently in season. And in anticipation of the upcoming holiday feasts, I couldn't help experimenting by browning some butter and frying sage leaves, which become crispy and even more fragrant. If you're not a fan of sage, brown the butter and add some capers or garlic slices. Top with everything from fresh pear or apple and a hit of creamy feta to a fresh grating of amaretti cookies–a classic Italian pairing with brown butter and butternut squash. Serve as a first course, a side to roasted fish or meat, or as a main with a simple green leaf salad dressed in a bitey mustard vinaigrette. Leftovers can be piled onto flatbread or used as a base for a savory bread pudding.
ingredients
1 butternut squash (about 1 1/2 pounds), peeled (or store-bought pre-cut fresh butternut squash)
1 large branch Brussels sprouts (about 2 pounds total weight) or 1 pound trimmed Brussels sprouts
Olive oil
Salt and freshly-ground black pepper
3 tablespoons unsalted butter
6 to 8 sage leaves
Optional Toppings: feta; sliced apple or pear; pumpkin seeds or lightly toasted walnuts, pecans, or almonds; pomegranate molasses or pomegranate arils; grated Italian amaretti cookies
directions
Heat oven to 425°F and place rack in center or lower third of oven. Line a large sheet pan with parchment.
Prep the squash if not using store-bought pre-cut: Peel-on is fine, but feel free to remove with a vegetable peeler for easier slicing. Cut into (1/2-inch-thick) slices or half-moons. Place branch of sprouts (or individual sprouts that have been trimmed and cut in half, if large) on sheet pan. If some sprouts are larger than others, use a sharp knife point and cut a shallow slice or X in tip of sprout. Drizzle squash and sprouts with olive oil and season with salt and pepper. If desired, add about 1/2 cup water to bottom of pan—this helps steam the sprouts a bit before crisping up. Keep in mind that ovens vary so keep an eye on temp; I use the convection mode for roasting here.
Place pan in oven and roast vegetables 20 minutes or so, turning vegetables over after 10 minutes and rotating pan, as needed for even cooking. Sprouts are ready when a knife point slides in easily and leaves begin to brown and crisp up. Place roasted vegetables on a serving platter and top with feta, pumpkin seeds, apple or pear slices, etc.
Heat butter in a small saucepan over medium-high heat. Once it melts, lower heat to medium and let cook, swirling pan or stirring frequently, about two to three minutes. Monitor heat so butter browns but not burns. Add sage leaves and swirl pan gently so leaves crisp, another minute or until butter turns golden brown and smells nutty and leaves are crispy. Pour butter and sage leaves over vegetables and serve at once.
---
---
---
---
---