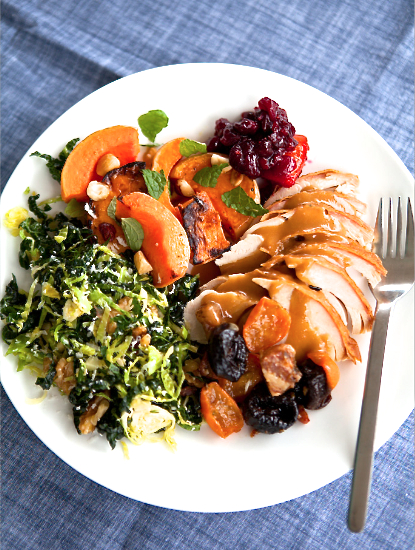 ---
photo by Photo Leela Cyd; food styling Adrian Hale; "A Mouthful of Stars"
Roast turkey and gravy are usually the star for the big Thanksgiving meal but a little love on the side can come from the equally stellar supporting players. On this plate of Roast Turkey with Pancetta and Prunes (lovingly styled by Adrian Hale and photographed by Leela Cyd) from my first cookbook, A Mouthful of Stars: Thinly sliced Brussels sprouts and kale salad; Roasted Squash, Hazelnuts, and Mint; Cranberry and Kumquat Compote. All the recipes are in the book, but here's a salad recipe that you can make all winter long.
I know there are lifelong Brussels sprouts haters out there but this salad has actually converted some of those haters into believers; I've watched some go back for seconds, saying, "I might need to try some more just to make sure it's really Brussels sprouts." The trick is to very thinly slice the sprouts and the kale into thin ribbons.
Exact recipes for salads are almost futile because much depends on what Mother Nature has made seasonably available. The rest is really improv and depends on what you feel like tossing in. For this winter salad, I sometimes cut up an apple or persimmon instead of a pear, or fry almonds to sprinkle on top. You could try feta or queso fresco or leave out the cheese altogether.
If you make this salad the day before serving, just keep the dressing separate and then take a few seconds to rough up the sliced greens with some salt so they can better receive the dressing, which you'll toss in at the last minute.
As for the dressing, I like a simple shallot vinaigrette, but if you want a bit more sass, add minced garlic or anchovy. Or drizzle the whole salad with a warm sizzle of browned butter. And for a cooler, smoother version, whip up an herb-buttermilk dressing.
ingredients:
1 to 1 1/2 pounds Brussels sprouts, cored, halved and very thinly sliced
8 ounces (1 large bunch) kale, thinly sliced
Salt
2 to 3 tablespoons fresh torn herbs, such as parsley, dill, chives, etc.
1 firm but ripe pear (or apple or persimmon), cored and thinly sliced
Shallot vinaigrette (see recipe below)
1/3 to 1/2 cup toasted walnut halves or toasted pine nuts
Arils from 1/2 pomegranate
Garnishes: Shavings of Parmigiano-Reggiano or ricotta salata
directions
Pat dry the Brussels sprouts and kale and place in a large bowl. Rub leaves with about 1/4-1/2 teaspoon of salt. Add the herbs and pear. Toss with shallot vinaigrette. Taste and add more salt and pepper as needed. Add walnuts or pine nuts and top with pomegranate. Garnish, if desired, with cheese. Serve at once. (If you make this ahead, keep salad cool and toss with dressing and nuts just before serving.)
---
---
---
---
---