---
Kale Tomato Rice with Broiled Cheese
---
by
Kim
• February 6, 2023
---
Yield:
Makes 6 to 8 servings •
Total Time:
30 minutes
---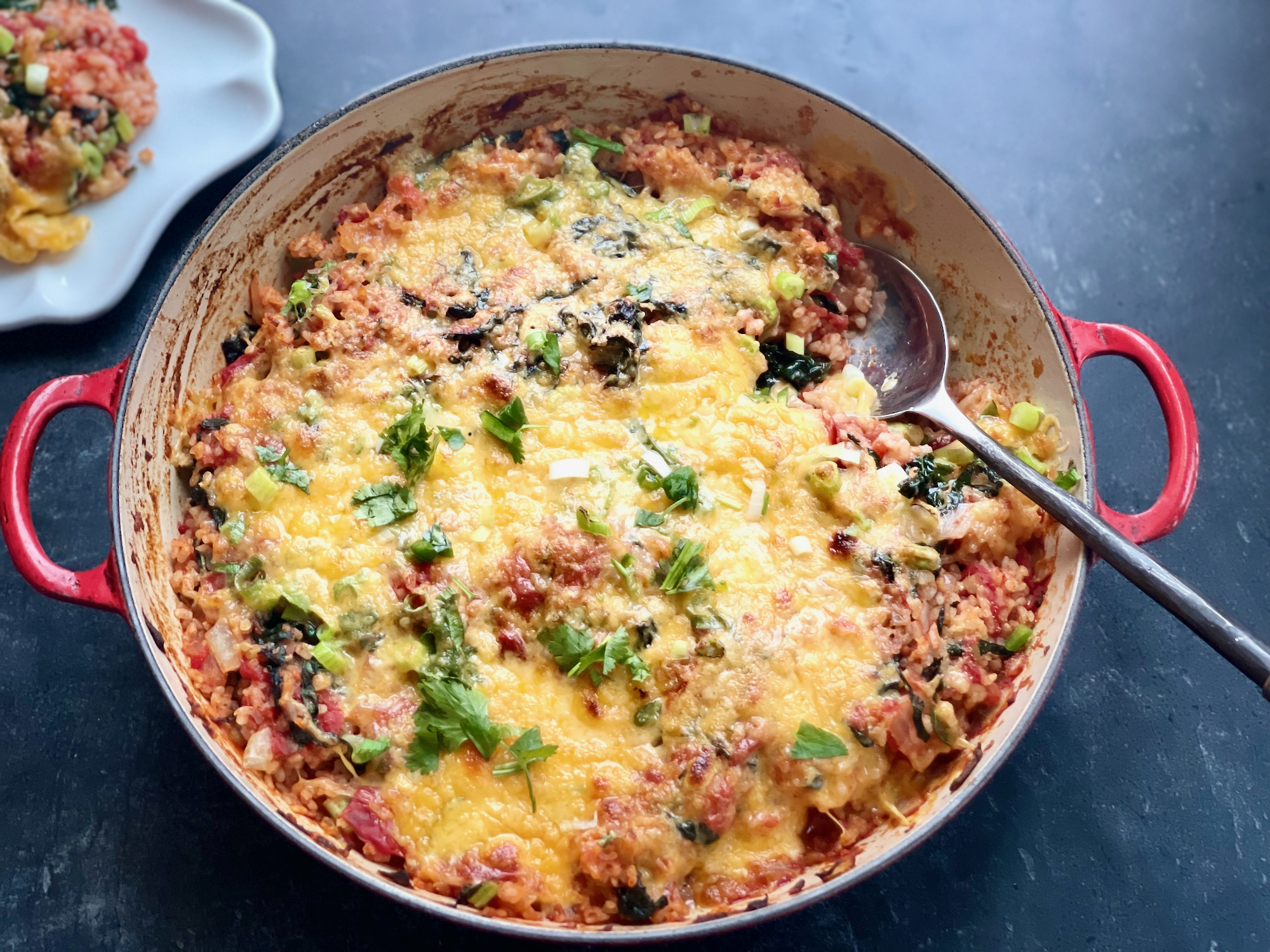 ---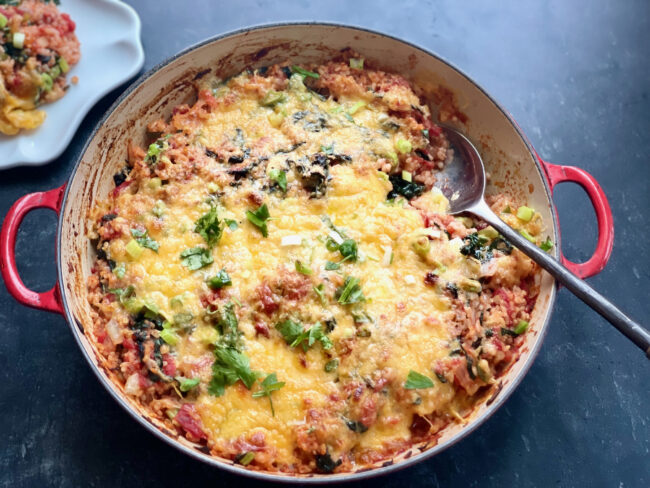 photo by Kim Sunée
This simple weeknight dish of tender rice, leafy greens, and a layer of bubbling cheese is pure comfort food with healthy-ish options. A great way to use up leftover rice and to sneak in extra vegetables, I happened to have kale on hand, but consider adding spinach, sliced carrot, zucchini, or mushroom. For a faraway flavor twist, try hot Madras curry powder and a pinch of turmeric in lieu of or in addition to the paprika and cumin. This dish begins on the stove top and finishes under the broiler, so for easier clean-up opt for an ovenproof skillet from the start. Serve with a side of fresh pico de gallo—chopped tomato, onion, cilantro, and jalapeño or a favorite vinegar-based hot sauce.
ingredients:
3 to 4 cups cooked basmati, jasmine, or brown rice (from about 1 cup dry rice)
2 tablespoons olive oil or other vegetable oil
1 small onion or leek, finely chopped (about 1 1/2 cups)
1 to 2 serrano chiles or jalapeños, finely chopped
3 cloves garlic, minced
1 bunch kale (leaves and stems thinly sliced)
1 (28-ounce) can diced tomatoes
Salt and freshly-ground black pepper, to taste
1 teaspoon ground cumin
3/4 to 1 teaspoon smoked paprika (or hot Madras curry powder)
1 cup shredded sharp Cheddar or Monterey Jack
For serving: flake salt; thinly sliced green onion; pico de gallo; hot sauce
directions:
If using leftover rice, bring to room temp. Otherwise, cook about 1 to 1 1/4 cups dry rice; set aside. Preheat oven to 450° F.
In a large shallow ovenproof pot, heat oil over medium-high heat. Add onion and chile and cook, stirring occasionally until onion is translucent and begins to turn golden, 5 to 7 minutes. Stir in garlic and kale and cook, stirring occasionally, 2 minutes. Add tomatoes and cook over medium-high heat, Crush tomatoes with back of spoon and cook, about 5 minutes, allowing most of the liquid to evaporate (the amount of liquid will depend on brand). Add 1 teaspoon salt, 1/2 teaspoon freshly-ground black pepper, cumin, and paprika. Stir in cooked rice and taste and adjust seasoning, as desired. If not using an ovenproof skillet, transfer mixture a baking dish and top with an even layer of cheese. Turn oven to broil and broil until cheese is bubbling and golden 3 to 5 minutes. Remove from oven and let sit 5 minutes before serving with pico de gallo or thinly sliced green onions, hot sauce, and some finishing salt.
---
---
---
---
---