---
Focaccia with Summer Squash and Olives
---
by
Kim Sunée
• July 22, 2022
---
Yield:
6 to 8 •
Total Time:
30 MINS + RISING TIME FOR DOUGH
---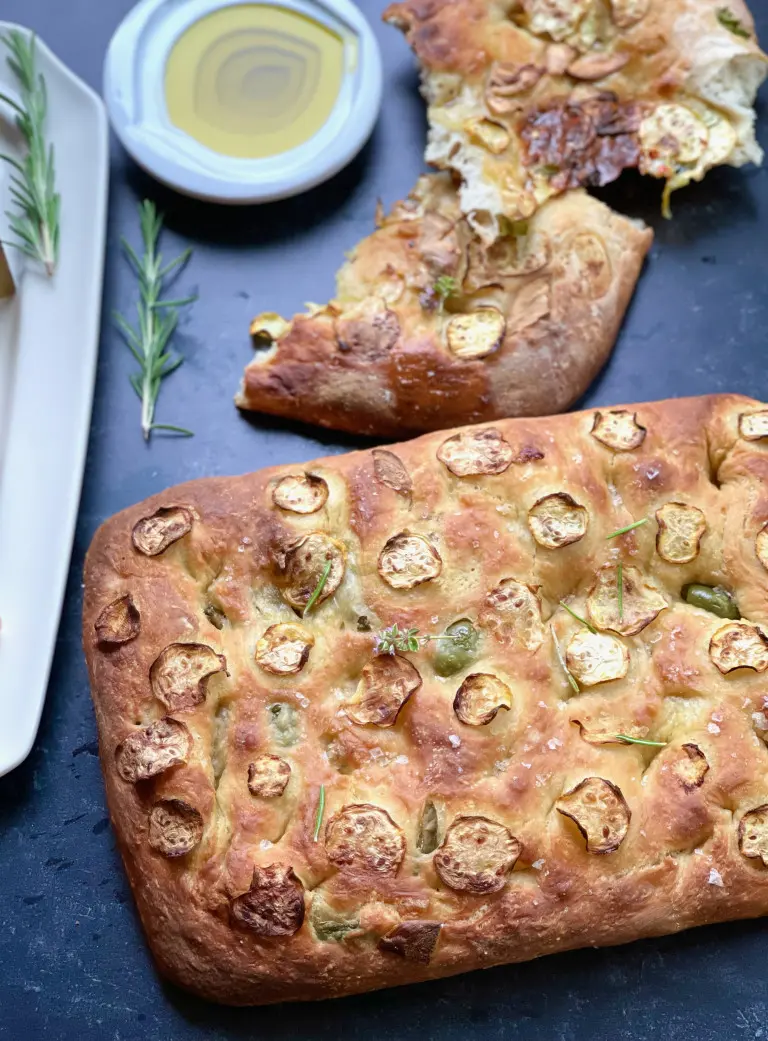 ---
There's nothing like thick sheets of salty warm focaccia, similar in texture to pizza dough, but slightly thicker and misshapen in the best possible way. Often served as a side or used for sandwiches, the dough can be rectangular, square, or round. Flavor options are as limited as your imagination. Think roasted tomato, mozzarella, fresh herbs or maybe a sweet and savory combo with fresh peach and basil or plump grapes and creamy feta.
This time of year, summer squash is abundant and pairs well with the briny hit of olive. You can enjoy this the same day it's baked, but if there's time, consider proofing the dough for at least eight hours or overnight in the fridge for a deeper, more complex flavor. Focaccia travels well and is a welcome addition to moveable feasts. For a twist on sandwiches, slice focaccia lengthwise and top one cut side with favorite fillings (i.e. mozzarella +basil + tapenade + tomatoes; prosciutto + salami + onion slices + cheese; Feta + dill + thinly sliced lemon) and cover with other half; wrap tightly and press down with a heavy pan or cutting board for about 15 minutes so all the flavors seep into the nooks and crannies.
ingredients
4 cups (about 16 ounces) white bread flour or all-purpose flour, plus more for dusting
1 (1/4-ounce) packet/about 2 1/4 teaspoons active dry yeast (
1 teaspoon salt
1 teaspoon sugar or honey
Optional: 1 to 2 tablespoons sourdough starter
1 1/2 cups warm water (100°F)
3 to 4 tablespoons good-quality extra-virgin olive oil
1 small yellow squash or zucchini or a combo of both, very thinly sliced
1/2 cup green or black olives, pitted and halved or quartered
Optional ingredients and garnishes: chopped jalapeño; sliced garlic; flake salt; fresh herbs or green onion; freshly-grated Parmesan
directions
Scoop flour into measuring cup and level off with flat side of a table knife; add four cups/about one pound flour to bowl of a stand mixer (or a large mixing bowl). Add yeast (check expiration date), salt, and sugar. If using a stand mixer, use dough hook attachment and set speed to medium; slowly drizzle in warm water and one tablespoon olive oil and if you have some sourdough starter, add one to two tablespoons as well; mix until dough becomes a sticky mass. Only if needed, add a tiny bit more flour to get the right consistency. Dough should be sticky when poked with a dry (unfloured) finger, but should come off skin easily. Then knead, using dough hook, or turn dough out onto a dry floured work surface, for four to five minutes. Lightly oil a large bowl and roll the kneaded dough around in the bowl so it's just lightly coated with oil. Place a clean kitchen towel or plastic wrap over bowl and set in a warm place to rise until doubled in size (about one hour). If your kitchen is cool, heat oven to 160 to 170°F°; turn off oven and place bowl in oven with door slightly ajar. NOTE: At this point, you can store dough, covered, in fridge for a slow rise (at least 8 to 10 hours and up to overnight). Remove from fridge about 20 minutes before using to allow dough to come to (cool-ish) room temp.


Brush or grease, with a thin layer of olive oil, a rimmed baking sheet or a 9-x-13-inch metal baking pan (or equivalent in volume). Note that the smaller the pan, the thicker the focaccia and baking time will need to be adjusted accordingly. When dough has risen to almost double in size–if proofing dough in fridge, note that dough will not have risen as much as when proofing in a warm spot–turn risen dough out onto a clean, lightly-floured surface. Add in olives, if using, and fresh thyme or chopped rosemary leaves, if using (or other preferred ingredients). Knead only once or twice to fold in ingredients; be careful not to overmix and deflate the dough. Place dough in prepared pan and use fist to spread and push dough out into edges of pan, and almost into corners; some of dough will spring back during the second rise. Cover with a cloth or plastic wrap and allow to rise again in a warm, draft-free spot for one hour or until almost doubled in size.


Heat oven to 425°F. NOTE: If you have a pizza stone, place on bottom shelf of oven. When oven is ready, use a floured finger and press several indentations into dough without poking finger all the way through. Top with sliced squash and zucchini (and any other optional ingredients); drizzle with some olive oil and scatter salt flakes over. Bake on pizza stone, if using, rotating pans as needed for even baking, 30 minutes or until golden brown and bottom is golden and sounds hollow when tapped. Remove from oven and drizzle with more olive oil and garnish, if desired, with fresh herbs or chile flakes, etc. Let cool slightly before cutting or tearing.
---
---
---
---
---