---
---
by
Kim Sunée
• August 16, 2016
---
Yield:
6 TO 8 •
Total Time:
10 PLUS SOAKING TIME FOR RAISINS MIN
---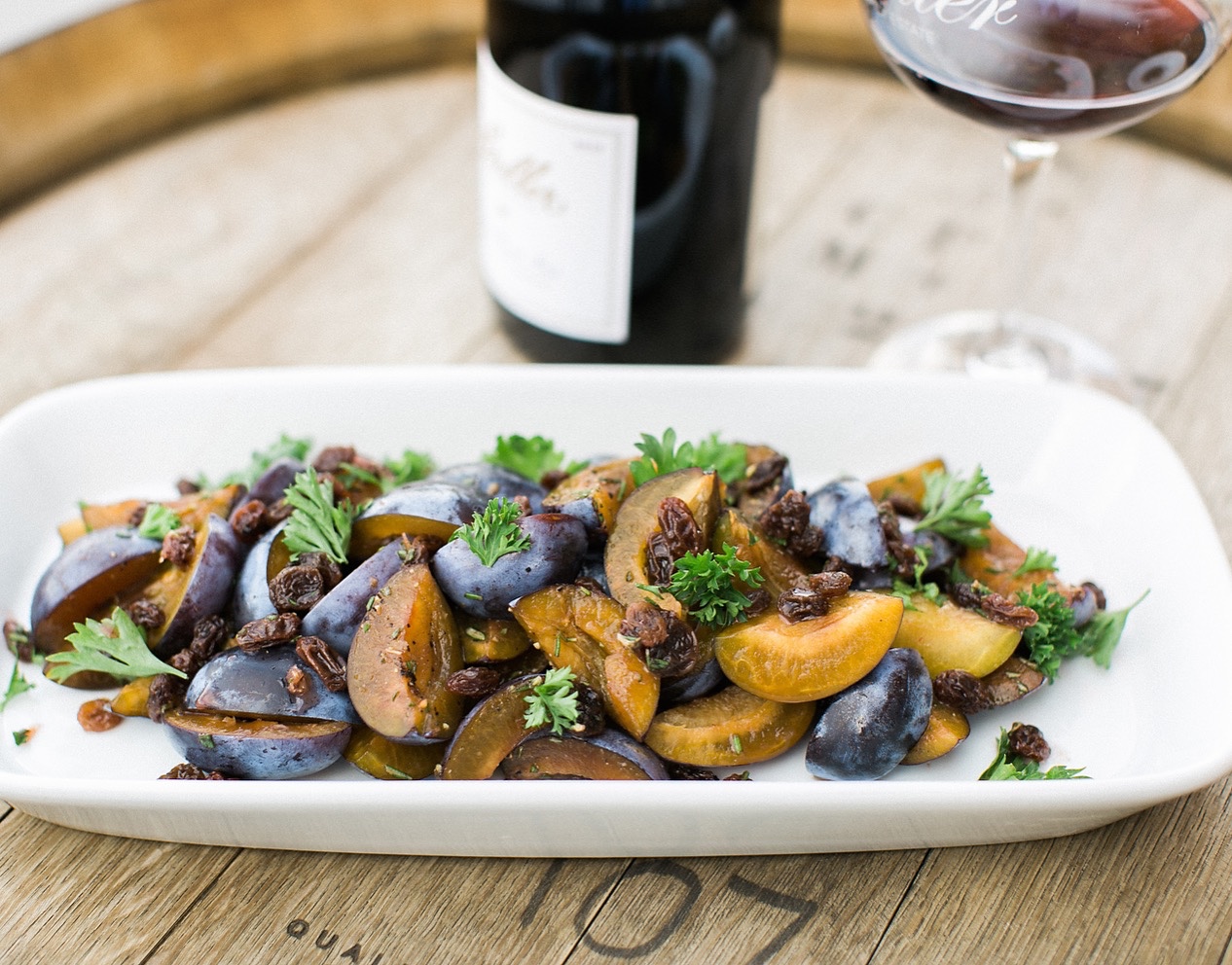 ---
Here's another mouthwatering recipe from Chadwick Boyd, who also kindly shared with us his Charred Brussels Sprouts with Orange Miso Glaze.
Of this refreshing combination of stone fruit and herbs, Chadwick says: "Stone fruit is one of my favorite fruits, especially plums. And I love to pair them with wine, especially Oregon Stoller Family Estate Pinot Noir for this particular recipe, which I helped make during harvest a couple years ago; the full fruit flavor pairs very well with ripe plums but you can use any favorite red wine you have on hand. This salad also uses whole, fresh parsley leaves like salad greens. The simple pinot and honey dressing brings it all together for a delicious salad. The dressing calls for 1/3 cup wine, so enjoy the rest of the wine while cooking. That's what I do!"
ingredients:
1/4 cup golden raisins
1/3 cup pinot noir
5 to 6 ripe plums (depending on size), pitted and sliced into ¼-inch thick wedges
1 cup whole, fresh Italian parsley leaves, washed and dried
3 tablespoons olive oil, plus more for garnish
3 tablespoons honey
1/2 teaspoon coarsely cracked black pepper
1/2 teaspoon finishing salt, such as Maldon Flake Salt
directions:
Place raisins in a small bowl and pour pinot noir over to cover. Let soak for a couple of hours. Remove raisins with a slotted spoon and reserve remaining wine for the dressing.

Place plums and parsley in a large mixing bowl. In a small mixing bowl, whisk together the reserved wine, olive oil, honey and pepper until well-blended. Pour mixture over plums and parsley and gently fold together with a rubber spatula or large spoon until fruit and parsley are coated. Transfer to a serving platter with tongs or large spoon. Drizzle, if desired, with a little more olive oil. Sprinkle with finishing salt and more cracked pepper.
---
---
---
---
---