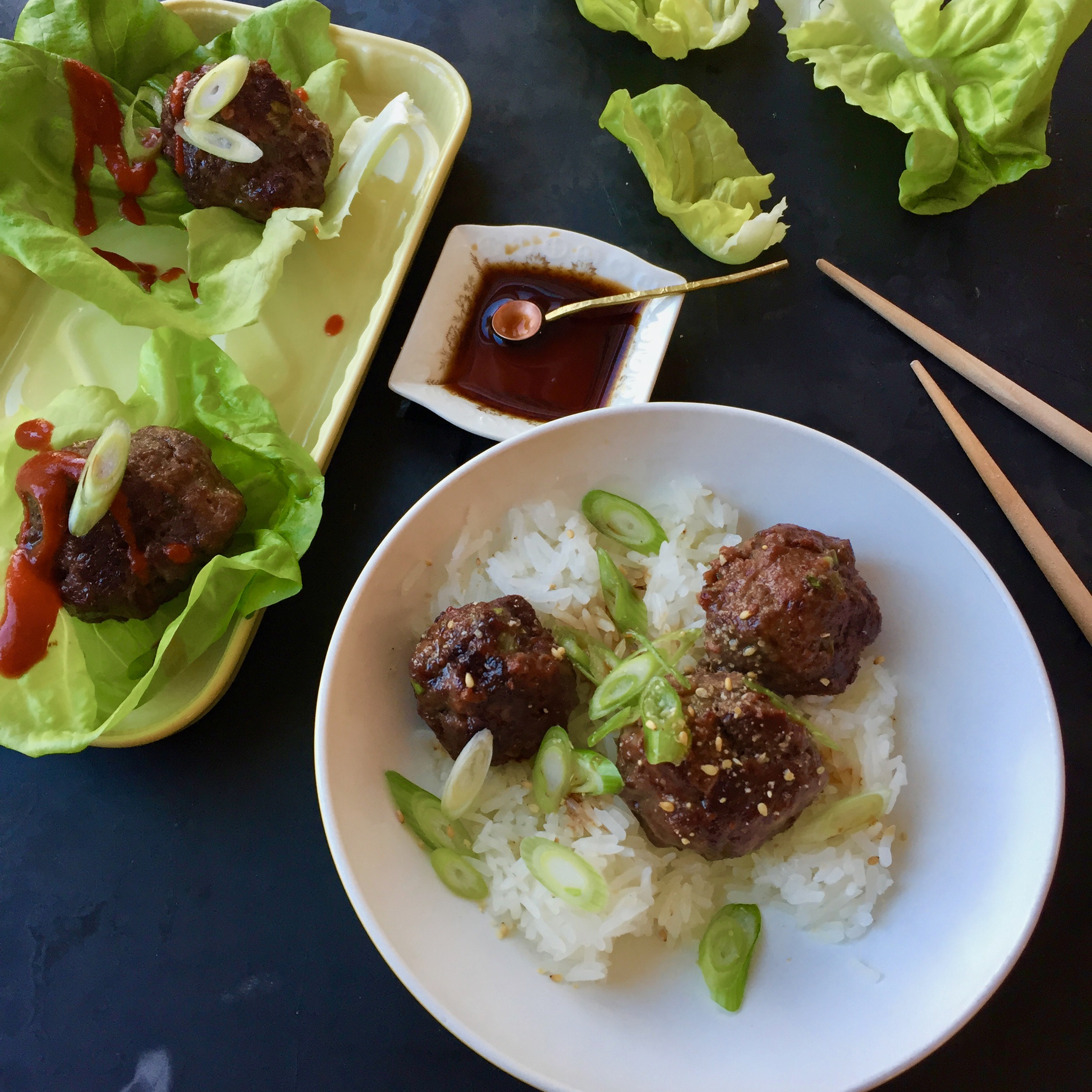 ---
These tender, juicy meatballs with hints of ginger, soy, and garlic make for an easy weeknight dinner or a stand-and-snack appetizer for weekend guests. You can form them into patties for sliders or serve in lettuce wraps for a lighter bite. They're also good over a bowl of steamed quinoa, rice, or creamy mashed potatoes. If the meat you're using is particularly lean, you can always add some minced prosciutto or bacon into the mix. Recipe from Everyday Korean.
ingredients
1/4 cup low-sodium soy sauce
2 teaspoons fish sauce (optional)
2 to 3 tablespoons dark brown sugar
1/4 Asian pear, or Bosc or Bartlett, grated
1 tablespoon minced garlic (about 3 to 5 medium cloves)
One (2-inch) piece fresh ginger, grated
3 to 4 tablespoons minced green onion (about 4 green onions), plus more for garnish
1/2 teaspoon freshly ground black pepper
1 large egg, lightly beaten
1/3 cup dry bread crumbs, homemade or Panko
1 pound ground beef, preferably chuck and short rib
1 pound ground pork or veal
Vegetable oil, such as avocado or grapeseed oil, if pan frying
For serving: Slider buns, Lettuce Leaves, Steamed Rice
directions
In a large bowl, combine the soy sauce, fish sauce, if using, brown sugar, pear, garlic, ginger, green onion, black pepper and whisk to combine.  Add egg and breadcrumbs, ground meat and mix just to combine all the ingredients, being careful not to overmix. Cover and let chill in the refrigerator, 30 minutes and up to 2 hours. 
Heat oven to 425°. Line two rimmed baking sheets, if desired, with parchment or foil. Form meat mixture into approximately 18 slider patties or 30 to 40 mini meatballs and divide evenly on two baking sheets. Bake meatballs until golden and cooked through but still tender and moist, about 18 to 20 minutes. STOVE TOP: Heat about 1 tablespoon oil in a large pan over medium high heat. Add the meatballs, being careful not to overcrowd the pan. Cook, shaking pan occasionally, until meatballs start to brown on one side, about 3 minutes. Gently turn and cook another 3 to 4 minutes or until meatballs are just cooked through and still tender.
NOTE: If making sliders and adding cheese, top patties with cheese about 2 minutes before cooking time is over. Toast the slider buns, top with patties and your favorite toppings. Or serve meatballs with lettuce leaves and rice, or on top of rice bowls.
---
---
---
---
---