---
Sheet-Pan Roasted Chicken with Flatbread
---
by
Kim Sunée
• September 20, 2017
---
Yield:
4 to 6 •
Total Time:
1 HOUR
---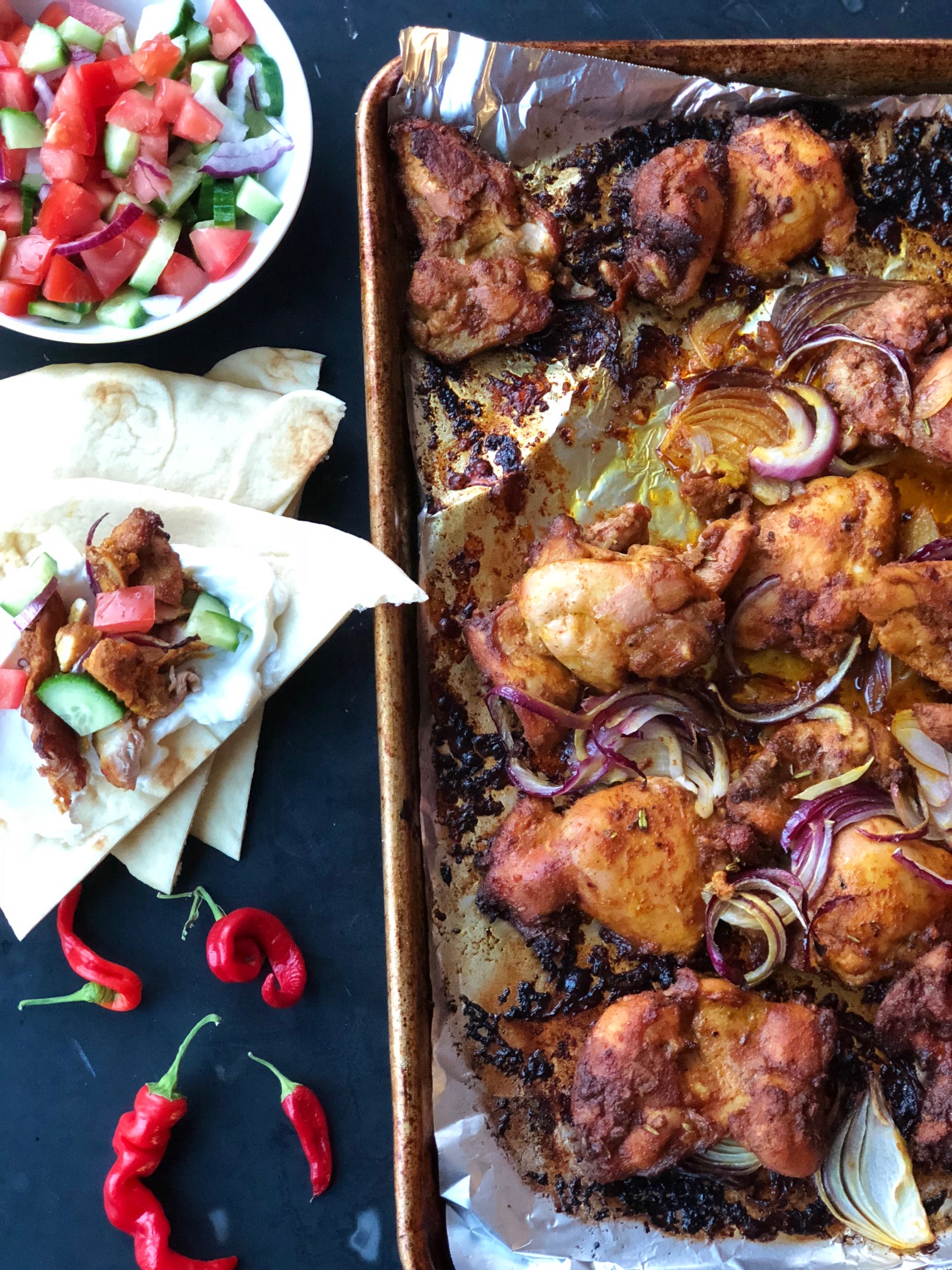 ---
This oven-roasted chicken makes the best of chicken thighs, marinated in warming spices, including turmeric and cinnamon, paprika and cumin. It's a one sheet-pan kind of meal and perfect for both quick weeknight suppers or more casual convivial dining. Serve with warmed flatbread–pita or naan; hummus, pickled veg, roasted eggplant with pom and pine nuts, cucumbers, tomatoes, and more.
ingredients:
Juice of one large lemon or orange
1/3 cup extra virgin olive oil, plus 1 tablespoon
4 to 5 cloves minced garlic
1 1/2 teaspoons fine salt
1/2 teaspoon fresh ground black pepper
1 tablespoon ground cumin
1 tablespoon smoked paprika
1 teaspoon dried herbes de Provence or dried Italian seasoning or za'atar
1 teaspoon ground turmeric
1/4 teaspoon ground cinnamon
1/4 teaspoon ground cayenne pepper
2 to 2 1/2 pounds boneless, skinless chicken thighs
1 large red or yellow onion
To serve:
4 to 6 naan or pita, cut in half and warmed in a skillet or microwave
Hummus and sliced cucumbers, tomatoes, and feta with a drizzle of olive oil and a splash of wine vinegar
Yogurt-Cucumber Sauce: Three cups plain yogurt stirred with one medium grated cucumber, one small minced clove of garlic, and salt to taste. Or Harissa.
directions:
Combine lemon juice, 1/3 cup olive oil, garlic, salt, pepper, cumin, paprika, herbes de Provence, turmeric, cinnamon, and cayenne together in a bowl. Add chicken thighs, poke holes all over the thighs with a fork and rub the spice mixture (a food-safe glove comes in handy here) all over the chicken. Cover and let marinate in the refrigerator at least 1 hour and up to 12 hours.
Heat oven 425°. Rub a large sheet pan with remaining tablespoon olive oil or line with non-stick aluminum foil and spray with cooking oil. Spread onion slices over bottom of pan in an even layer; top with chicken and marinade. Cook 35 to 40 minutes, turning pan for even cooking after 20 minutes, or until chicken is cooked all the way through and browning along the edges. If desired, heat oven to broil and broil 1 to 2 minutes or just until chicken is browned and bubbling and begins to char a bit here and there. Cut thighs into thin strips or chunks.  Taste and add more salt or pepper, as needed. To serve: Spread a layer of yogurt cucumber sauce over bottom of a warm naan or pita bread; top with chicken. Serve with tomatoes and cucumbers. Any leftovers make a great salad the next day or all tossed together into a frittata or over a rice bowl.
---
---
---
---
---