---
---
by
Kim Sunée
• December 20, 2017
---
Yield:
MAKES 10-12 CRÊPES •
Total Time:
10 MIN
---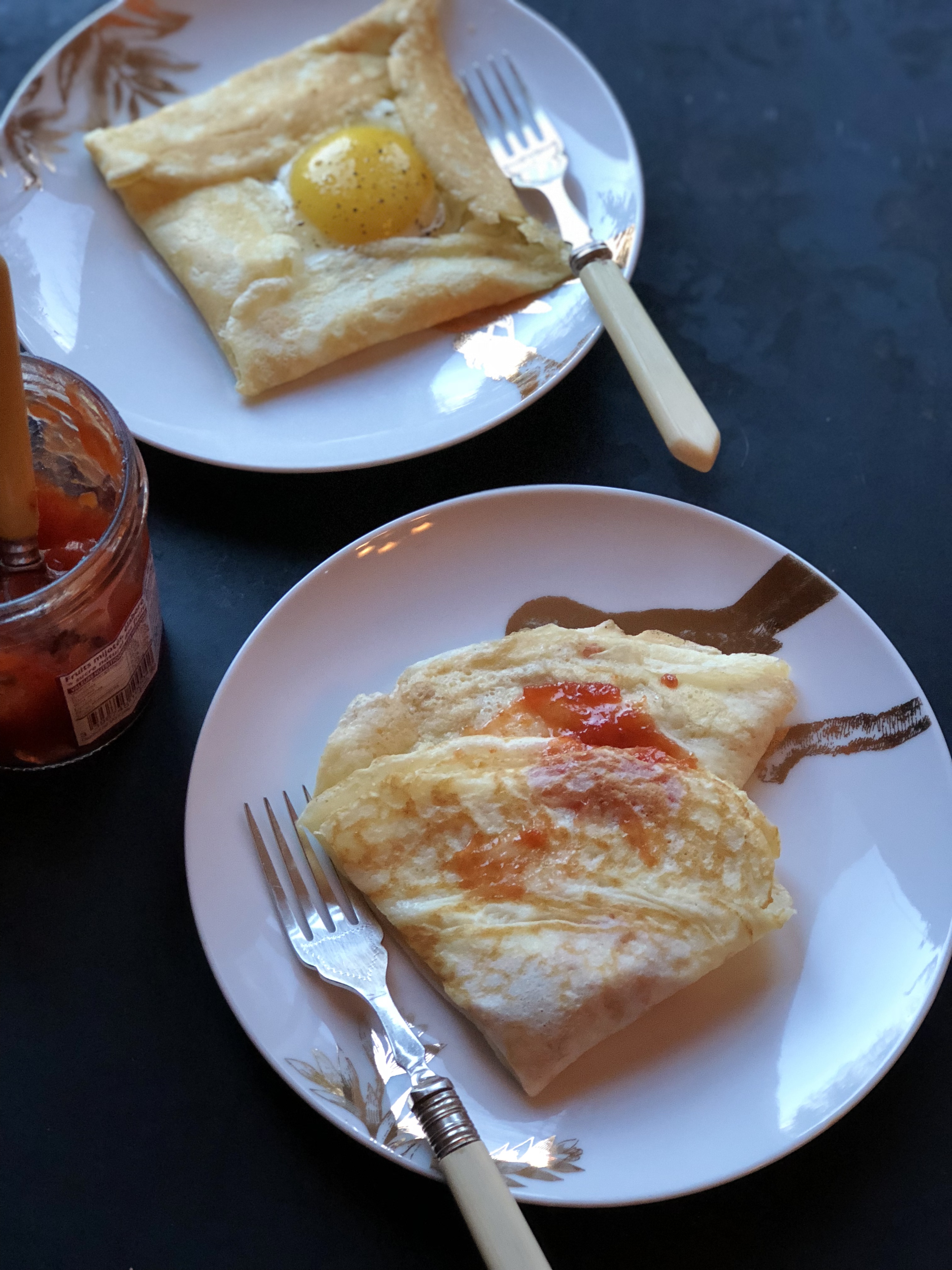 ---
Winter holiday season is often a time when you need a few quick and easy recipes for anytime-snacking. Enter the crêpe, one of France's beloved street foods. The savory version, originally from Upper Brittany and known as galettes, enlist buckwheat flour for a thick, moist pancake and are filled with everything from smoked fish and sausage, to ham and cheese or egg. Sweet versions, made with unbleached wheat flour, originally from Lower Brittany are what most of us think of as the crispy-edged French crêpe. Both are deeply satisfying and traditionally served with a small bowl of sparkling hard apple cider.
While not difficult to make, it takes a few turns at the stove to get crêpes just right. I hadn't made them in years, actually, but having just returned from France with my family, the request as soon as we landed back in the States was for crêpes au Nutella. 
You'll need a crêpe pan or a well-seasoned non-stick skillet. (I've been using Ballarini PFOA-free Italian skillets lately and find the 8-inch perfect for crêpe making.) For the batter, you can add your flour to a bowl, make a well and add the remaining ingredients before whisking vigorously.  However, it's easy to use a blender, which makes for a quick batter that gets aerated just so and yields a light and fluffy crêpe. You can use this as a basic recipe but if making a sweet version you can add, if desired, two tablespoons of granulated sugar to the batter.
I usually keep my batter in the blender or pour it into a large measuring cup with a spout and gently pour and tilt the pan at the same time, so the batter coats the pan in one even layer. 
The first one is often the frumpiest of the lot—a bit lumpy, but gobbled hot from the pan with a squeeze of lemon and a smear of good honey or jam, it's actually my favorite. The more presentable ones are thin and barely golden with frilly edges. Let guests eat them hot from the pan with their choice of sweet filling or add the savory fillings while the crêpe is still in the pan. 
ingredients
1 1/3 cups whole or 2% milk
3 large eggs
1/2 teaspoon salt
1 cup buckwheat flour (or unbleached white all-purpose flour)
1/3 cup unbleached white all-purpose flour
3 tablespoons melted unsalted butter
Butter or neutral oil, for greasing pan
Optional savory fillings: fried egg; smoked salmon or leftover cooked salmon; ham and cheese, sautéed spinach and crème fraîche. NOTE: If making a sweet preparation, add 1 to 2 tablespoons granulated sugar to the batter when you add the eggs. Sweet filling suggestions: salted caramel and sautéed apples; Nutella or jam; fresh bananas and berries; chocolate or strawberry sauce…
directions
Place milk, eggs, and salt in a blender. Cover the blender and blend at low speed for about 15 seconds. Add the flours and melted butter and blend for 45 seconds on high speed. If desired, pour mixture into a measuring cup with spout and let sit 10-20 minutes or, cover and refrigerate for one hour and up to overnight. Bring to room temperature before using.


Place a well-seasoned crêpe pan (or an 8-inch non-stick skillet) over medium heat. Brush pan with butter or oil. When pan is hot, lift pan from heat and tilt pan, pouring in 2 to 3 tablespoons of batter; quickly swirl the pan so the batter creates a thin even layer. Return pan to the heat.  Cook for about one minute, until you can easily lift the edge of the crêpe using a thin spatula.  If browning too quickly, reduce heat. Turn crêpe and cook other side for about 30 seconds.  Turn onto a plate and continue with the remaining batter.
---
---
---
---
---