---
Key Lime Pie: A Mouthful of Stars
---
by
Kim Sunée
• May 13, 2016
---
Yield:
MAKES 1 (10-INCH) PIE •
Total Time:
tbd
---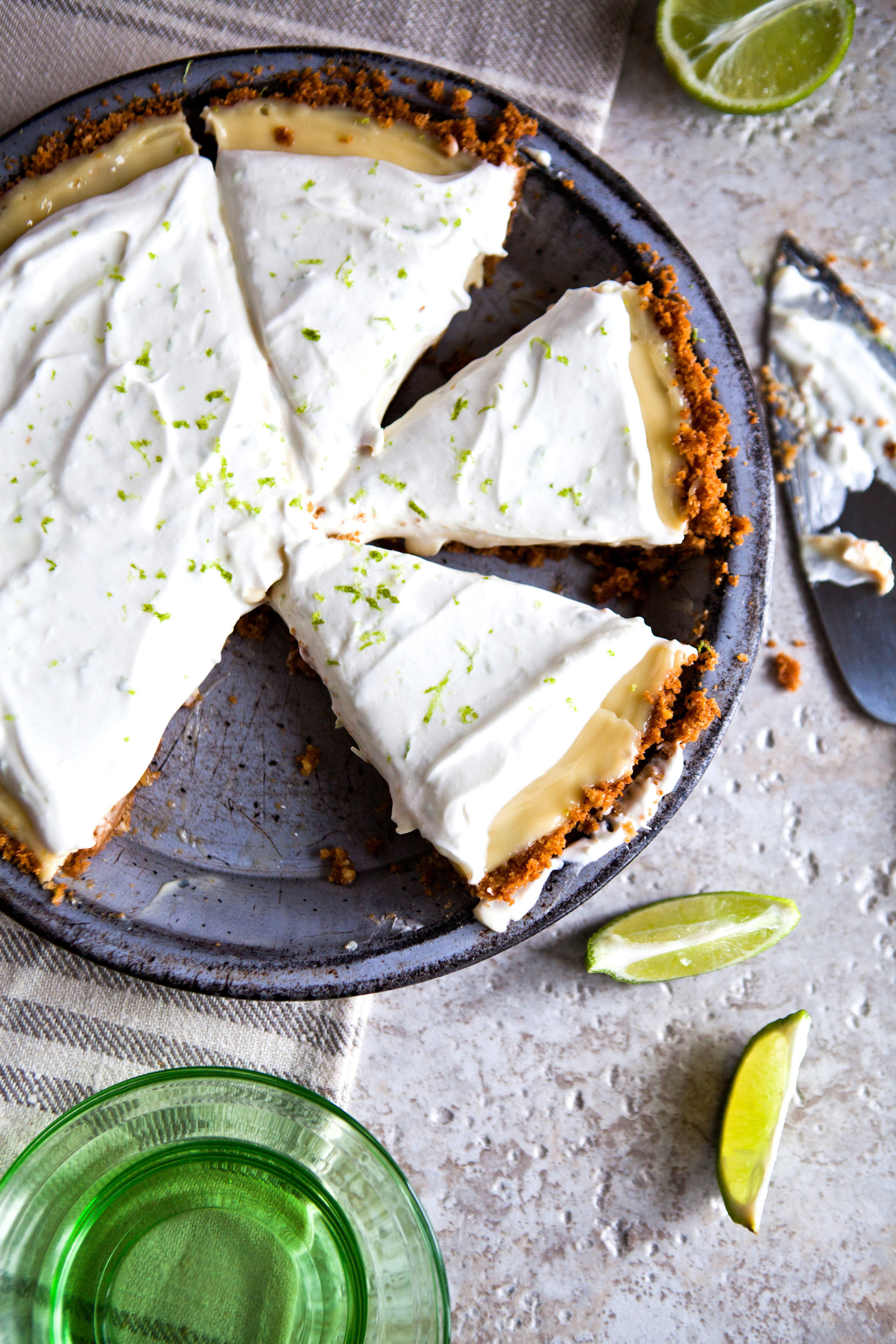 ---
There's something dizzying and delightful about grating enough citrus zest so that its heady scent fills up the entire kitchen with a pleasant punch, the taste buds standing at attention. Whether incorporated into a curd to dollop onto pancakes and biscuits or to whisk into a marinade or a vinaigrette, adding zest is an easy way to transport you to the sunnier side of things.
One of my favorite ways to indulge in citrus is Key lime pie. The crust for this pie—a happy marriage of graham crackers and nuts—is adapted from Sara Foster's beloved Key lime pie she's been making at Foster's markets in North Carolina for more than 20 years. Fresh squeezed juice is essential; you can substitute the more widely available Persian limes for Key limes but if you can, try to avoid the bottled juice, which lacks the tang and brightness of fresh squeezed. For maximum juice, let your citrus warm up to room temperature, and roll your limes with the palm of your hand against the countertop before cutting and juicing. Instead of the more common meringue or whipped cream topping, I love combining fresh whipped cream with lightly sweetened crème fraîche, and a last-minute squeeze of fresh lime juice.
This recipe was published in A Mouthful of Stars.
ingredients:
1 1/4 cups graham cracker crumbs (pulse in food processor until fine)
1/3 cup ground walnuts or macadamia nuts (pulse in food processor a few times)
3 tablespoons sugar
6 tablespoons unsalted butter, melted
2 (14-ounce) cans sweetened condensed milk
2 large eggs, lightly beaten
1 1/4 cups Key lime juice
1/4 cup heavy whipping cream
1 to 2 teaspoons powdered sugar
1/2 cup thick crème fraîche (or sour cream)
About 1 tablespoon grated lime zest
Lime wedges, for garnish
directions:
Preheat oven to 325°. Combine graham cracker crumbs, walnuts, and sugar in the bottom of a 10-inch pie plate. Stir in melted butter and mix to combine. Press crumb mixture evenly into bottom of the pie plate, pressing some of the crumbs up the sides (about 1/4 inch). Bake for 15 to 20 minutes or until golden brown. Remove from oven and set aside to cool slightly. Leave oven at 325°.


Combine condensed milk, eggs, and lime juice together until well blended. Pour batter into cooled pie shell and bake 18 to 20 minutes or until just set but still just slightly jiggly in center. Chill at least 4 hours and up to overnight.


To serve: Whip cream and powdered sugar until soft-to-medium peaks form. Fold in the crème fraîche and lime zest until just blended. Serve pie with crème fraîche topping and a squeeze of fresh lime, if desired.
---
---
---
---
---