---
Almond Yogurt Cake with Citrus Glaze
---
by
Kim Sunée
• February 28, 2016
---
Yield:
8; MAKES 1 9-X-3-5-INCH LOA •
Total Time:
1 HOUR 10 MIN
---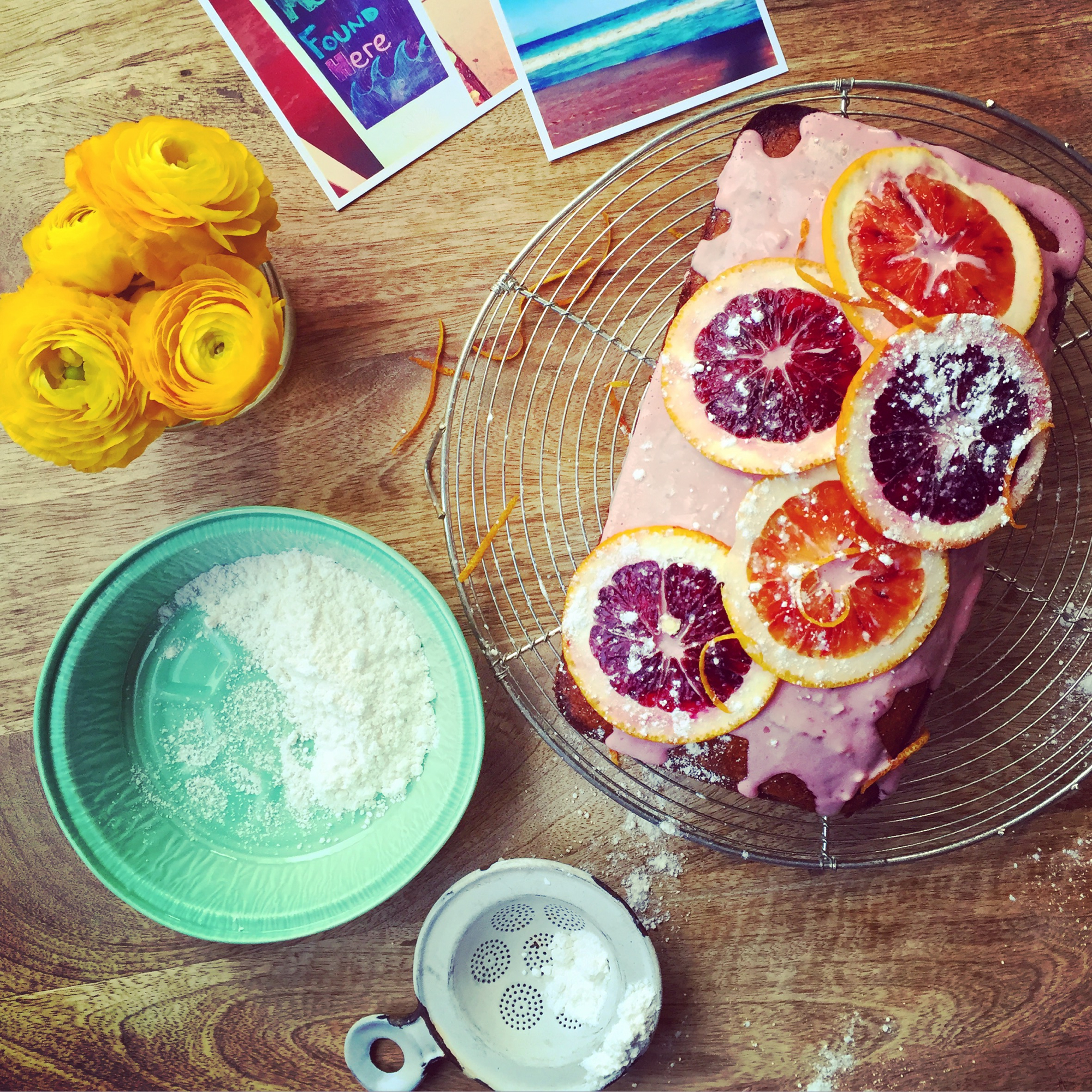 ---
I love this time of year for the fat, juicy citrus it yields. Because I live in colder climes, I'm always at the ready to toss citrus into everything–a squeeze of fresh orange to brighten up a pot of black beans or a beef stew; lots of zest stirred into a lemony pasta or a cake–in hopes of bringing a bit of warmth and light into the foods I share while waiting for sunnier days. 
This classic yogurt cake can be made with all lemon or try a combination of orange, grapefruit, lemon, or lime. Look for almond paste in a can or tube in the baking section of the supermarket. You'll need about three oranges (or other citrus); grate zest and then juice them and keep in separate bowls if you want some of the zest for garnish.
ingredients
5 ounces almond paste
1 1/3 cups granulated sugar
4 ounces (1/2 cup) unsalted butter, room temperature
1/2 cup plain yogurt (or sour cream)
4 large eggs
Grated zest and juice of 3 oranges (or grapefruit, lemon, or lime), divided
1 teaspoon vanilla extract
1 1/2 cups all-purpose flour
1 teaspoon baking powder
1/4 teaspoon salt
Citrus Glaze (recipe follows)
Optional Garnishes: About 1 tablespoon toasted almond slices or a few thin slices citrus and zest.
About 1/3 cup fresh squeezed juice of orange, lemon, grapefruit, or lime
About 1/2 cup confectioner's sugar
directions:
Preheat oven to 350°. Grease (with butter or cooking spray) a (5-x-9-x-3-inch) loaf pan. Line with parchment paper and grease parchment.

Using a stand mixer, beat almond paste for about 30 seconds and then with mixer on low speed, slowly add sugar to almond paste; increase speed until paste and sugar are well combined. Add butter and beat on medium-high until light and fluffy, about 5 minutes.

Add yogurt, eggs, one at a time, vanilla, and about 1 tablespoon grated zest, and 1 tablespoon fresh juice; mix just until combined. Turn off mixer. In a separate bowl, whisk together flour, baking powder, and salt. Add 1/2 of flour mixture to almond paste mixture and blend on medium, add remaining half flour mixture and blend until well incorporated. Pour into prepared loaf pan and bake for 55 to 60 minutes (check cake after about 52 minutes since ovens vary) and until the top is golden brown and a tester (toothpick or tip of sharp knife) inserted in center comes out clean. Let cake rest in pan about 5 minutes; unmold cake and remove parchment and place on a cooling rack.

While cake is warm, poke a few holes over top of cake, using a toothpick or chopstick. Whisk together juice and confectioner's sugar until well blended, adding more juice (if too thick) or sugar (if too thin). Drizzle glaze over warm cake and top with more zest, almond slices and/or thinly sliced citrus.
---
---
---
---
---