---
Strawberry Beet Salad with Pistachio and Thyme
---
by
Kim Sunée
• May 26, 2021
---
Yield:
4 TO 6 •
Total Time:
20 ACTIVE TIME MIN
---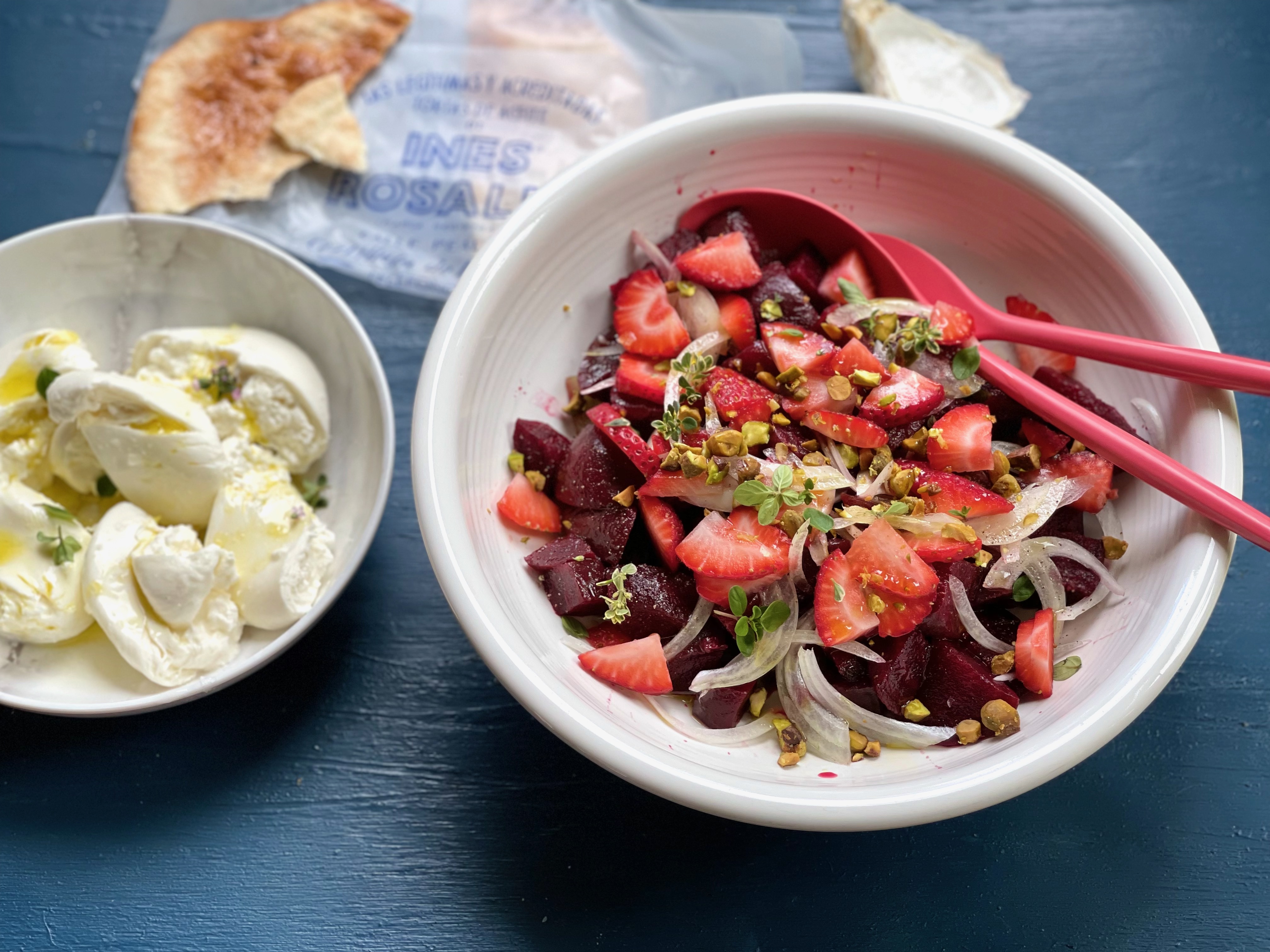 ---
Is there anything better than a summer salad you can toss together for a last-minute picnic, post-hike treat, or desk-side lunch? Start with a simple layering of mild-sweet spring onion and beets, a glug of good (red-wine) vinegar or pomegranate molasses before topping with ripe fruit and nuts. A side of fresh burrata and crusty bread round out the meal. If short on time, look for cooked, peeled, and vacuum-sealed beets in the produce section of your local grocery store; I often keep some in the freezer for last-minute salads such as this one. You can also grate raw beets into this salad instead of roasting them first. Look for tangy, syrupy pomegranate molasses in the international (Middle Eastern/Persian) section of the grocery or specialty store, or look toward Italy and cook down balsamic vinegar on the stovetop in a small saucepan until thick and syrupy.
ingredients:
1 1/2 pounds red or golden beets (or store-bought, cooked and vacuum-sealed beets, or roasted (see below for roasting) or raw, grated
2 tablespoons extra-virgin olive oil, plus more for dressing salad
Flake salt and freshly-ground black pepper
1/2 cup thinly sliced spring onion or green onion tips and some of the white
1 to 2 tablespoons pomegranate molasses (or balsamic vinegar or red wine vinegar), divided
1/3 cup shelled pistachios, lightly toasted
1 pint fresh ripe strawberries, hulled and sliced
Leaves from 2 to 3 sprigs of thyme, such as lemon thyme (or chives or basil)
For serving, fresh burrata or fresh mozzarella or feta
directions:
If grating raw beets or using store-bought cooked beets, skip to step 2. To roast beets, preheat oven to 400°; scrub beets of any excess dirt. Trim leaves (if fresh, save for another use). Cut beets into halves or quarters (of similar size so they cook evenly) and place on a large piece of aluminum foil. Drizzle with olive oil and season with some salt and pepper. Wrap beets tightly with foil and place on a sheet pan and cook in oven, 45 minutes to one hour.  Beets should be tender when pierced with a knife point; remove beets from oven and let cool enough to handle.


While beets roast, slice onions and strawberries and toast pistachios in a dry skillet over medium heat until lightly toasted.


When beets are cool enough to handle, peel, discarding peel and cut beets into slices. In a large serving bowl, add half the beet slices in a single layer. Top with a layer of half the onion slices. Drizzle with about 2 teaspoons olive oil and 1 teaspoon pomegranate molasses (or vinegar) and season lightly with salt and pepper. Top with remaining half of beets and remaining onion slices. Top with sliced strawberries, toasted pistachios, and thyme leaves.  Drizzle with more olive oil and pomegranate molasses. Serve with crusty bread and a bowl of fresh burrata, mozzarella, or feta. Can be made and chilled a few hours ahead. Remove from fridge at least 20 minutes before serving.
---
---
---
---
---