---
Savory Spring Tart with Lemon Ricotta
---
by
Kim Sunée
• April 6, 2021
---
Yield:
4 TO 6 •
Total Time:
25 MIN
---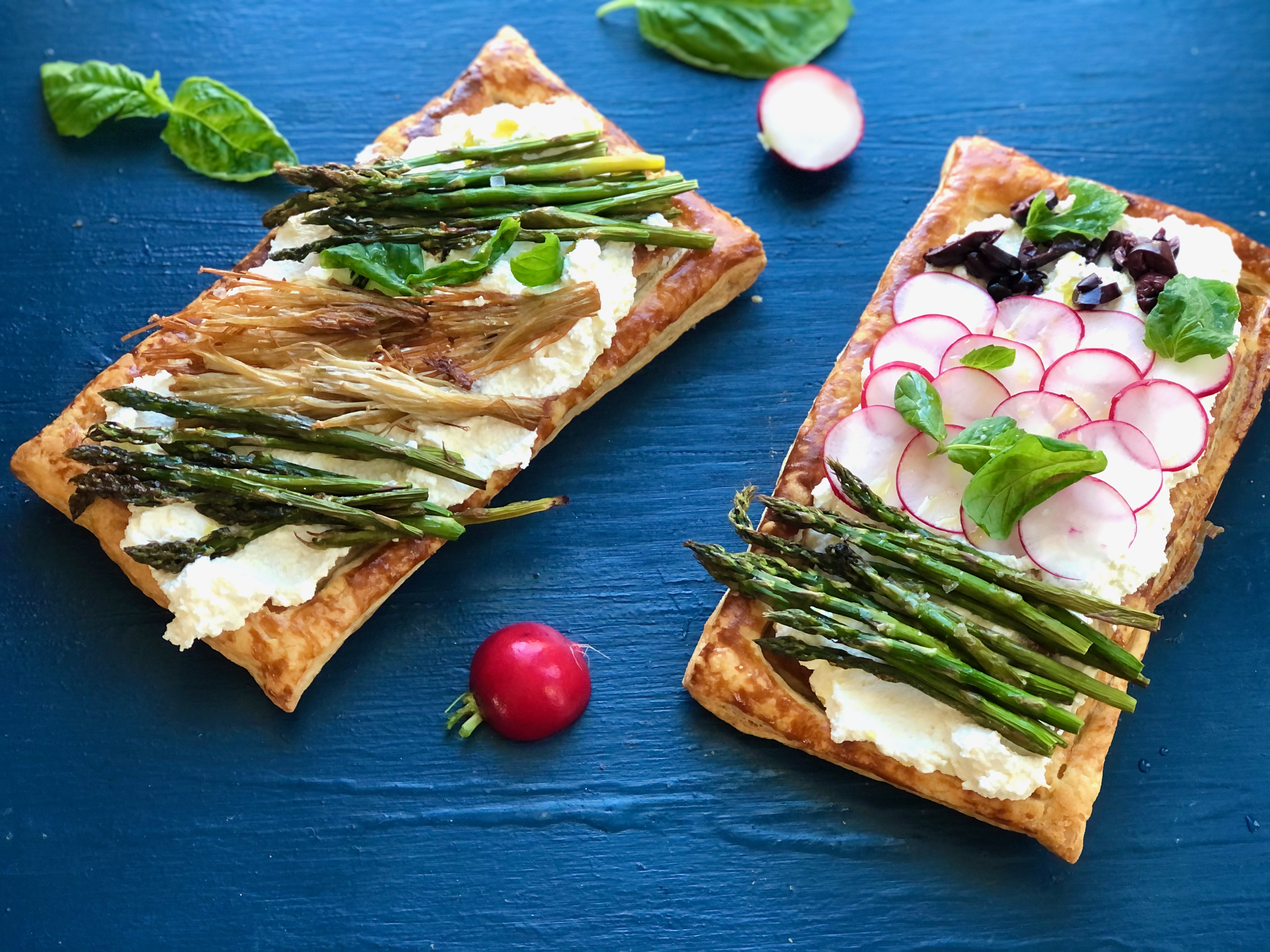 ---
If you're drawn to the idea of a spring quiche or savory tart but find it daunting to make, here is a streamlined way to celebrate the season. Bake up store-bought puff pastry until golden brown and add a smear of ricotta (or mascarpone or cashew "cheese") before heap on colorful toppings just before serving.  Look for frozen puff pastry in the dessert freezer section.  If you can find all-butter, such as Dufour brand, it's definitely worth trying. Top with a variety of raw and roasted veg and fresh herbs.  Some other ways to dress up the puff: pea + fresh mint + pistachio or tapenade + fresh goat cheese + fig or mascarpone + Medjool date slices or Stilton + sliced tomato + sliced onion.  This is best enjoyed within an hour of assembling, but holds up for several hours.  Enjoy as an appetizer or main course with a green salad.  
ingredients:
1 (14-to-17-ounce) package frozen puff pastry, preferably all-butter, thawed in fridge
1 to 2 egg yolks, depending on amount of pastry, for glazing
1 bunch thin asparagus (14 oz, trimmed to about 8 oz)
4 to 5 small red or multi-colored radishes, thinly sliced
Other veg: thinly sliced fennel bulb; onion; tomato; mushrooms, etc
Olive oil
Salt and freshly-ground black pepper
16 ounces whole milk ricotta, drained in a colander of any excess liquid
1 lemon
Optional toppings: olives; peas + fresh mint +pistachio; tapenade + fresh goat cheese + fig; mascarpone + Medjool date; Stilton + sliced tomato + sliced onion
Garnishes: sea salt flakes; olive oil; fresh herbs such as mint, chives, basil
directions:
Preheat oven to 400°. Unroll thawed pastry and place on a parchment-lined baking sheet. Or, if desired, place on a lightly-floured surface and gently use rolling pin just to create a uniform piece of dough before placing on prepared baking sheet. You might need two baking sheets depending on size of puff pastry. Whisk egg yolk and brush all over top of pastry. Cut pastry in half lengthwise and space pieces apart so they aren't touching. Using the tip of a sharp knife, score a border around all four sides, about 1/2-inch from the edge, being careful not to cut all the way through. Cut a few slashes across the center of pastry (be careful not to slash the border or all the way through to the bottom) to help prevent it from puffing up too much in the center. 


Trim asparagus and other vegetables to be roasted and toss together on a separate baking sheet. Drizzle with olive oil and season with salt and pepper. Place pastry sheets on top rack/racks and vegetables on middle or bottom shelf. Bake for 20 to 25 minutes or until pastry is golden and puffed. Check vegetables after 15 minutes; they should to be tender and golden but not too soft. Let pastry and vegetables cool slightly.


While pastry and vegetables are roasting/cooling, prepare the spread: Whisk together ricotta and grated zest and juice of one lemon. When ready to serve, spread ricotta mixture over baked puff pastry and top with roasted vegetables and thin slices of raw radish or other favorite toppings. Garnish with finishing salt, good olive oil, and some fresh herbs. This is best served within an hour or two of assembling.
---
---
---
---
---