---
Rainbow Eggs and Toasted Pita Salad
---
by
Kim Sunée
• March 23, 2021
---
Yield:
4 TO 6 •
Total Time:
20 MINS PLUS MARINATING TIME MIN
---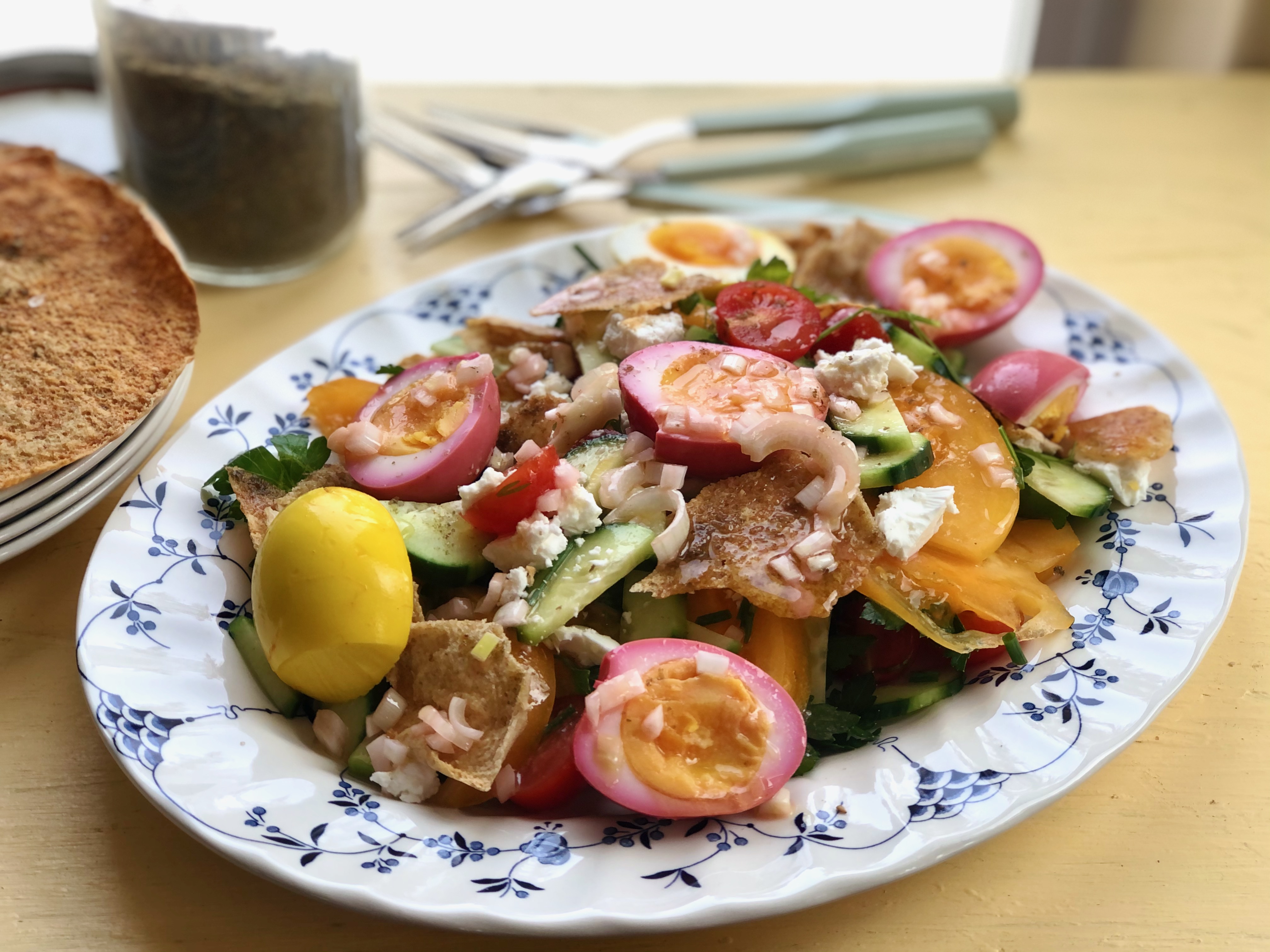 ---
In homage to spring, here's a colorful salad of eggs lightly pickled with turmeric and beet and tossed with toasted flatbread, such as pita or naan. Consider doubling the batch of toasted bread to have on hand; this salad is addictive and open to all sorts of flavor options. You'll want to start pickling the eggs at least one to two days before enjoying. Za'atar is a wonderfully aromatic spice blend of dried herbs, sesame seeds, and sumac and now more readily available in supermarkets. Add some to a small bowl of olive oil for dipping bread, stir into a vinaigrette, or use generously to season chicken and fish. If you can't find za'atar at your local store, you can order it or make a homemade blend of sesame seeds, dried thyme/oregano or dried mint and sumac. Or, in a pinch, use your favorite Everything Bagel spice. As to the rest of this salad, toss in fresh spring vegetables and lots of tender herbs. This is best enjoyed the day it's made, but the bread can be toasted ahead of time and stored for a few days. Serve as a starter or side, or a main with seared tuna or smoked salmon or leftover roasted chicken.
For the salad:
3 (6-inch) pita (or thin naan)
1 1/2 tablespoons olive oil
Salt, to taste
1 teaspoon za'atar or everything bagel spice
1 small Kirby cucumber or 1/2 medium English cucumber, halved lengthwise and thinly sliced or chopped
1/2 cup packed fresh herbs, such as a combo of mint, parsley, dill
1 cup ripe cherry tomatoes, halved
4 Beet Pickled Eggs (recipe follows)
Optional ingredients: feta or mozzarella; olives; dried figs or dates
For the vinaigrette:
1 garlic clove, smashed and minced
2 tablespoons minced shallot or spring onion
2 teaspoons Dijon mustard
Salt and freshly-ground black pepper, to taste
2 tablespoons pickling juice (from eggs) or apple cider or white wine vinegar
1/4 cup extra-virgin olive oil
directions:
Heat oven to 350° and place oven rack in center of oven. Carefully split open pitas (or naan) and place halves on a baking sheet and brush top side all over with oil. Season with a little salt and za'atar. Place sheet in oven and toast until golden and crispy, about 10 minutes for pita and up to 15 for (thicker) naan. Remove from oven and let pita continue to crisp up as they cool.
Make vinaigrette: In a small bowl, combine garlic, shallot, mustard, salt, pepper, and pickling liquid. Slowly whisk in olive oil to blend.
Assemble: Add all the remaining ingredients for the salad, including tomatoes, cucumbers, herbs, etc. Just before serving, break up toasted pita into bite-sized pieces over salad and drizzle half of vinaigrette over. Slice pickled beet eggs into halves or quarters and add to salad. Garnish with olive oil and finishing salt, if desired, serve any remaining vinaigrette on the side.
For the Pickled Beet Eggs:
Juice and beets from 1 (15-ounce) jar/can sliced beets
1 cup apple-cider vinegar
1 small onion or shallot, halved and sliced lengthwise
2 tablespoons granulated sugar
1/4 teaspoon fine salt
Optional additions: some black peppercorns; cloves; cinnamon stick
Place eggs in a large pot of cold water to cover by about 1/2-inch and place over medium-high heat. NOTE: For easy-to-peel eggs, add 1 teaspoon baking soda to water. Bring water to a gentle boil–this takes about 5 minutes, depending on size of pot and amount of eggs. When water is at a gentle boil, cover pot and turn off heat. Let sit for 10 minutes. Prepare an ice bath in a large bowl and lower eggs with a slotted spoon into ice bath. Combine juice and beets in a bowl or container, whisk in sugar and salt to combine. Add shallots and any additional spices. When eggs are cool, gently crack egg on surface of counter, gently roll with flat palm of hand until lightly cracked all over. Start peeling at the larger end of the egg where you'll find an air pocket; peel eggs, being careful not to puncture or crack them too much; place peeled cooked eggs in vinegar. Cover tightly and place in fridge at least one to two days and up to one week for small eggs and two weeks for larger eggs.
For the Pickled Turmeric Eggs: add cooked peeled eggs to a bowl with 1 1/4 cups apple cider vinegar + 1/2 cup water + 3/4 teaspoon salt + 2 tablespoons sugar + 2 teaspoons ground turmeric and any additional spices; follow recipe storage directions for beet eggs.
---
---
---
---
---