---
---
by
Kim Sunée
• February 9, 2021
---
Yield:
6 to 8 •
Total Time:
20 PREP; 3 HRS COOKING TIME HOURS
---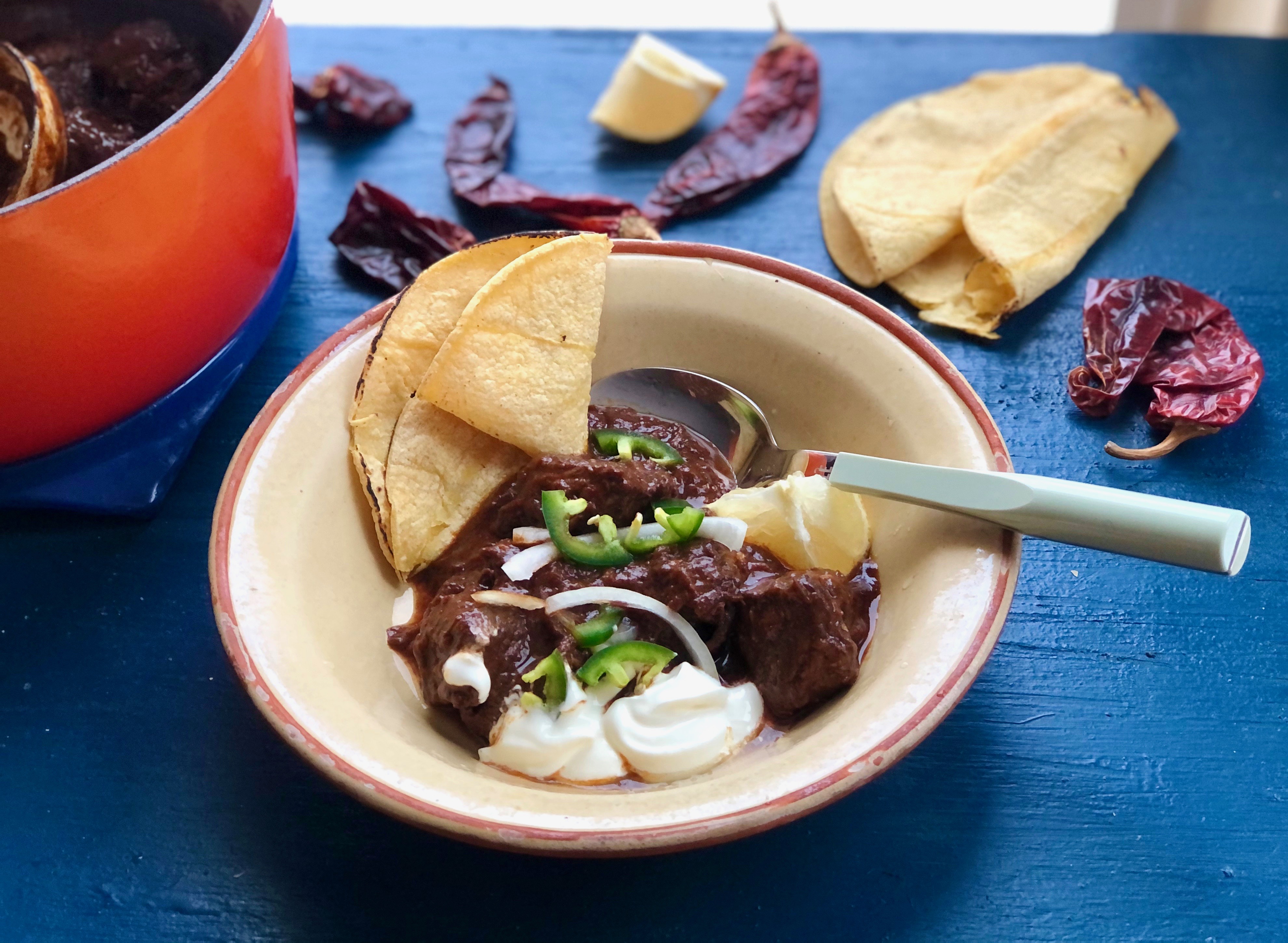 ---
No beans, no tomatoes, no fillers. Not quite a stew or a soup. Simply, this is an addictive "bowl of red" inspired by the kitchens of New Mexico and Texas, with deep flavor from dried chiles–the real star here–and some help from hits of cinnamon and chocolate. Look for dried chiles, which should be a little moist and pliable and not brittle, in the International Foods section or produce section of your supermarket. It's best to use a combo of smoky (dried chipotle, guajillo) and rich and fruity (ancho, pasilla). If you like more heat, add in some dried cascabel, pequín, or árbol or even a fresh serrano. As to the carne, choose a cut of beef that has lots of connective tissue and flavor.  Boneless beef chuck roast is best for this kind of slow-cooking; try to get one large piece so you can trim and cut it yourself. I've had friends enjoy this recipe with their stash of moose and other game; if you substitute the beef, modify cooking time to make sure meat is just tender and not overcooked. 
I cook this on the stove top in a well-worn, much-loved Le Creuset Dutch oven with a heavy bottom for even heat distribution. Make sure to pull the pot off the heat as soon as the meat becomes tender, about three hours. The meat should soak up quite a bit of the liquid and also gets some thickening help from some masa harina or cornmeal.
 With a little forethought to prep, this dish is easy to make. A good cut of beef, a variety of smoky and fruity chiles, and time is all you really need. Delicious the day of, but even better after a day or two. A fresh squeeze of lime just before serving really brightens up the deep flavors. Add leftovers to tacos, enchiladas, breakfast chilaquiles, panini, and more.
ingredients:
2 ounces dried chiles, such as pasilla, guajillo, New Mexico (6 to 8 chiles)
2 3/4 to 3 pounds boneless beef chuck roast (trimmed of fat to 2 1/2 to 2 3/4 pounds)
3 large garlic cloves, peeled
1 teaspoon ground cumin (or 1 1/2 teaspoons toasted cumin seed)
Salt and freshly-ground black pepper, to taste
3 to 4 tablespoons vegetable oil such as avocado or grapeseed (or lard or rendered bacon fat), divided
3/4 cup diced onion (1 small onion)
2 cups beef stock, preferably homemade (or chicken stock)
2 tablespoons masa harina, fine-grind cornmeal, corn flour (NOT cornstarch), or coconut flour
1/4 teaspoon ground cinnamon
2 ounce bittersweet or semisweet dark chocolate
1 tablespoon white vinegar or white or red wine vinegar
Garnishes/serving suggestions: chopped jalapeño or serrano; Mexican crema; sour cream; lime wedges; warm tortillas; tortilla chips; chopped onion; flake saltdirections:
directions
Place whole chiles in a large (cast-iron) skillet over medium heat and gently toast chiles, turning once or twice, until fragrant, two to three minutes, being careful not to burn or they will turn bitter. Place toasted chiles in a bowl and add enough very hot water to cover; let soak until pliable, 20 to 30 minutes.


While chiles soak, trim beef of most of the fat and cut into 2-inch cubes; set aside. Chop onion and peel and smash garlic; set aside. If you have the time, prep sour cream with some grated lime zest; slice limes into wedges; prep any other garnishes; set aside (sour cream can go back in fridge if kitchen is warm). Drain chiles by placing a colander set over a large-enough measuring cup or bowl and reserve the soaking liquid; remove and discard stems and most of the seeds (a very quick rinse helps remove seeds but make sure to keep the flesh/ribs intact). Add prepped chiles to bowl of a blender or food processor. Add garlic cloves, cumin, one teaspoon salt, a few grinds of black pepper, and 1/4 cup reserved soaking liquid. Purée, stopping to scrape down sides of bowl, until a mostly smooth mixture forms. Add a few tablespoons of reserved chile water at a time, for a thick but slightly loose paste. It should be smooth with just tiny bits of chile here and there; set aside.


In a large heavy-bottomed Dutch oven or pot, heat two tablespoons oil (or lard or rendered bacon fat) and swirl the pan to coat the bottom. When hot (it should just start to dance and smoke slightly), pat trimmed and cubed beef dry with paper towels and add half the pieces to the hot oil; lightly brown for two to three minutes, without disturbing meat. No need to brown all sides. Transfer meat to a bowl and repeat with remaining pieces of meat; add a little more oil, if needed; set all the browned meat aside.


Add another tablespoon oil to the Dutch oven and set over medium heat; add reserved onion and cook, stirring occasionally, for one to two minutes. Add two cups beef or chicken stock and two cups reserved chile liquid; gradually whisk in masa harina or cornmeal to remove any lumps. Add reserved chile-garlic paste, scraping bottom of pan to loosen up any brown bits; add reserved browned beef, cinnamon, and chocolate; bring to a low boil over medium-high heat; skim froth with a large spoon as it rises to the surface. When you see a few lazy bubbles rise to the surface, reduce heat to medium-low-to-low and watch a few minutes to make sure that it maintains a gentle simmer (some lazy bubbles will appear on the surface). Cook, stirring occasionally, until meat is very tender and about two to three cups of thick liquid remain in the pot. This should take about two and a half to three hours; stir occasionally. NOTE: You can partially cover the pot for the first hour or so. If mixture begins to look dry, add just a little bit more chile soaking liquid, water, or broth but not too much. When meat is tender, stir in vinegar. Taste and add more salt or pepper, as needed. If too bitter for your taste, you can always stir in a tablespoon of butter or pinch of brown sugar. Let cook another 10 to 15 minutes. If too wet, crush some of the beef with the back of a spoon, cover and let sit another 15 minutes. Serve with lime wedges, onion, and other garnishes, as desired. 
---
---
---
---
---