---
Scallop Ceviche with Lime and Coconut
---
by
Kim Sunée
• July 26, 2021
---
Yield:
4 to 6 •
Total Time:
20, PLUS MARINATING TIME MIN
---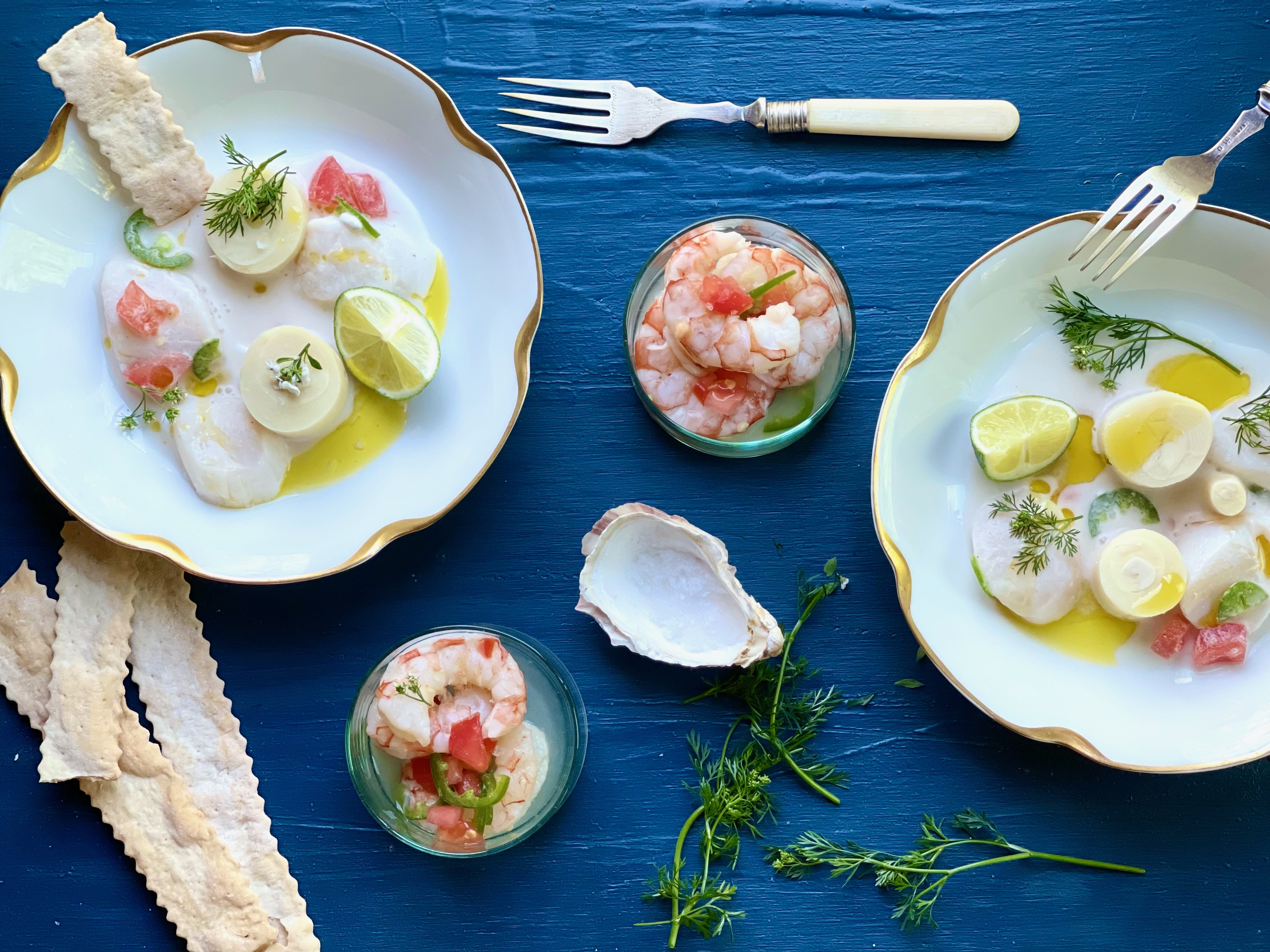 ---
As the days get warmer and longer, switching out heavier foods for lighter fare is easy with this make-ahead chilled seafood, two ways. Ceviche, raw fish or seafood that's "cooked" in citrus juice, is easy to serve up for last-minute entertaining, or pack it up and take for a post-hike bite or a picnic. For the shrimp version, a light steam speeds up the marinating process. I love pairing scallops with hearts of palm as the vegetable mimics the shape and color of the scallop but adds a surprising textural contrast. Hearts of palm in jars or cans are available in most grocery stores.
Make sure to use the freshest seafood possible. High-quality seafood that's been frozen and thawed properly works well if you don't have fresh. Best enjoyed the day the day of, as the citrus will continue to "cook" the seafood and change the texture, but this will still be good the next day. Add in as much heat as you like, but keep in mind that chile peppers can surprise from one to the next. If you're timid, remove all the seeds and ribs, where the burn resides. If the final mix proves a tad too hot, add in some avocado or cucumber. Serve with a chilled rosé or a lightly effervescent Portuguese Vinho Verde. Click here for Shrimp Ceviche with Tomato.
ingredients:
Depending on the size of your scallops, you might need a bit more citrus juice to cover.
1 1/2 pounds raw large diver scallops
1/2 cup fresh squeezed lime juice
1/2 cup fresh squeezed lemon juice
1 small Scotch Bonnet, jalapeño or serrano chile, stems and seeds removed, thinly sliced
1 (14-ounce) can hearts of palm, drained
1 cup canned (unsweetened) coconut cream or coconut milk, shaken
Garnishes: Lime wedges and extra-virgin olive oil; chopped avocado or cucumber; fresh cilantro or chervil; flake salt
For serving, crackers; plantain chips; cabbage or lettuce cups
directions:
Slice scallops in half lengthwise or cut into bite-size pieces. Place in a glass (or other non-reactive) bowl. Add lime juice and lemon juice. Let marinate in fridge 45 minutes to one hour.  When ready to serve, place a sieve over scallops in bowl and pour coconut cream or milk over (this helps yield a smooth consistency), using a whisk to press and smooth coconut cream/milk through, jalapeño; season with salt and pepper, to taste. Slice hearts of palm and divide among 4 to 6 serving bowls. Top with scallop ceviche; drizzle with olive oil and garnish with fresh cilantro; serve with lime wedges, flake salt, and any of the optional serving suggestions. 
---
---
---
---
---