---
---
by
Kim Sunée
• August 15, 2021
---
Yield:
MAKES 1 (8-INCH) LOAF •
Total Time:
1 HOUR 15 MIN
---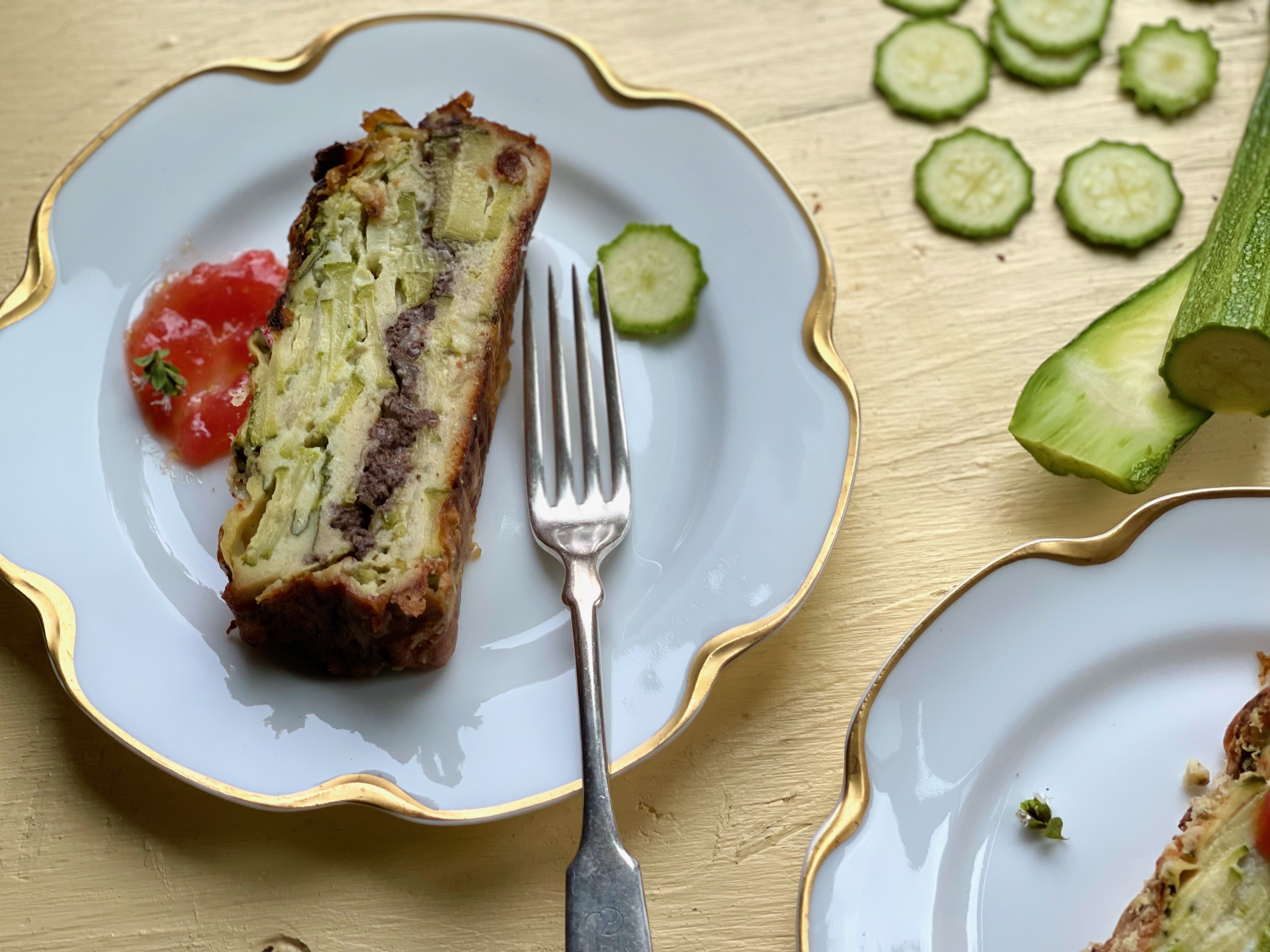 ---
Based on a French gâteau invisible, in which a light sweet batter cooks and gets absorbed into very thinly sliced apples, rendering the fruit mostly "invisible" as it seems to disappear into an airy custard. I wanted to try a savory version featuring small, firm zucchini held together with just the smallest amount of egg and flour. The end result is reminiscent of the lightest quiche or a fancy gratin. Substitute thinly-sliced potato or carrot and experiment with a pinch of curry or a handful of fresh herbs, like chive and dill. A layer of black olive tapenade adds depth of flavor, but basil-rich pesto or almond and red pepper romesco would be great options. It's important to allow the finished "cake" to cool completely before slicing. If time allows, make this the night before and allow to firm up overnight in the refrigerator; this helps with even slicing. Serve with grated tomato mixed with some garlic and olive oil or pesto and a green leaf salad.
ingredients:
1 medium onion, thinly sliced (about 1 1/4 cups)
1 to 2 cloves garlic, thinly sliced
2 teaspoons olive oil
Salt and freshly-ground black pepper, to taste
2 to 3 medium zucchini (about 1 1/2 pounds), plus more for garnish, very thinly sliced
3/4 cup all-purpose flour
1 teaspoon baking powder
2 large eggs
2 tablespoons melted unsalted butter
2 tablespoons black olive tapenade (or pesto or romesco sauce)
1/2 cup milk, whole or 2%
2 to 3 tablespoons chopped herbs, such as dill, basil, chives, etc.
1 tablespoon freshly-grated Parmesan or Pecorino Romano
directions:
Grease one standard loaf pan (8 ½-x-4 ½-x 2 ½ inches); line with a sheet of parchment (measuring 8-x-14 inches) so that parchment hangs over long sides of pan by about two inches; this forms a sling and helps with ease of unmolding. Grease exposed sides of parchment and lightly dust with flour making sure to coat bottom and sides; lightly tap out any excess flour. Adjust oven rack to middle position and preheat oven to 375°.


Cut onion and garlic into thin slices. Heat oil in a large sauté pan set over medium-high heat. Sauté onion and garlic, stirring occasionally, just until translucent, 1 to 2 minutes. Add a pinch of salt and some pepper. Remove pan from heat. Slice zucchini (and carrot or potatoes) into very thin slices (using a very sharp knife, a mandoline or the slicer of a food processor). Add zucchini to sautéed onion and garlic; set aside.


In a small bowl, whisk together flour and baking powder and 1/2 teaspoon salt and some black pepper. In a large bowl, whisk together eggs with melted butter; add flour mixture and whisk just until combined. Slowly, stir in milk until combined. Add reserved zucchini and onion mixture to egg-flour mixture, fresh herbs; toss well to coat vegetables with mixture.


Place loaf pan on a sheet pan, if desired, to catch any overflow. Add half of zucchini mixture into loaf pan. Add an even layer of black olive tapenade. Add remaining vegetable mixture. Press down on vegetables to even out the top. Sprinkle evenly with grated Parmesan. Bake 55 to 65 minutes or until a knife point inserts easily into center of cake. Let cool in pan at least three hours. Then cover and chill until ready to serve (overnight is best) or, after three hours, carefully lift the parchment overhang and remove cake from pan. Cut into thick slices and serve with pesto or grated ripe tomato mixed with a little salt and fresh herbs, and a green salad. Leftovers can be stored, covered, in fridge up to a few days. Enjoy chilled, at room temp, or, heat slices in a skillet until just warmed through.
---
---
---
---
---