---
Almond Grape Cake with Lemon Cream
---
by
Kim Sunée
• August 29, 2021
---
Yield:
MAKES 1 (9-INCH) CAKE •
Total Time:
55 MIN
---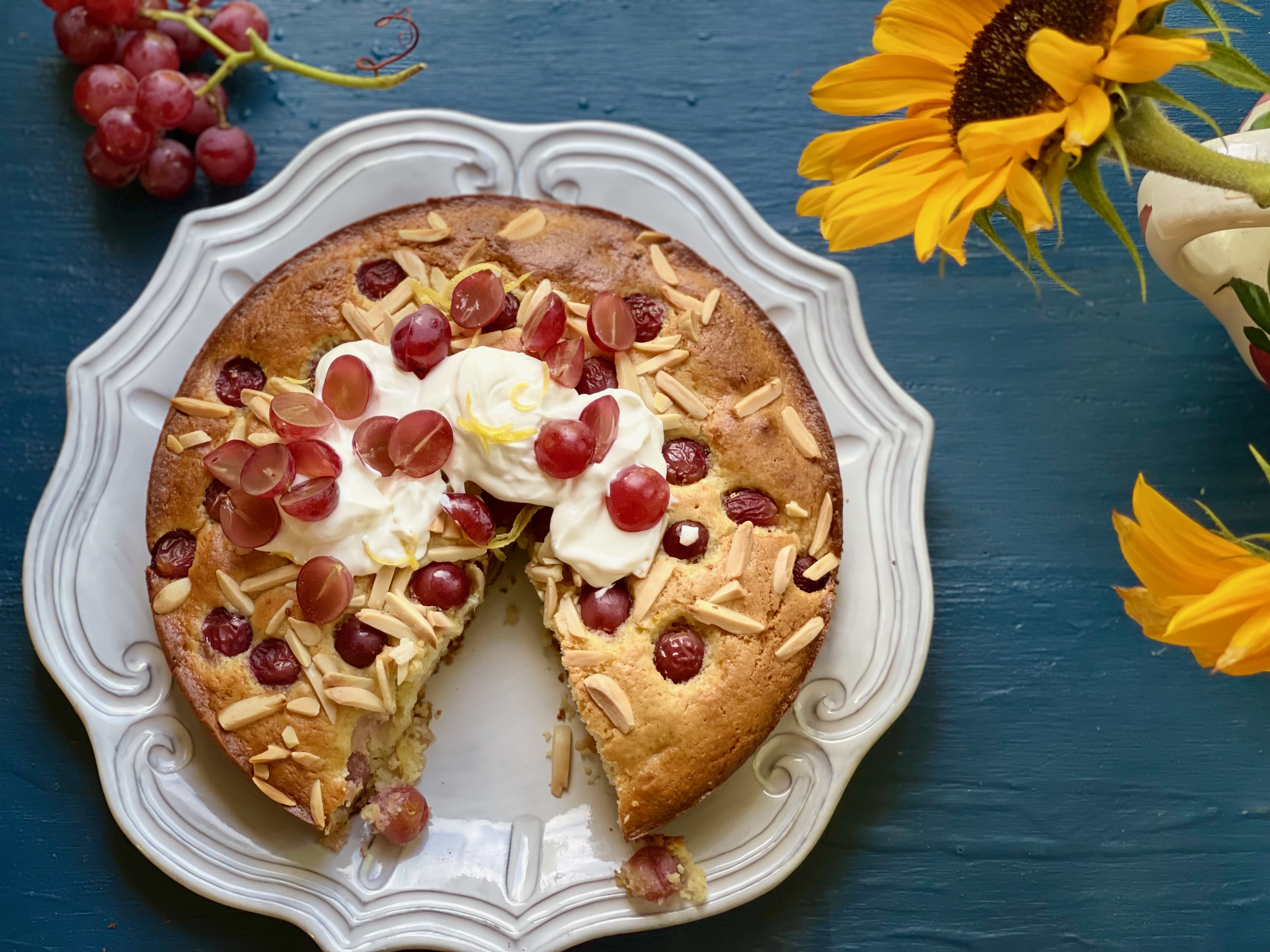 ---
Sweet, plump grapes shine in this almond-laced snacking cake that packs up well for school lunches, hiking, and camping. Slice grapes in half for the batter and keep some for garnishing, if desired. In season, sub half the grapes with diced ripe pear or apple. For best results, makes sure that eggs, sour cream, and olive oil are at room temperature before beginning. Cake can be stored, wrapped in an airtight container, on the kitchen counter for a few days.  
ingredients:
1 cup/150g all-purpose flour
1/2 cup/50g almond flour (or yellow cornmeal)
1 1/2 teaspoons baking powder
1/4 teaspoon fine salt
1/2 teaspoon ground cinnamon or cardamom
Scant 3/4 cup/135g granulated sugar
2 large eggs
1/2 cup extra-virgin olive oil
1/3 sour cream (or plain yogurt)
3/4 teaspoon almond extract or 1 teaspoon pure vanilla extract
1 teaspoon finely grated lemon zest (zest from 1 lemon)
2 cups red seedless grapes sliced in half, divided (about 12 ounces)
3 tablespoons/30g slivered almonds or sliced almonds
Grapes and whipped cream or crème fraîche with lemon zest; vanilla ice cream, for serving
directions:
Heat oven to 350°F. Butter a 9-inch round cake pan; line bottom with a round of parchment; butter parchment. In a medium bowl, whisk together flour, almond flour, baking powder, salt, and cinnamon.


Combine sugar and eggs in bowl of a stand mixer (or in a medium mixing bowl if using an electric hand mixer). Beat on medium-high until light in color, about 5 minutes. Reduce speed to low speed and add olive oil in a slow, steady stream. Increase speed to medium and beat for one minute. Stir in, by hand, sour cream, vanilla, and lemon zest. With mixer on low speed, add flour mixture, a little at a time, until just incorporated, being careful not to overmix. Stir in half the grapes. Scrape batter into pan and top with remaining grapes and almond slivers. Bake, rotating cake after 20 minutes, until cake pulls away from sides of pan and a tester inserted in center comes out clean, 40 to 45 minutes. Note: for more accurate baking, consider placing an oven thermometer in center of oven. Transfer cake pan to a wire cooling rack and let sit 10 minutes. Run knife along edge of pan and turn cake out onto rack; let cool completely. While cake is cooling, whip heavy cream or crème fraîche with some powdered sugar until soft peaks form, and more lemon zest. Serve cake with whipped cream or vanilla ice cream and more grapes as garnish.
---
---
---
---
---