---
Drop Biscuits with Cheddar and Jalapeño
---
by
Kim Sunée
• September 15, 2021
---
Yield:
10-12 BISCUITS •
Total Time:
25 MIN
---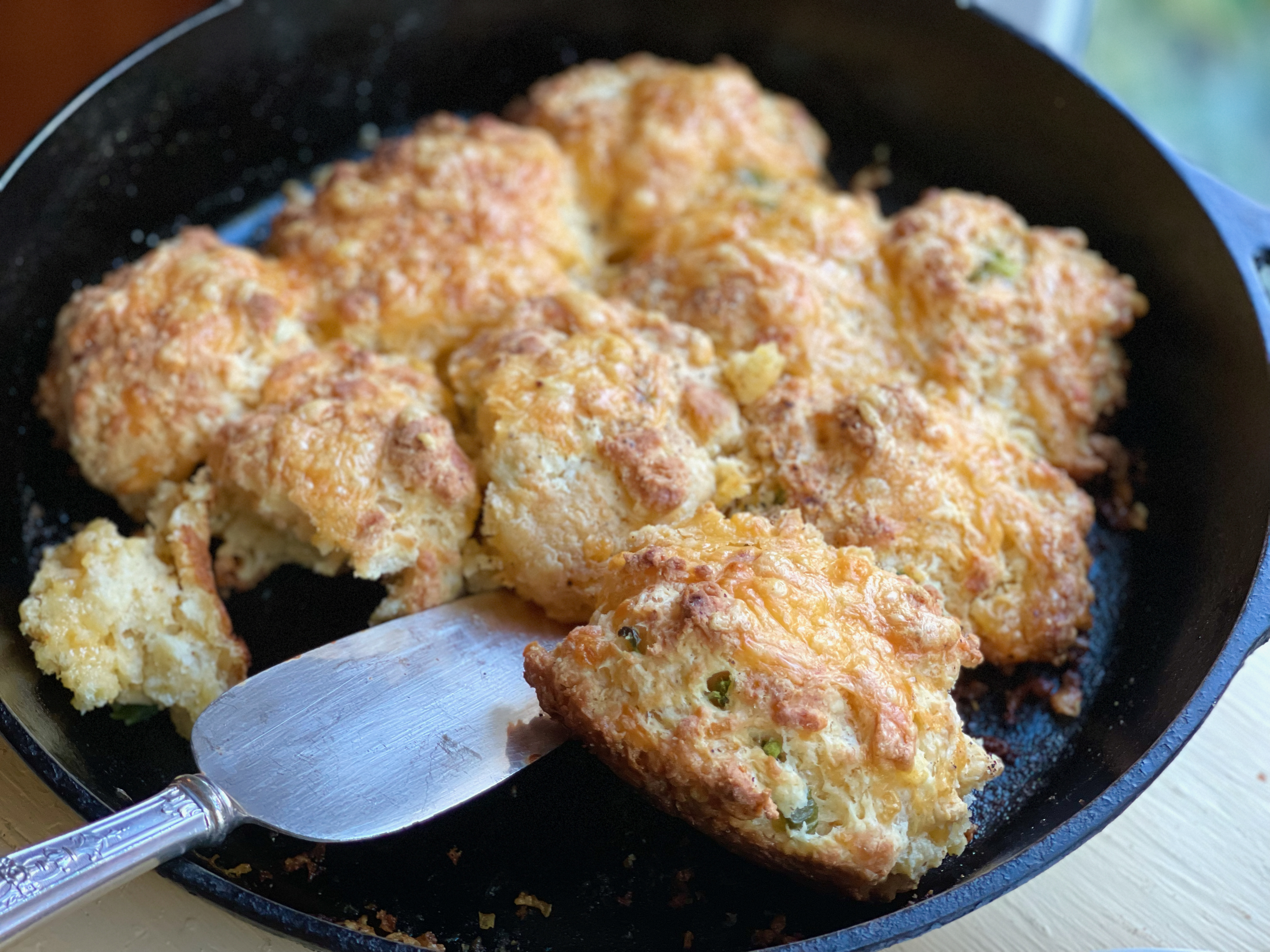 ---
Brighten up your weekend (or midweek) with homemade breakfast sandwiches made with these easy-to-prepare drop biscuits. There's no need to roll and cut, just be sure to work quickly so as not to overwork the dough, which makes for tough biscuits. Fluffy on the inside and crisp and golden on the outside, thanks to some good old-fashioned melted butter. Cheddar and jalapeño work beautifully together but make it your own by subbing in same amounts of other favorite cheese or add-ins, such as fontina, Comté, fresh garlic, leek, or chives. If making fried egg sandwiches, top with a combo of honey and hot sauce, or try a favorite pesto, herbed mayo, chili crunch, or this barrel-aged Bull Whip sauce.
ingredients:
For the cheddar-jalapeño drop biscuits:
3 tablespoons unsalted butter, plus more for shaping biscuits
3 1/4 cups/400g all-purpose flour
1 tablespoon granulated sugar
1 tablespoon baking powder
3/4 teaspoon fine salt (or scant 1/2 teaspoon kosher salt)
1/2 teaspoon freshly-ground black pepper
1/2 teaspoon smoked or sweet paprika
1/2 cup/8 tablespoons cold unsalted butter
8 ounces grated sharp Cheddar or Comté cheese, divided
1 jalapeño, stem and seeds removed, chopped (about 2 tablespoons)
1 cup buttermilk*
1 large egg
For the sandwiches: Fried eggs; hot sauce; sliced tomato; sliced onion
directions:
Heat oven to 400°. Add 3 tablespoons butter to a (10-inch) heavy-bottomed, ovenproof skillet such as a cast-iron skillet. Place skillet in oven while prepping biscuits. Set timer for five minutes to check that butter is melted but not browning; remove from oven once butter is melted and set aside while prepping biscuits.


In a medium bowl, add flour, sugar, baking powder, salt, pepper, and paprika together. Cut 1/2 cup cold butter into 1/2-inch pieces. Add to the flour mixture and, using a pastry cutter or two forks, work into flour until mostly blended and a few small pea-sized pieces remain. Try to work quickly so butter doesn't soften too much. If butter/mixture is too soft/warm, place bowl in fridge for 10-15 minutes to chill. Add six ounces (about 1 1/2 cups) cheese and jalapeño and mix into the flour just to combine. In a small bowl, whisk to combine buttermilk and egg. Make a well in center of flour mixture and pour in buttermilk and egg mixture. Using a wooden spoon or silicone spatula, stir until mixture is well combined; if needed, use hands to gently and quickly fold mixture over on itself a few times, being careful not to press down or overwork the dough. If needed (i.e. kitchen is warm and mixture very soft), chill again about 10 minutes.)


When ready to bake, have about 1/4 cup flour at the ready and very lightly dust hands, as needed, to portion out 10 to 12 balls of dough; roll each biscuit quickly between hands—they don't have to be perfect—and place/drop in skillet of melted butter. When all biscuits are in skillet, turn biscuits over so buttered side is face-up. Brush with more of melted butter from pan, as needed. Top biscuits with remaining two ounces cheese and some more freshly-ground black pepper. Bake 15 minutes. Rotate skillet for even baking, and bake another 5-10 minutes and until golden brown on top. Serve as is or make biscuit sandwiches with fried eggs, hot sauce, sliced tomato and onion.
---
---
---
---
---