---
Crispy Chicken Thighs with Soy, Ginger and Swiss Chard
---
by
Kim Sunée
• October 12, 2021
---
Yield:
3 to 4 •
Total Time:
45 min
---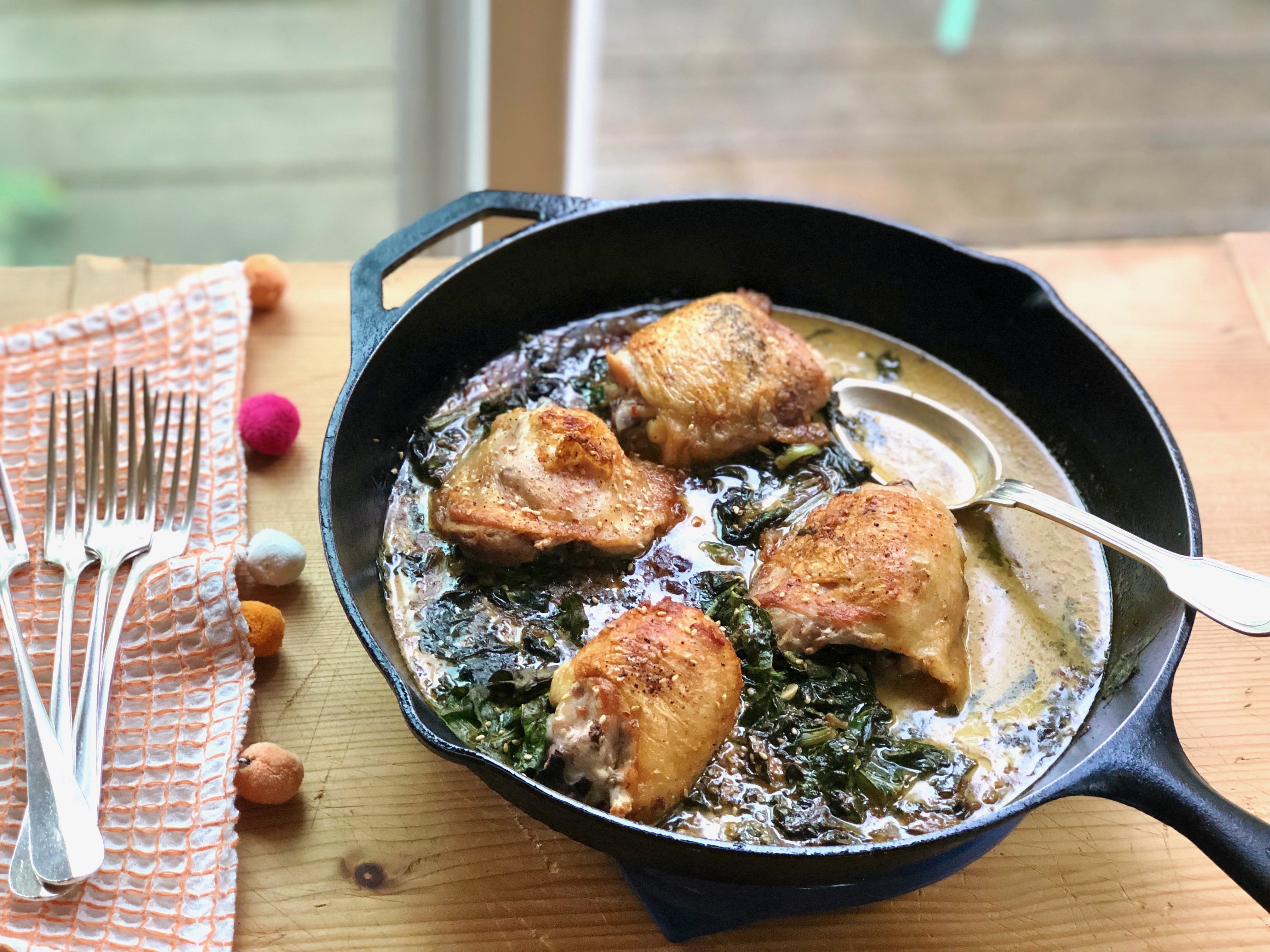 ---
This is an easy weeknight dish that maximizes flavor and ease of prep. Bone-in, skin-on chicken thighs, which are very forgiving, get crisped up in a hot cast-iron skillet and then cook down to fall-off-the-bone tenderness. A blast of heat at the end ensures extra crispy skin. Hardy greens, such as chard, mustard, and collards work well in this dish, rich with umami-laden soy and a bit of cream. If you'd like more kick, add hot paprika, gochugaru (Korean chile flakes), or some thinly-sliced Hatch chiles, when in season. Serve with hot cooked rice and kimchi or sauerkraut to round out the meal. 
ingredients:
2 tablespoons vegetable oil, such as grapeseed, avocado, or olive
4 bone-in, skin-on chicken thighs
Salt and freshly ground black pepper, to taste
1/2 small onion, thinly sliced or 3 to 4 green onions, thinly sliced (1/3 cup)
1 (2-inch) piece ginger, grated or minced
2 tablespoons low-sodium soy sauce
1 to 2 tablespoons Dijon mustard (optional)
1/3 cup heavy cream
1 bunch Swiss chard or mustard greens or bok choy (about 4 cups packed), roughly chopped or torn
Optional Garnishes: toasted sesame seed; gochugaru; chopped cilantro or green onion
Cooked rice, for serving
directions:
Set a large heavy-bottomed pan, preferably cast-iron, over medium heat. Add oil. Pat thighs dry with paper towels. Season both sides of chicken with a very light sprinkling of salt and pepper; keep in mind that soy sauce will add some salt as well. Once oil is hot and shimmering (but not smoking), place thighs, skin-side down, into the skillet, making sure there's enough space between pieces so that they have room to crisp up, rather than "steam." Let cook, 15 minutes, without disturbing chicken, until skin is crispy and fat has rendered. Check after 5 minutes or so; if skin is cooking too quickly, lower heat slightly. Move pan around over heat for even cooking but try not to move chicken; it will release when it's ready. You want the fat to render and the skin to be golden brown. When chicken moves easily in pan, turn pieces over and brown the other side, 10 to 15 minutes.
Heat oven to 375°. Remove chicken to a plate, skin side-up; the chicken will not be cooked all the way through at this point. Remove all but two to three tablespoons fat. Do not wipe out pan. Add onion, ginger, and garlic to pan; sauté 1 minute. Add soy sauce and Dijon mustard, if using, and cream. Bring to a low boil. Add chicken, skin-side up. Place skillet oven and cook at 375°F another 10 minutes. Remove pan from oven and stir in the chard, making sure not to cover the chicken, and bake another 10 minutes or until chicken is cooked through and skin is crispy and golden brown. If you want extra crispy skin, heat broiler to high and broil a few minutes just until sauce is bubbling. Garnish, if desired, and serve with hot cooked rice.
---
---
---
---
---