---
Chocolate Oatmeal Raisin Cookies
---
by
Kim Sunée
• October 31, 2021
---
Yield:
MAKES ABOUT 3 DOZEN COOKIES •
Total Time:
45 MIN
---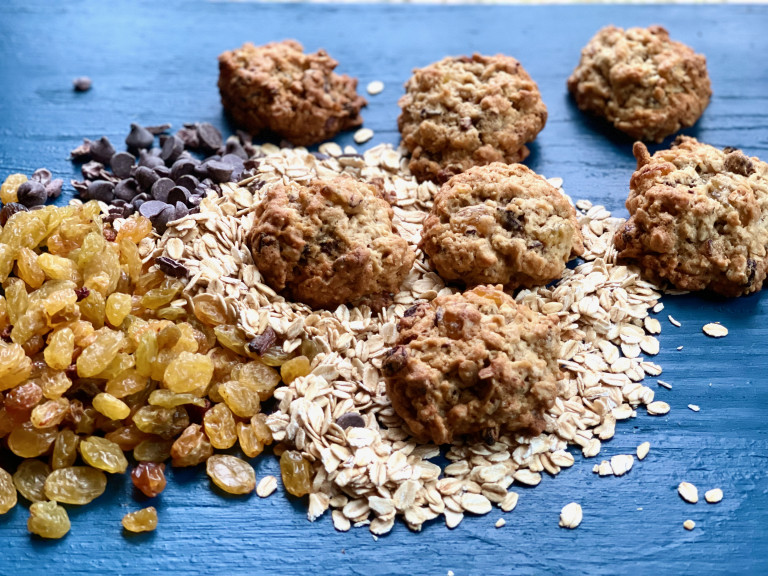 ---
Full of raisins, thick oats, and dark chocolate, these chewy crispy-edged cookies are easy to whip up and they keep for up to a week in an airtight container at room temp. Look for thick rolled oats (not instant) and plump golden raisins; if raisins are on the drier side, soak for a few minutes in some orange juice, rum or Bourbon; drain the liquid before stirring raisins into the mix.  
ingredients:
1 cup/2 sticks unsalted butter
3/4 cup packed dark brown sugar
1/3 cup granulated sugar
2 large eggs
2 teaspoons pure vanilla extract
1 1/2 cups/190 grams all-purpose flour
3/4 teaspoon fine salt
1 teaspoon baking soda
1 teaspoon ground cinnamon
3 cups/270 grams rolled oats (not instant)
1/2 cup dark chocolate chips/chunks
1 1/2 cups raisins*
directions:
* If desired, soak raisins for 15 minutes in orange juice, rum, or Bourbon; drain and set aside.
Line two large cookie sheets with a silicone baking pad or parchment paper. Beat butter with an electric handheld mixer until creamy, 1 to 2 minutes. Add brown and granulated sugars and beat about two minutes. Add eggs, one at a time, beating until blended after each addition. Add vanilla extract.  


In a separate bowl, combine flour, salt, baking soda, and cinnamon. Using electric mixer set on low speed, beat flour and butter mixture until combined. Stir in oats, chocolate, and raisins. Scoop out dough (about 1 1/2 tablespoons each) onto prepared cookie sheets, leaving 2 inches between each cookie. Chill sheets in fridge at least 15 and up to 30 minutes.  


While cookies are chilling, heat oven to 350°F. Bake 10-12 minutes, until edges are golden brown and centers are still soft. They will firm up as they cool. Remove cookies to a wire rack to cool completely. Store (completely cooled) cookies in an airtight container at room temp.
---
---
---
---
---