---
Spiced Earl Grey Cranberry Sauce
---
by
Kim Sunée
• November 15, 2021
---
Yield:
MAKES ABOUT 5 CUPS •
Total Time:
20 MIN
---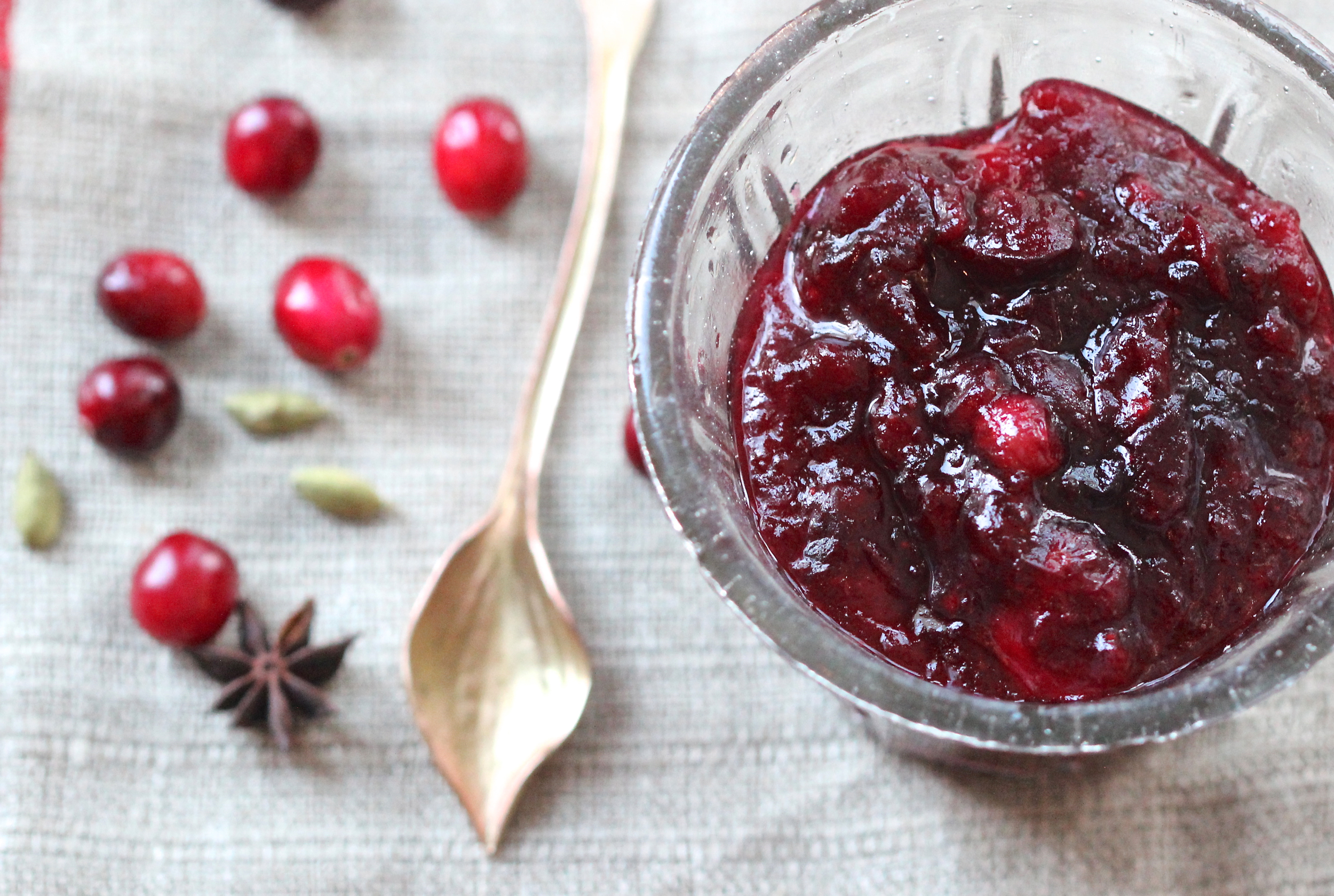 ---
NOTE: I'm reposting this from last holiday–it's a favorite for the holiday table and a great gift for guests.
As much as I have a place in my heart (and a space on my plate) for canned cranberry sauce, preferably still in the shape of the can and with all the ridges intact, I do love to also offer this fresher version for winter holiday dinners. Laced with bergamot-scented Earl Grey tea and whole warming spices, like cinnamon and cardamom, my friend, magazine food editor and coffee roaster, Dan Schumacher, first made this years ago and we've since modified it, adding clementine or kumquat, even pomegranate molasses. Use the best quality tea you can find–I personally love Mariage Frères Earl Grey. You could substitute with a nice masala chai or another favorite tea that would play well with these spices.
I don't mind leaving the whole spices in the sauce, but if you're worried about guests crunching into a cardamom pod or whole star anise, remove before adding the cranberries. You can make this four days in advance and store, covered, in the refrigerator. Or freeze up to one month. Serve with roasted meats, vegetables, on sandwiches, toast or over ice cream.
ingredients
1 1/2 cups water
1 1/2 cups granulated sugar
4 to 5 whole cardamom pods
3 whole star anise
3 cinnamon sticks
4 bags earl grey tea
24 ounces whole fresh (or frozen) cranberries
1 clementine or small orange, quartered
directions
Place water, sugar, cardamom, star anise, and cinnamon in a large heavy-bottomed pot; bring to a boil; reduce heat to low and simmer (there should be gentle bubbles on the surface) 10 minutes. Add tea bags, and set timer for 3 to 5 minutes. Remove tea bags and spices, if desired; add whole cranberries and clementine. Increase heat to medium-high and cook, stirring often, until cranberries soften and skins begin to split open and sauce thickens, about 12 minutes. Remove from heat and let cool to room temp before serving. Or cover and refrigerate up to four days or freeze up to one month.
---
---
---
---
---