---
Pumpkin Maple Cheesecake Swirls
---
by
Kim Sunée
• November 22, 2021
---
Yield:
12 •
Total Time:
1 HOUR PLUS CHILLING TIME MIN
---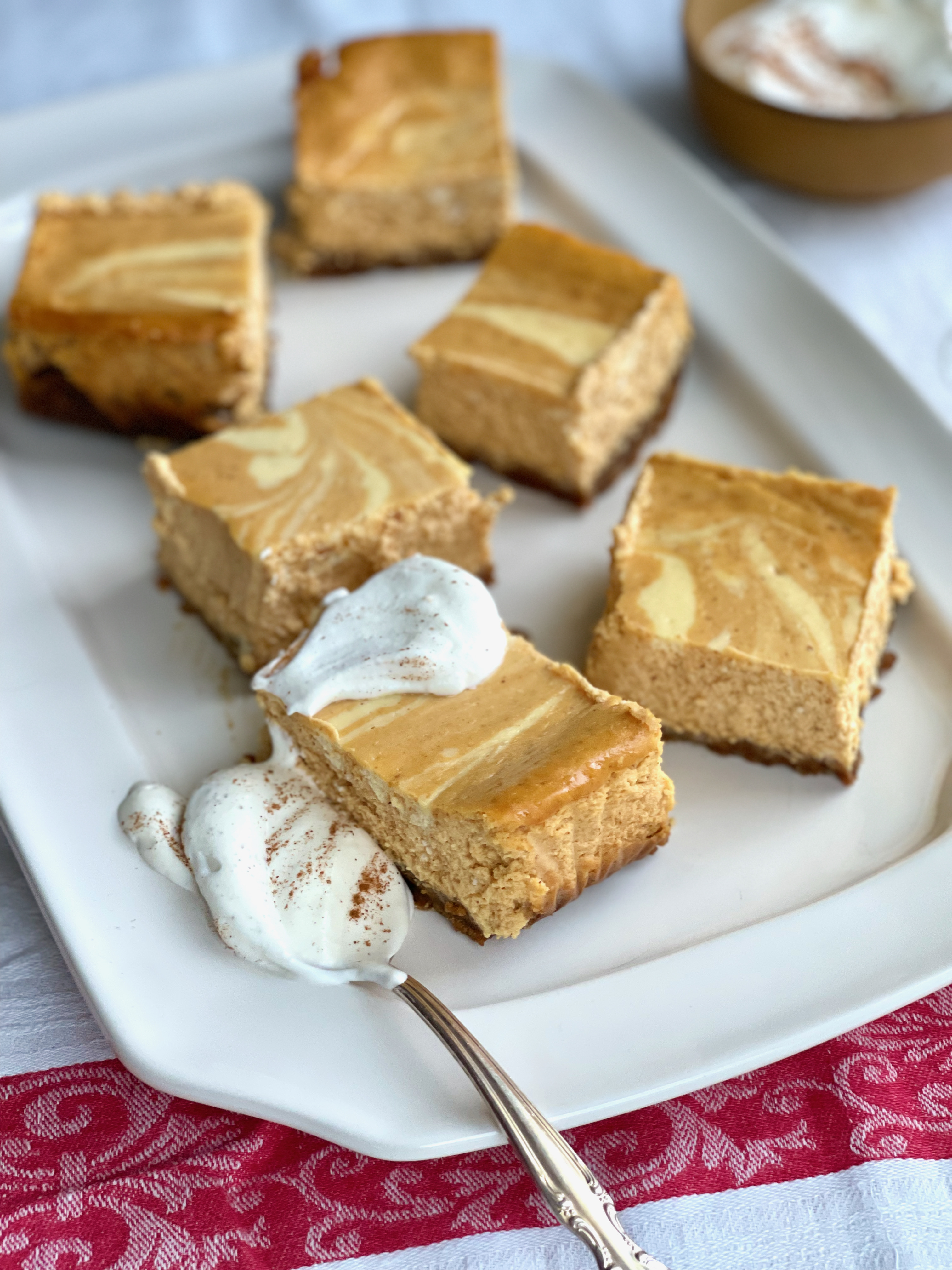 ---
A make-ahead dessert with some wow factor is always welcome, especially during a busy holiday cooking season. Cheesecake and pumpkin get a sweet hit from maple syrup but note that this is not a dense NY-style cheesecake, rather, these swirly squares tend toward the light and creamy. Make your own purée or look for canned pumpkin purée, not pumpkin pie filling, which is already spiced. Cut into squares and serve in cupcake liners for easy serving or on a platter with a side of candied cranberries or whipped cream with a bit of maple and Bourbon.
ingredients
For the Crust:
1/2 cup/4 ounces unsalted butter, melted
1 (8.8 ounce) package Biscoff cookies (or graham crackers)
4 ounces macadamia nuts or pecans
1 tablespoon sugar
1/4 teaspoon salt
For the Cheesecake:
3 (8-ounce) packages/24 ounces cream cheese, softened at room temp
4 large eggs, room temp
3/4 cup sugar
2 teaspoon pure vanilla extract
1/4 tsp salt
8 ounces sour cream, room temp
1/3 cup pure maple syrup
1 15-ounce can pumpkin purée
3/4 teaspoon ground cinnamon
1/4 teaspoon ground nutmeg or ground ginger (optional)
directions
Place oven rack in center of oven and preheat to 350°. Lightly grease a 13-x-9-x-2-inch glass or metal baking pan. Line with parchment paper, leaving some overhang on long sides; grease parchment. Melt butter in microwave or stovetop; set aside. Pulse cookies and nuts in a food processor until fine crumbs (about two cups). Add sugar and salt and pulse to combine. Add melted 1/2 cup melted butter and pulse. Alternatively, place cookies in a bag and crush with a rolling pin, then add to a bowl and stir in sugar, salt, and melted butter until well blended. Transfer crumbs to prepared pan and press firmly into bottom and partially up the sides of pan. Bake until fragrant and just starting to turn golden brown, 10 to 12 minutes. Transfer to a wire rack to cool.


Reduce oven temp to 300°. Beat cream cheese in bowl of a stand mixer fitted with paddle attachment (or use a mixing bowl and beat with a handheld mixer). Beat on medium-high until smooth, about two minutes. Add eggs, one at a time, beating until just blended; add sugar, vanilla and salt and beat on low speed, scraping down sides of bowl, as needed. Add sour cream and maple syrup and beat until thick and smooth. Scoop 3/4 cup of filling into a small bowl; set aside. Add pumpkin purée, cinnamon and ginger, if using, to remaining batter in mixing bowl and beat until smooth. Remove bowl and tap on counter to remove any air bubbles. Scrape filling into cooled cookie crust. Dollop reserved cream cheese filling over pumpkin filling and swirl using a knife tip or toothpicks to create a marbled look.


Bake until edges are set but center wobbles slightly when gently shaken (it will continue to firm up as it cools), 65 to 75 minutes. Turn off oven and leave door closed; set timer for 20 minutes, depending on how jiggly center is; let cheesecake sit in oven 25 to 35 minutes. Remove from oven and place on a cooling rack before chilling in fridge until cold and firm, at least four hours. Cut into squares and serve with whipped cream or candied cranberries. Can be made two days ahead, and kept, covered, in fridge until ready to serve.
---
---
---
---
---