---
Hot and Sour Soup with Greens and Ginger
---
by
Kim Sunée
• January 4, 2022
---
Yield:
6 TO 8 •
Total Time:
45 min
---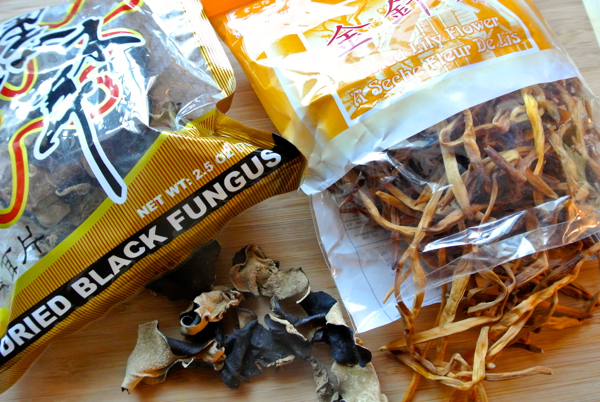 ---
This version of the classic take-out soup is loosely based on a Chinese Hot and Sour Soup recipe from Epicurious.com, which calls for pork; I've replaced the meat with a bunch of Choy Sum, doubled the broth and cut down on the cornstarch. Also, I didn't have any white pepper on hand so I used fresh ground black instead. As for the greens, you can use almost any winter variety, like collard, mustard, bok choy or green or Napa cabbage. I like to serve this with Sriracha or sambal oelek on the side. If there's any left over the next day, just add some fresh green onions or cilantro to brighten it up.
ingredients:
15 dried black mushrooms*
20 dried golden lily buds (sometimes called golden needles)*
2 tablespoons cornstarch
3/4 cup sliced canned bamboo shoots
1 (2-inch) piece ginger, peeled and thinly sliced
1/4 cup red wine vinegar
1/4 cup unseasoned rice vinegar or apple cider vinegar
1 1/2 teaspoons sugar (or to taste)
1 teaspoon fine salt
2 tablespoons light soy sauce
2 quarts low-sodium chicken broth, such as Pacific organic free-range chicken broth
6 ounces firm tofu, cut into 1/4-inch thick strips or diced
1 large bunch greens such as choy sum, bok choy or mustard, collard, or cabbage, thinly sliced
2 large eggs
1 tablespoon sesame oil, divided
1 1/2 to 2 teaspoons fresh ground white (or black pepper)
About 1/3 cup green onions, thinly sliced
*Dried mushrooms and buds can be found at most Asian markets
directions:
Place mushrooms in a large bowl and pour boiling water to cover by at least 2 inches–the mushrooms will expand–and let soak about 30 minutes. Place golden lily buds in a bowl of warm water.
Remove about 1/4 cup of mushroom soaking liquid and add to a small bowl with cornstarch; stir to combine and set aside. Cut out and discard any tough stems from black mushrooms. Squeeze out any excess liquid and slice mushrooms; set aside. Drain lily buds and cut in half crosswise; set aside.
Stir together vinegars, sugar, salt, and soy sauce together in a small bowl; set aside.
Heat 1/2 tablespoon sesame oil in a large pot. Add reserved mushrooms, lily buds, bamboo shoots, and ginger slices; stir to combine. Add broth and bring to a boil. Stir in cornstarch-vinegar mixture and stir to combine. Add tofu and greens. Whisk together eggs and remaining 1/2 tablespoon sesame oil and drizzle mixture into soup, stirring to combine. Taste and adjust seasoning, as needed. Stir in pepper and top with green onions; serve warm.
---
---
---
---
---