---
---
by
Kim Sunée
• January 10, 2022
---
Yield:
MAKES 8 CUPS •
Total Time:
45 MIN
---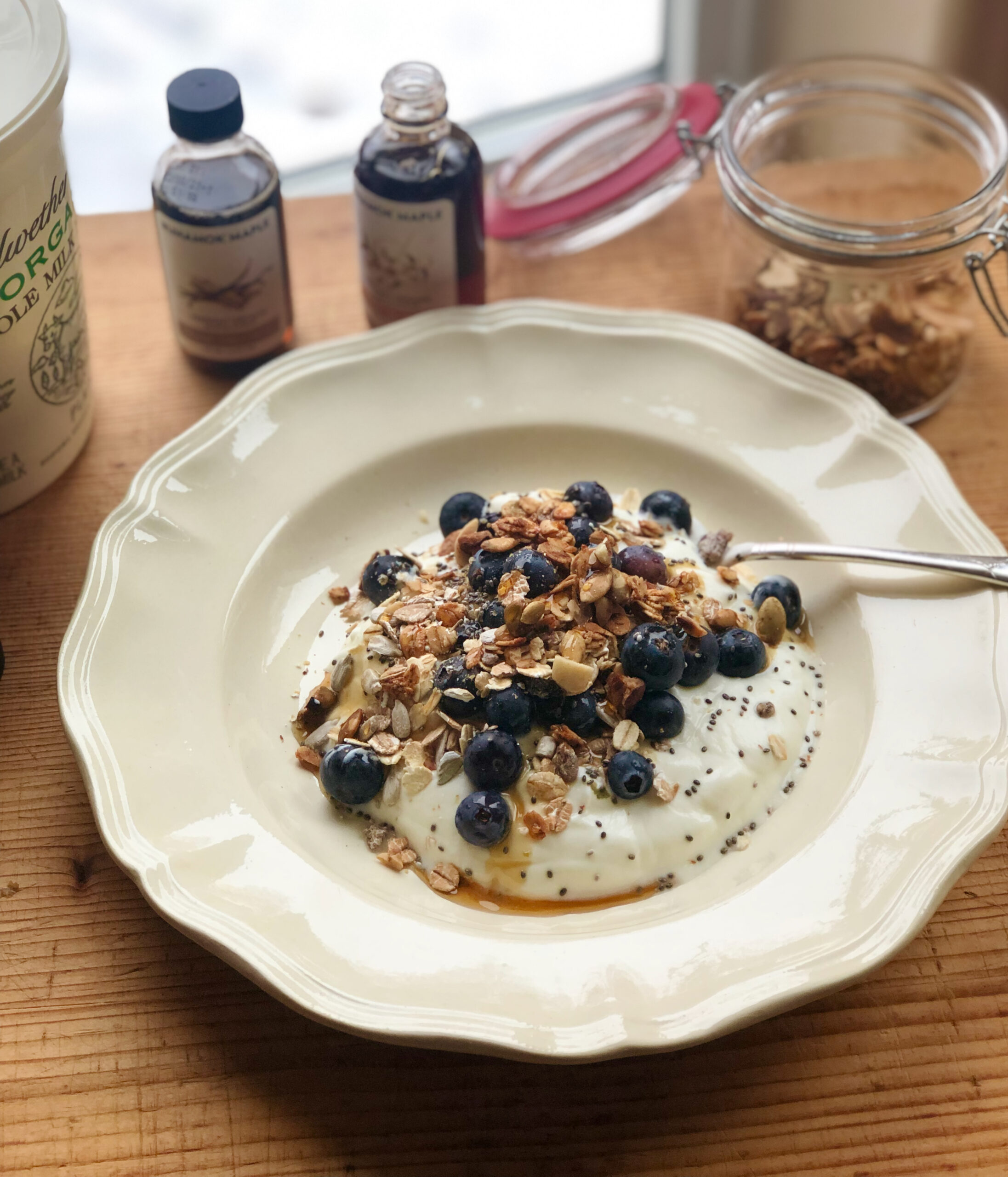 ---
The best part of granola might just be the toasted sticky bits when it comes out warm and fragrant from the oven. Add ripe neglected bananas and maple syrup, and this might be your new morning addiction. Mixed with coconut and pecans and a generous amount of cinnamon, the beauty of granola is its versatility—switch out the pecans for walnuts or salted Marconas; perhaps add some golden raisins or tart dried cranberries during the last 15 minutes of baking to prevent from burning.
Because there's extra moisture from the bananas, make sure to stir every five minutes or so–this helps release steam and allows the granola to bake and brown evenly. Since ovens are vastly different, keep an eye on it as it bakes, and adjust oven temperature, as needed. If you prefer a sweeter granola, up the maple syrup or add or a tablespoon or two of brown sugar or jaggery. Honey, although tempting, can be used but tends to burn so be extra careful as it's baking. Enjoy the granola straight up, with yogurt or milk, and a hit of good maple syrup (I'm obsessed with this jasmine tea-infused maple syrup from run amok) or a tart pomegranate molasses. Stir into pancake batter or add crunch to a banana split. Make it a little more savory or spicy to perk up salads and roasted vegetables. Allow the granola to dry and cool completely in the pan before storing at room temp, or in the freezer for up to six months.
ingredients:
3 very ripe medium bananas
1/4 cup extra virgin olive oil (or melted coconut oil)
1/2 cup pure maple syrup
3 1/2 cups (gluten-free) rolled oats
1 1/2 cups large, unsweetened coconut flakes
1 cup pecans, Marcona almonds, or walnuts, coarsely chopped
1/2 cup raw pumpkin seeds or sunflower seeds
3/4 teaspoon fine salt
1/2 teaspoon ground cinnamon
directions:
Preheat oven to 325°. Line two large, rimmed baking sheets with parchment paper.


Add bananas, maple syrup, and olive oil to a food processor or blender; blend to combine well. In a large bowl, toss together oats, coconut flakes, pecans, pumpkin seeds, salt, and cinnamon; stir to blend. Add banana mixture to dry oat mixture and stir to combine. Divide and spread mixture in a single layer among baking sheets, pressing down firmly with back of spatula to make sure mixture is compact.


Bake granola 15 to 18 minutes, or until mixture just begins to brown. Remove baking sheets from oven and stir granola well, breaking it up into chunks, if needed. Bake another 30 to 35 minutes, stirring every five minutes to help release steam so the granola can begin to toast and brown. Keep in mind the bananas release extra moisture, so baking time will vary. The granola is ready when dry and golden with crispy bits. Be careful not to overcook or it might become bitter. Remove pan from oven and let granola cool in pan completely before storing in an airtight container at room temperature.
---
---
---
---
---