---
There are days when only cake will do…
---
by
Kim Sunée
• March 1, 2022
---
Yield:
12 TO 14 •
Total Time:
45 MIN
---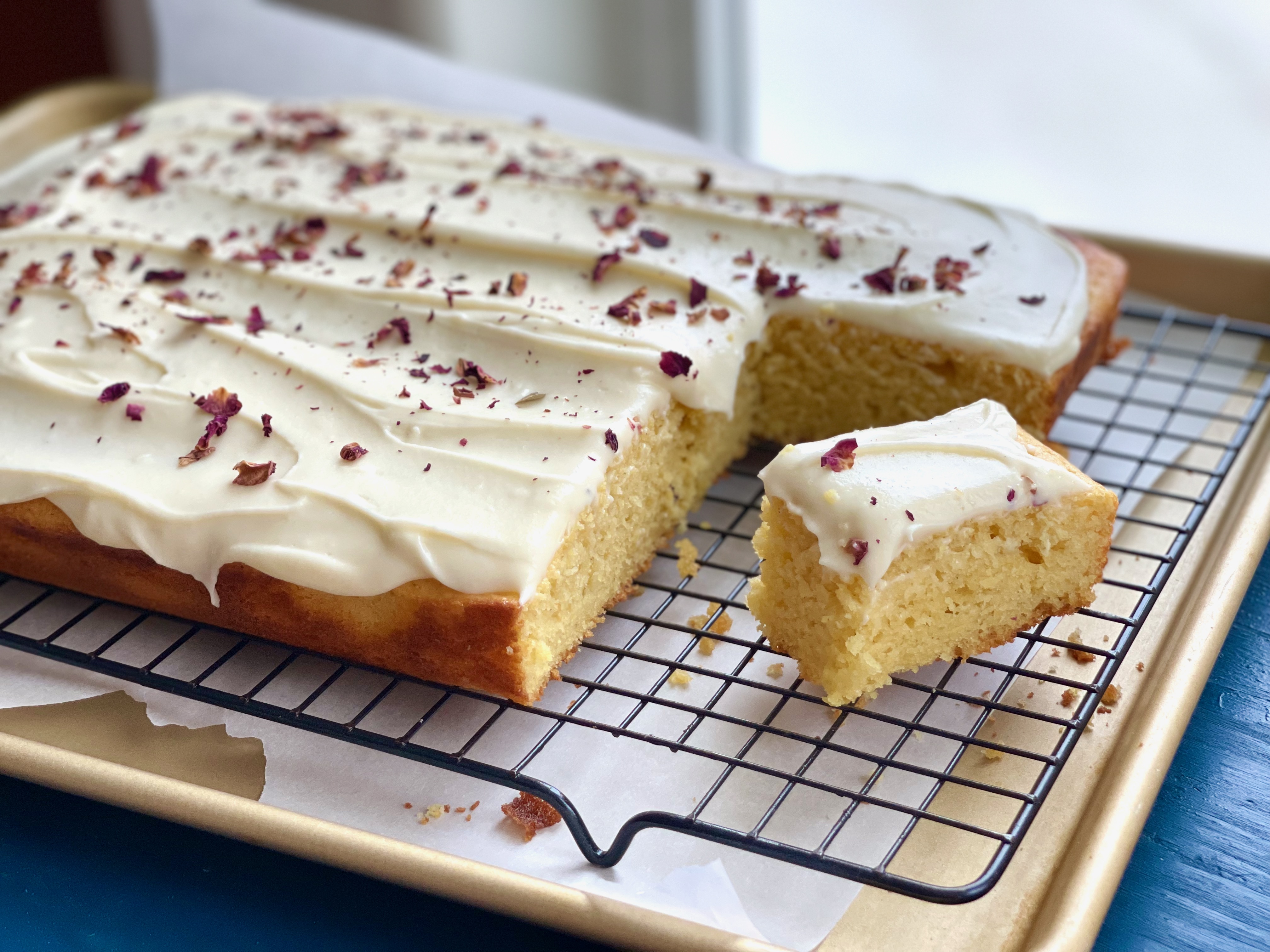 ---
There are days when you just need cake but baking one can sometimes feel daunting. Enter a single layer affair like this snacking cake, worth the bit of effort involved. With a hint of sweetness from cornmeal, you could easily add in other favorite flavors—like lemon or orange zest, cardamom, or vanilla. Corn flour, a finely ground cornmeal, and buttermilk make for a light and tender cake.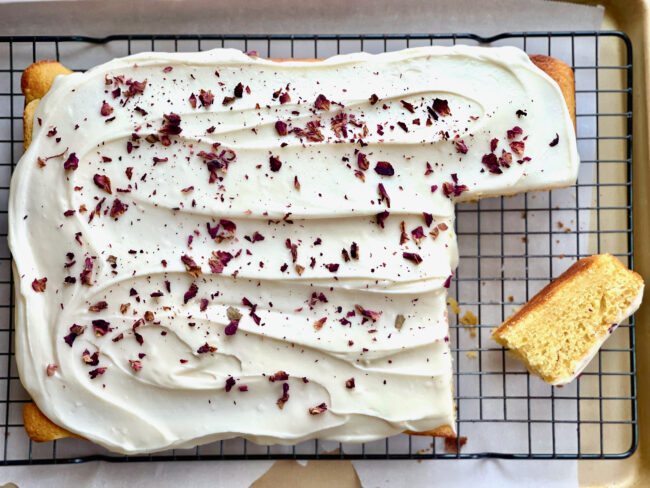 Note, in a pinch, if you don't have buttermilk, make a quick version: For every cup of buttermilk needed, add one tablespoon white vinegar or lemon juice to a one-cup measuring cup. Add whole or two-percent milk to fill one cup; stir and let sit five minutes to slightly curdle and thicken. 
As to the flours, Bob's Red Mill makes an excellent corn flour.  If you can't find Bob's, opt for a 'fine grind' cornmeal or a 'medium grind,' but note that 'coarse grind' will result in a grittier denser confection, more like cornbread than cake (and for the record, there's nothing wrong with that). For a gluten-free option, substitute all-purpose flour with 1-to-1 gluten-free baking flour, but note that the texture might be a bit denser. To make ahead, let cake cool completely before wrapping tightly; leave on kitchen counter until ready to frost (or up to two days). You can also bake and frost the cake a day or two ahead, cover and chill in fridge, but make sure to bring to room temp before serving. Enjoy warm out of the oven, with a drizzle of honey or jam. Or let cool before spreading with vanilla cream cheese frosting and consider garnishing with fresh or dried flowers or fresh fruit or grated lemon zest.
ingredients
For the Cake
2 cups/256 g all-purpose flour or 1-to-1 gluten-free baking
Scant 1 1/2 cups/280g granulated sugar
1 1/4 cups/155g whole grain corn flour (Bob's Red Mill) or fine grind cornmeal, or (or 200g medium-grind but NOT coarse)
1 tablespoon baking powder
1 teaspoon fine salt
2 cups well shaken buttermilk
Scant 1 cup (3/4 cup plus 2 tablespoons) avocado oil, grapeseed oil, or extra-virgin olive oil
3 large eggs
2 large egg yolks
1 teaspoon vanilla extract
Serve with fresh raspberries or blueberries (optional)
directions:
Preheat oven to 350°F. Grease a single layer 9-x-13-x-2-inch metal cake pan (or equivalent) with softened butter and lightly dust with flour, tapping out any excess, or spray with baking spray and line with parchment (leaving a 1-inch overhang on all sides); spray parchment.


Combine flour, sugar, cornmeal, baking powder, and salt together in bowl of a stand mixer fitted with paddle attachment. Alternatively, use a large mixing bowl and a handheld electric mixer. Combine buttermilk, oil, eggs, yolks, and vanilla in a medium bowl and whisk until smooth. With mixer on low, combine dry ingredients and slowly add wet ingredients to dry ingredients. Scrape down sides, and mix until well-blended and smooth.


Pour batter into prepared cake pan/pans. Bake 35 to 40 minutes, rotating halfway through, until edges are golden and a tester inserted in center comes out clean. Let rest in pan 5 minutes; gently lift parchment overhang to remove cake from pan or turn out onto a cooling rack; let cool completely.
Vanilla Cream Cheese Frosting:
1 cup/8 ounces/226 g cream cheese, at room temp
1/2 cup/1 stick unsalted butter, at room temp
2 tablespoons sour cream, crème fraîche, or plain yogurt
2 teaspoons vanilla extract
2 1/2 to 3 cups/250g to 300g powdered sugar
Pinch salt
IMPT: make sure cream cheese and butter are softened to room temp
In bowl of a stand mixer fitted with paddle attachment, beat cream cheese, butter, sour cream and vanilla on medium speed 2 to 3 minutes, until smooth and creamy, scraping bowl as needed. With mixer on low speed, slowly add powdered sugar until well blended. Increase speed to high and beat about 15 to 20 seconds until light and fluffy. Chill until ready to use; remove from fridge to soften slightly before using. Leftover frosting is good for dipping strawberries.
---
---
---
---
---