---
Dirty clams need a cornmeal bath
---
by
Kim Sunée
• June 21, 2022
---
Yield:
MAKES 4 SERVINGS •
Total Time:
15 MIN
---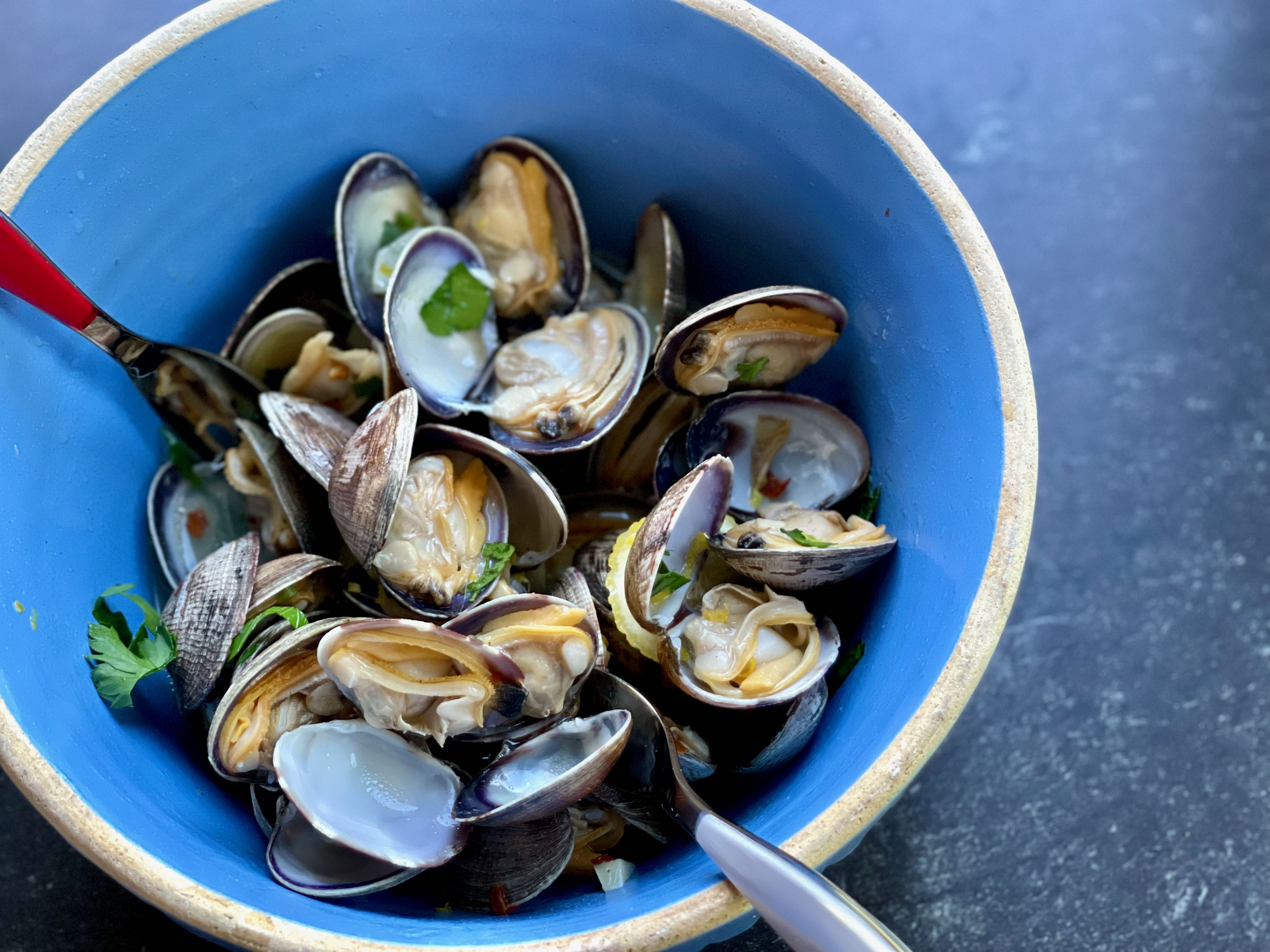 ---
It's clamming season and whether you like to dig for the mollusks yourself or buy them from a local fishmonger, both razors and littlenecks, cooked with minimal fuss is the way to go. If you shy away from clams due to the grit factor, know that most sold commercially will have been purged but I tend to do another round of cleaning at home. If you're lucky enough to dig up wild clams, purging is essential. Some swear by salt water for 48 hours and others, including myself, prefer a cornmeal bath. A kitchen trick I learned from a Portuguese chef friend of mine, cornmeal helps rid the bellies of sand and grit. The ratio is usually one to two tablespoons cornmeal per dozen clams to two teaspoons salt; cover with cold water by a few inches. For safety purposes, make sure clams are not stored in plastic; discard any with broken shells and use the salt water or cornmeal water bath method and store in the fridge, at a steady temperature of about 35° to 39°F.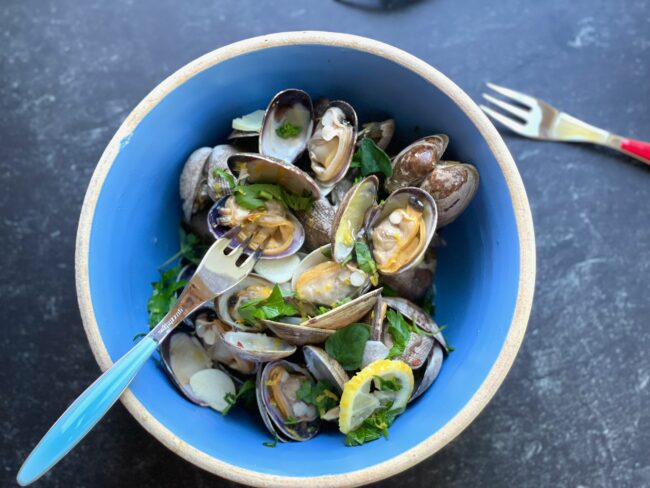 As for grilling, use a shallow, rimmed sheet pan (to catch all the juices) and cover with foil. You can also place the shells directly on the grill grate but if you don't want to fuss with lighting a grill, stovetop cooking is just as clam-friendly. Use a large wide pot with a lid. Clams cook quickly, so remove each one as it opens and make sure to discard any stubborn shells that haven't opened up during the cooking process. Some dry wine and a simple garlic lemon butter are all you need. The broth will keep you coming back for more, so make sure to have crusty bread or pasta or a big spoon at the ready. If you have any uneaten opened clams, remove from shell and store in fridge, up to one day; toss into an omelet, leftover rice or pasta, or as a pizza topping or blend into a seafood dip.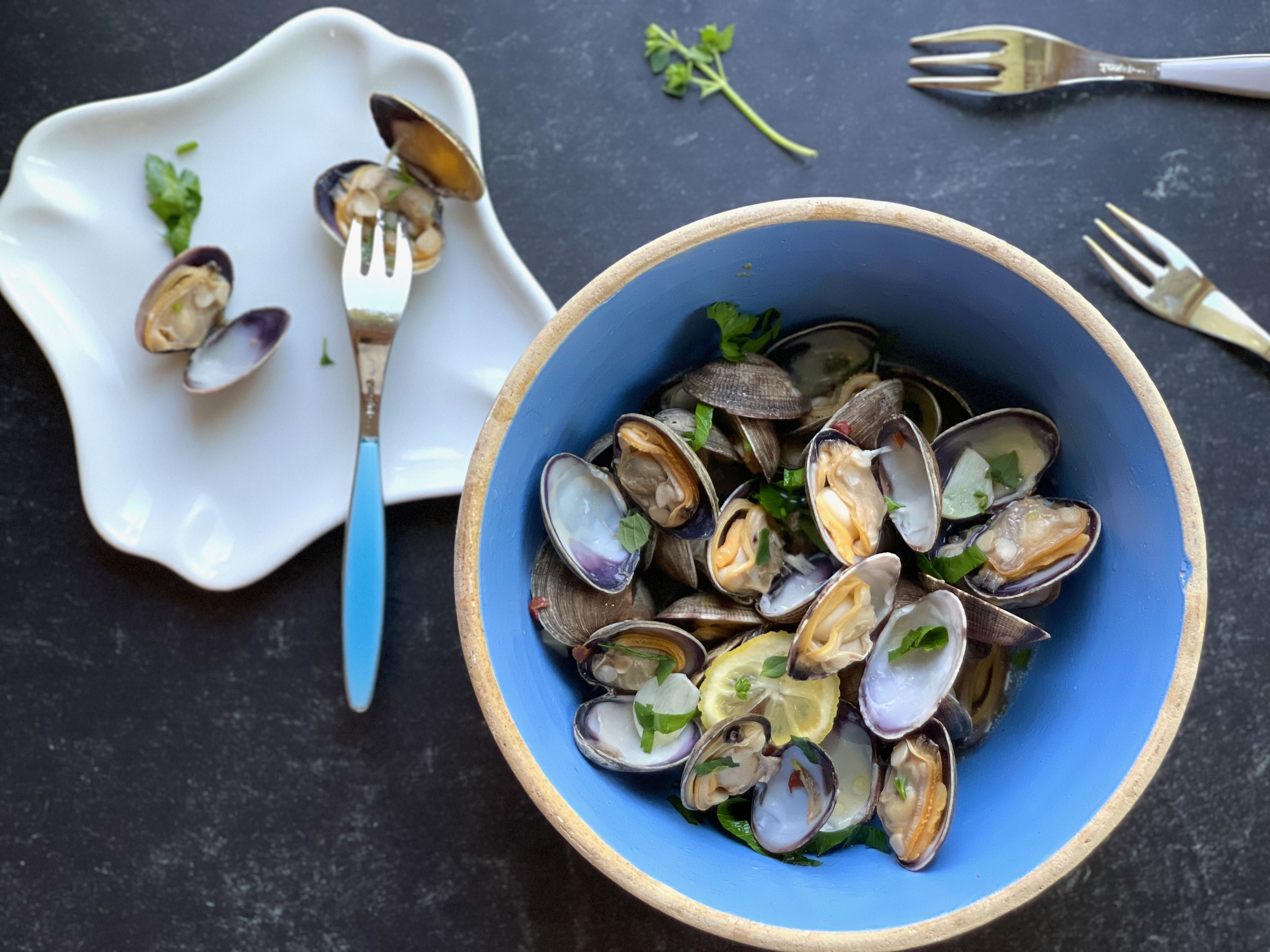 ingredients
4 to 5 dozen littleneck clams, purged as needed (see note)
Juice and zest of 1 large lemon
6 tablespoons unsalted butter
1 1/2 cups dry white wine or clam juice or broth/water
2 to 3 cloves garlic, thinly sliced
Pinch salt
Pinch cayenne pepper or red pepper flakes
2 to 4 tablespoons fresh chopped herbs such as flat-leaf parsley, basil, chives, thyme
Optional serving suggestions: cooked linguine; warm crusty bread for dipping
directions:
Rinse clams under cold running water. Place in a large bowl and cover with cold water by two inches. Sprinkle with two teaspoons salt and two tablespoons cornmeal. Place in fridge and let purge one to two days. Before cooking, rinse clams well of any cornmeal, sand, and grit.


If grilling, prepare a charcoal or gas grill for medium-high cooking.


Zest lemon and reserve. Place a small saucepan over medium-low heat. Add butter. Cut zested lemon in half and slice one half into thin slices and place in saucepan with butter; juice other half into saucepan. Stir in garlic and stir occasionally until butter is melted but not browning; remove foam as it rises to the surface, if desired. Once butter is melted, turn off heat; set garlic-butter aside.


GRILL METHOD: Place clams directly on grill; clams should start to open after 5 to 7 minutes. Using tongs, gently remove clams being careful not to spill clam juices to a large bowl. Discard any clams that do not open after 10 minutes. Or place clams on a sheet pan with wine or broth/water; cover lightly with foil or a grill lid and let cook, checking every 30 second or so. Remove opened clams, being careful not to spill the juices to a large bowl. Toss clams with warm garlic butter and sprinkle with lots of fresh parsley.


STOVETOP METHOD: Set a large, wide pot (like a wok or stock pot) over medium-high heat. Pour wine or broth into pot and bring to a gentle boil; add clams and cover with a lid and steam until fully opened, about five minutes. Check every 30 seconds after four or five minutes and remove clams to a large bowl as they open. Toss with melted garlic-lemon butter and fresh herbs.
---
---
---
---
---