---
Roasted Salmon with Carrot Top Pesto
---
by
Kim Sunée
• July 6, 2022
---
Yield:
2 to 4 •
Total Time:
30 MIN
---
---
Is there anything better this time of year than outdoor markets flush with shades of green, fuchsia, orange and purple? Such abundance to make the most of simple, small bites, like toasted baguette slices smeared with good butter, topped with paper-thin slices of bitey radish and finished with a sprinkle of salt. With such freshness, there's also a tendency for less waste. Radish tops and the thick stems of big leafy greens are delicious quickly blanched, drained, and tossed with garlic and sesame oil. Try small new potatoes with their delicate skins lightly steamed and smashed with warm salted butter. Or a quick pasta dish of whole green garlic and lots of fresh herbs, an egg yolk, and a hit of chile flakes. 'Tis also the season for fresh king and sockeye salmon, halibut and more. I was thrilled to recently receive some white King, which is such a rare treat.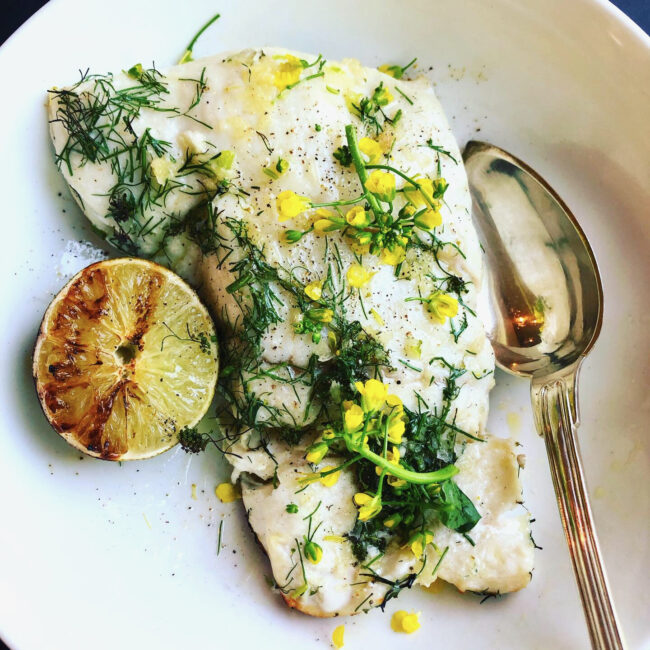 I find it best to honor the catch with minimal fuss, so I opted for a quick roast with tender carrots and the tops blended into a thick sauce with nuts, garlic and herbs. Any extra can be thinned out with yogurt or sour cream for dipping chips and vegetables.
ingredients
1 to 2 bunches small carrots with tops
2 cups packed fresh carrot tops, rinsed and dried
1 cup packed fresh basil leaves
1 cup walnut halves or Marcona almonds or pecans, lightly toasted optional
3 to 4 cloves garlic
2 tablespoons white wine or champagne vinegar or lemon juice
Salt and freshly-ground black pepper, to taste
3 to 4 tablespoons good quality extra-virgin olive oil, plus more for garnish
Grated Parmesan or pecorino Romano (optional)
1 (1-pound fillet) wild salmon, pin bones removed, if desired (skin on is fine)
directions
Heat oven to 375°. Trim tops off carrots, rinse, and dry thoroughly. Trim carrots, as needed, and slice in half or quarters if carrots are thick and large; keep in mind carrots should be small and tender or cut into smaller pieces as they roast along with the salmon. If desired, blanch carrots by adding to boiling water for a few minutes; drain and set aside. Place carrot top greens and basil, nuts, garlic, and vinegar in bowl of food processor or blender and blend to combine. Add cheese, if using. And some salt and pepper. With blender or processor running, drizzle in olive oil and pulse or blend to combine. Taste and adjust seasoning, as needed. If too thick, add more vinegar or oil or about one teaspoon of water and blend to combine.


Spread one third carrot-top mixture across bottom of a large skillet or baking dish. Top with reserved carrots. Add salmon to skillet and lightly season with salt and pepper. Top salmon with some of the carrot-top mixture. Roast 15 to 20 minutes, depending on thickness of fillet, and until carrots are tender and salmon cooked to desired degree of doneness. Serve with extra sauce and lemon wedges, if desired.
---
---
---
---
---