---
Steamed Oysters and Fries
---
by
Kim Sunée
• November 10, 2020
---
Yield:
1 to 2 •
Total Time:
20 min
---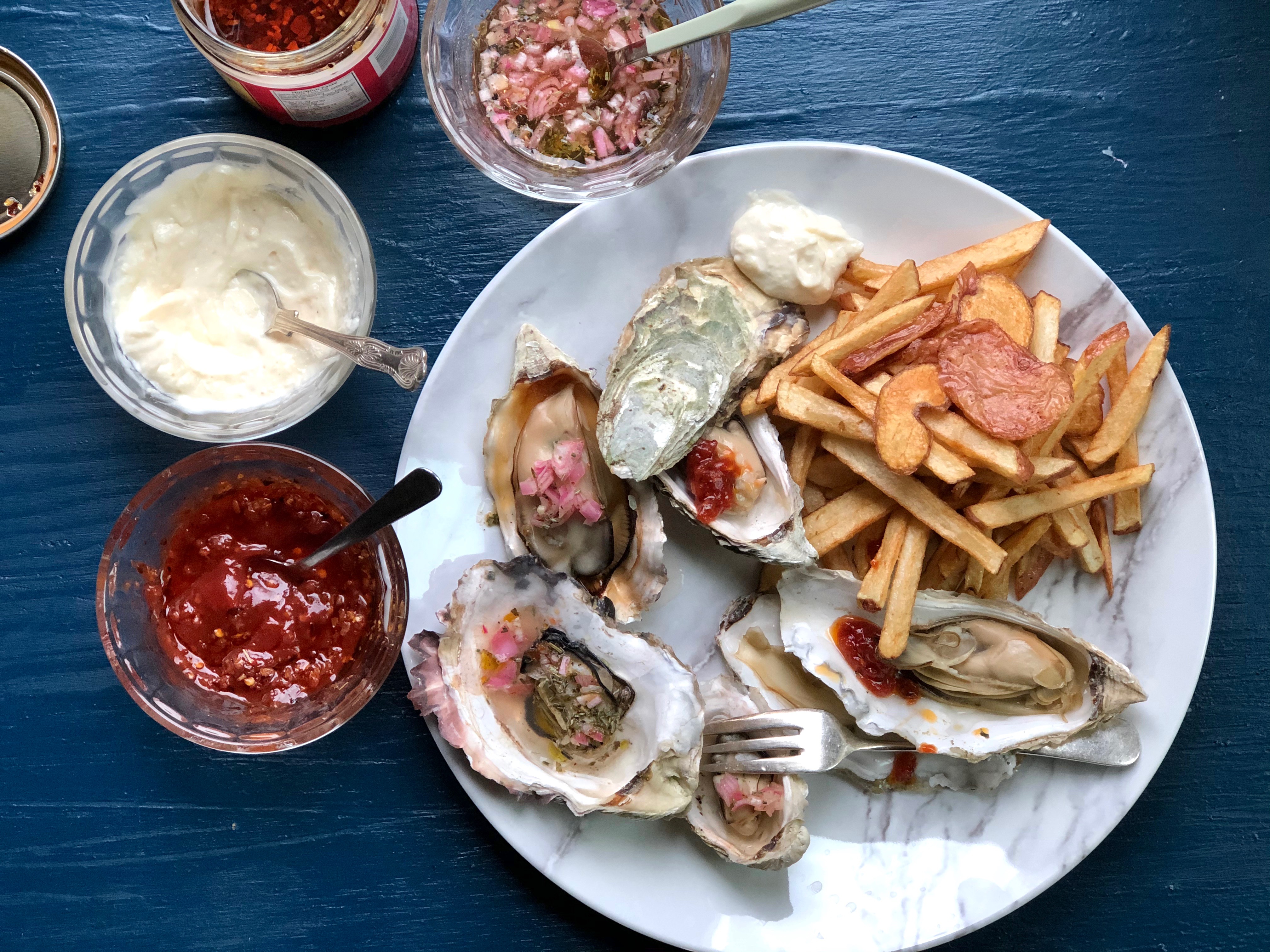 ---
Want all the glory of a perfect cooked oyster and none of the pain? Try steaming instead of shucking…
I grew up eating Gulf oysters, plump and raw on the half shell, with cocktail sauce and Saltines; fried and piled high on seafood platters; charbroiled with lots of garlic butter; or rich and decadent, Rockefeller-style. And I've watched my share of shucking competitions to know that I'm definitely not a contender. When I don't feel up to challenging myself to testing my hand strength and accuracy, I just roast oysters whole in the oven. But roasting–although it works just fine–tends to dry out the precious briny bivalve liquor, so recently since I can't seem to pass up a few dozen fresh Alaska oysters, I've gone back to a tried-and-true easy steaming method. Popular in South Carolina (where you'll find community oyster roasts in the fall) and other parts of the country, a steamed oyster is a happy medium between raw and fully-cooked. The steam keeps them plump and juicy, so look for larger oysters with a deep cup to hold all the liquor. Steaming doesn't take long–start checking after five minutes–so be careful not to overcook. You might still have to pry open some of the bivalves with a shucking knife, but it will be a lot easier once they've steamed. All you really need are fresh lemon wedges and maybe some hot sauce or horseradish. Well, and maybe a batch of hot crispy French-fried potatoes to enjoy with the oysters.  With so many dazzling varieties–Magic Myrna, Magic Molly, Rose Finn and Huckleberry–sprouting up all over right now at my local farmers' markets, inspiration comes easily. The trifecta of oysters, hot fries and a cold glass of bubbles or brew make for a very satisfying (and shuck-free) meal.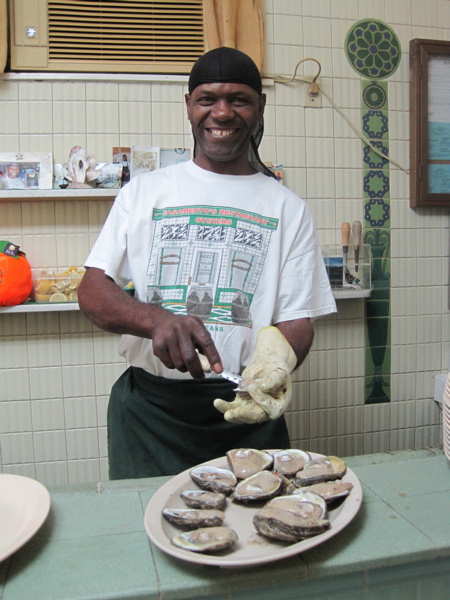 ingredients
1 dozen fresh raw unopened oysters
Water, white wine, or beer, for steaming
Aromatics such as herbs and spices (optional)
For serving: lemon wedges; hot sauce
Dipping sauces: Ketchup + chili crunch; Mayo + horseradish; minced shallot + vinegar + dried herbes de Provence; soy sauce + grated ginger + vinegar or lime juice+ green onion
directions
Scrub oysters to remove any grit; rinse well under cold running water. Note: You can let them sit on a tray of ice for an hour or so but do not let them sit in water or they will perish. Discard any oysters with broken shells or that have opened. Place oysters in a single layer in a steamer basket or a large, wide pan with the deep cup side down, and flatter side up; you don't want to lose any of the oyster liquor.
TO STEAM: It's best to use a steamer basket that is about the same size as the pot you'll be using to boil the water. I use a two-tiered large (10-to-12-inch) bamboo steamer and a wok or other wide (10-to-12-inch) pot. Fill pot about one third of the way with water or white wine or beer and any aromatics, if using; test by placing basket over pot; the water should reach just the level of the bottom of basket and not touching the oysters. Bring water to a boil and place steamer basket of oysters over the boiling liquid, making sure oysters do not touch the liquid; cover and reduce heat to medium. Let steam until shells begin to open; check after 5 minutes but no longer than 9 or 10. Keep in mind that the oysters will be hot and continue to cook after removing them from the steam. If all the shells haven't opened after 8 minutes, carefully remove the oyster basket and, using tongs remove oysters to a kitchen towel. At this point, use an oyster knife to gently pry open the oyster—it will be so much easier than shucking them raw—being careful not to lose the hot steaming oyster liquor. Serve with lemon wedges, hot sauce, horseradish and optional dipping sauces. And a side of hot fried potatoes.
---
---
---
---
---