---
---
by
Kim Sunée
• December 15, 2020
---
Yield:
MAKES 3 TO 4 DOZEN •
Total Time:
30 PLUS CHILLING TIME MIN
---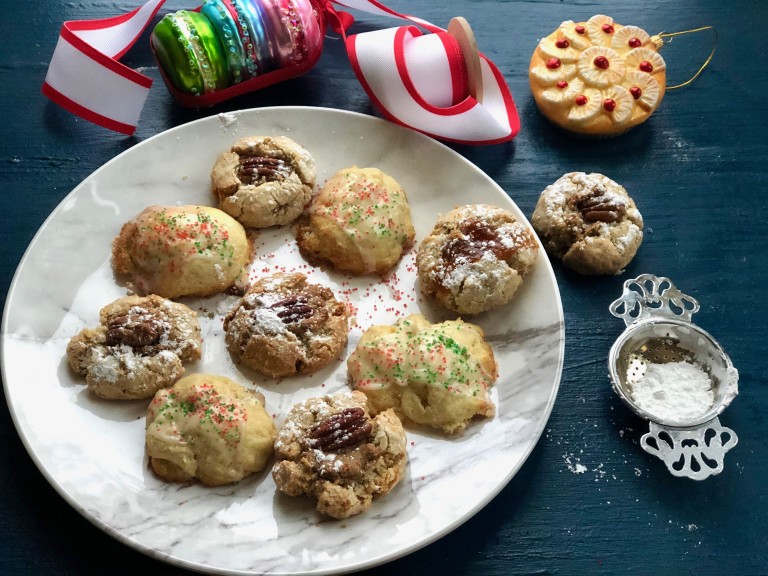 ---
I got a version of this traditional recipe from a friend of a friend of a friend of the original yet elusive Mama Romano. Whether a true Mama Romano exists behind this recipe or not, these delicious tender ricotta cookies are very real. This is the basic recipe, but it's easily adaptable; I've modified over time, adding in finely-chopped walnuts or pecans; dipping some in chocolate; and adding in orange blossom to the batter; in spring, rose petals top the glaze. As for the glaze, another option is to forgo the (minimal) fuss and eat these cake-like cookies warm out of the oven. The cookies themselves require less than 15 minutes baking time, but you'll need to plan ahead to allow for chilling the dough, which is crucial for the cookies to hold their shape as they bake. In winter, I just set the bowl out to chill on the back deck.
ingredients:
For the Cookies:
1 cup (2 sticks) unsalted butter, softened
1 3/4 cups (370 grams) sugar or vanilla sugar*
1 (15-ounce) container ricotta cheese, preferably fresh, whole-milk ricotta
2 large eggs
1 tablespoon pure vanilla extract
1 teaspoon almond extract
Grated zest of 1 small lemon
4 cups (480 grams) all-purpose flour
1 teaspoon fine salt
2 teaspoons baking soda
For the glaze:
Grated zest and juice of 1 lemon (2 tablespoons juice)
About 3 cups (345 grams) powdered sugar
1 tablespoon milk, as needed
Red and green sparkling sugar (optional)
Cream butter and sugar together, using a stand mixer or handheld electric mixer, until light and fluffy, about 3 minutes. Add ricotta and eggs, one at a time, mixing just until blended. Add vanilla and almond extracts and lemon zest. In a separate bowl, combine flour, salt, and baking soda. Slowly add dry ingredients to butter-ricotta mixture and blend just until combined—do not overmix. Cover and chill dough in fridge 15 to 30 minutes. While dough chills, line two baking sheets with parchment paper and place in fridge or freezer. 


When ready to bake cookies, heat oven to 350°; remove dough and chilled baking sheets from fridge. Using your hands, shape dough into balls (about 1 tablespoon) and place on baking sheet. Repeat with remaining dough, placing dough about 2 inches apart. Bake cookies 11-14 minutes, rotating baking sheets after 6 minutes. Cookies will start to turn golden around the edges but remain pale in the center. Remove cookies to cooling racks. 


While cookies are cooling, and if making glaze, add lemon zest and juice to a medium bowl.  Whisk in powdered sugar; if glaze is too thick, add in 1 teaspoon to 1 tablespoon milk, whisking to blend. If too thin, add in more powdered sugar. Drizzle or spread glaze over cookies and sprinkle with colored sparkling sugar. Let cookies and glaze set another ten minutes before serving.
* To make vanilla sugar, scrape the beans one vanilla pod and mix into 2 cups granulated sugar.
---
---
---
---
---