---
Spicy Coconut Black-Eyed Peas
---
by
Kim Sunée
• December 30, 2020
---
Yield:
6 •
Total Time:
50 MIN
---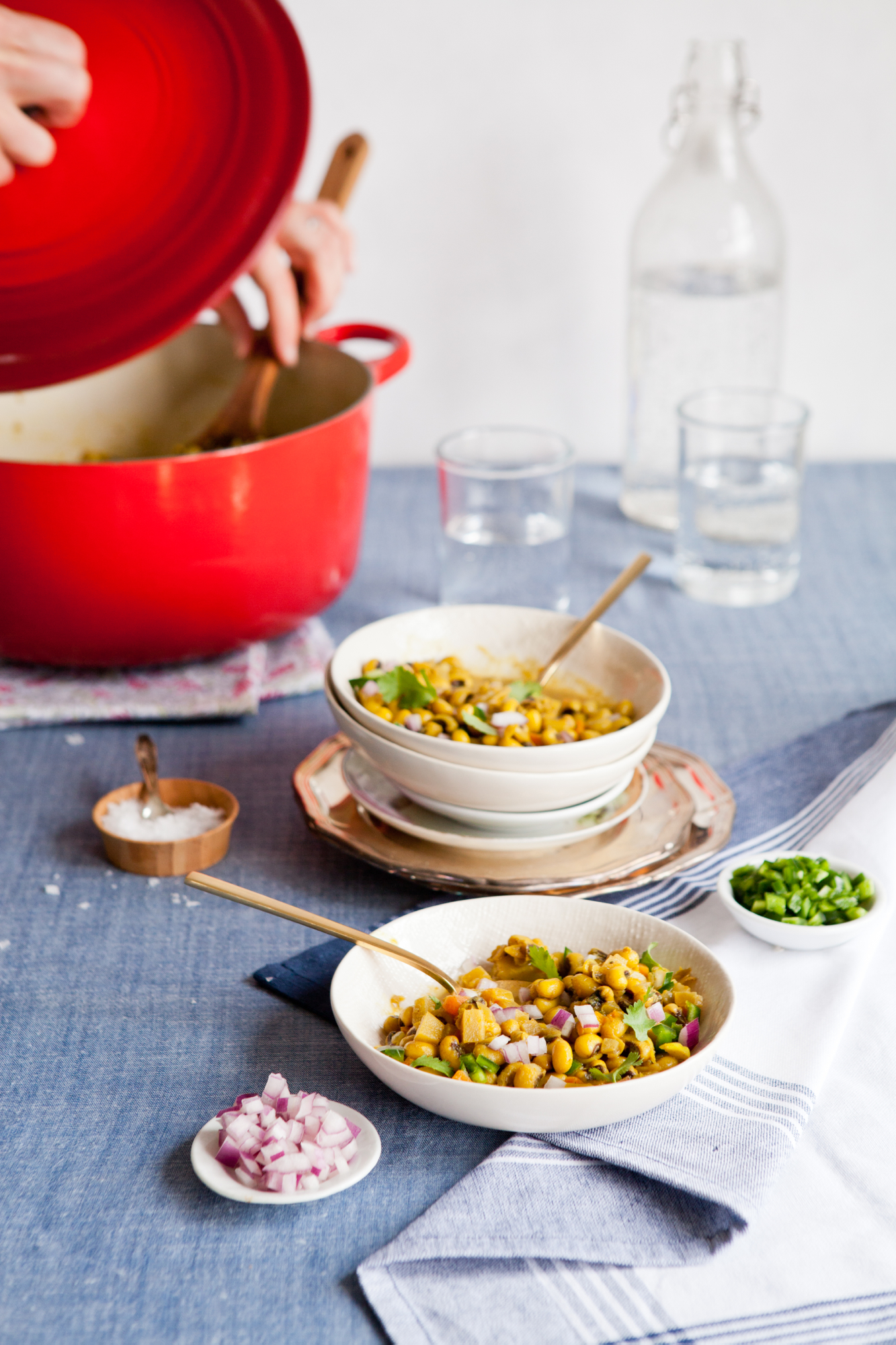 ---
NOTE: This was originally posted in 2014, but updated for this New Year.
With a New Year to start in just a few days, I was thinking of some of the foods we eat to bring good fortune, including French crêpes (the tradition is to hold a coin in one hand and flip the crêpe with the other to bring good luck/wealth for the new year. In Spain, they eat 12 grapes at midnight, with each grape representing the number of sweet (or sour) months that will follow. Down South, we eat collard greens and black-eyed peas, which I love in a bowl of Hoppin' John and preferably with the black pepper cornbread Bill Smith, Jr. used to bake up at Crook's Corner in North Carolina. This year, more than ever, many of us are looking forward to saying Adieu to 2020. And whether superstitious or not, may this bowl of fragrant peas nourish you throughout the winter.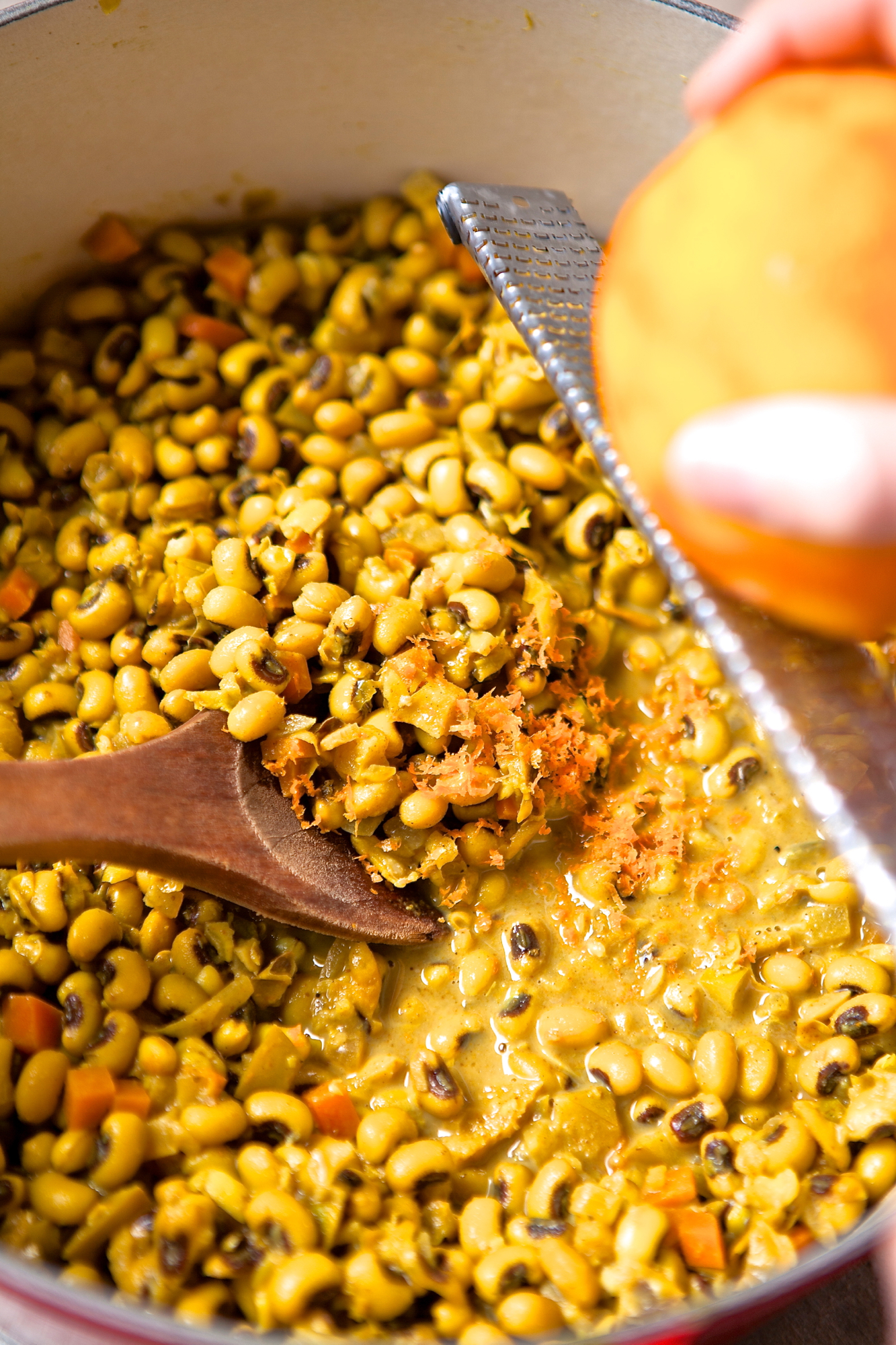 Ingredients
1 tablespoon olive oil or coconut oil
3/4 cup diced carrot (about 2 small carrots)
3/4 cup diced yellow onion (about 1/2 medium onion)
1 tablespoon peeled and minced fresh ginger
2 to 3 cloves garlic, minced
1 tart apple, such as Granny Smith, cored and diced
1 pound dried black-eyed peas, rinsed and picked through (soaked overnight, if needed)
5 cups water
1 1/2 tablespoons hot Madras curry powder or garam masala (or to taste)
2 teaspoons fine salt
1 teaspoon ground cumin
1/2 teaspoon freshly ground black pepper
1 large juicy orange
1/2 to 3/4 cup canned unsweetened coconut milk, shaken
1/2 cup fresh chopped cilantro
Garnishes: chopped red onion, lime wedges, chopped fresh jalapeños
Steamed rice, for serving (optional)
directions
Heat oil in a large, heavy-bottomed pot over medium heat; add carrot, onion, ginger, garlic, and apple. Stir and let cook, stirring occasionally, about 3 minutes, being careful not to brown. Add black-eyed peas, water, curry powder, salt, cumin, and pepper; stir and bring to a boil. Skim froth, reduce heat to medium-low-to-low and simmer about 40 minutes or until peas are almost tender. Stir occasionally, mashing some of the peas on side of pot for creaminess. Add more water, as needed, if liquid dries up.


Add zest from one quarter of the orange, then cut orange in half and squeeze juice into the peas. Add coconut milk and stir. Let simmer, covered, another 7 to 10 minutes or until peas are tender. Taste peas and adjust seasoning, as needed. Stir in cilantro.
To serve: pour peas into a large serving dish and heap steamed rice in the center. Garnish with red onion, jalapeños and lime wedges.
---
---
---
---
---