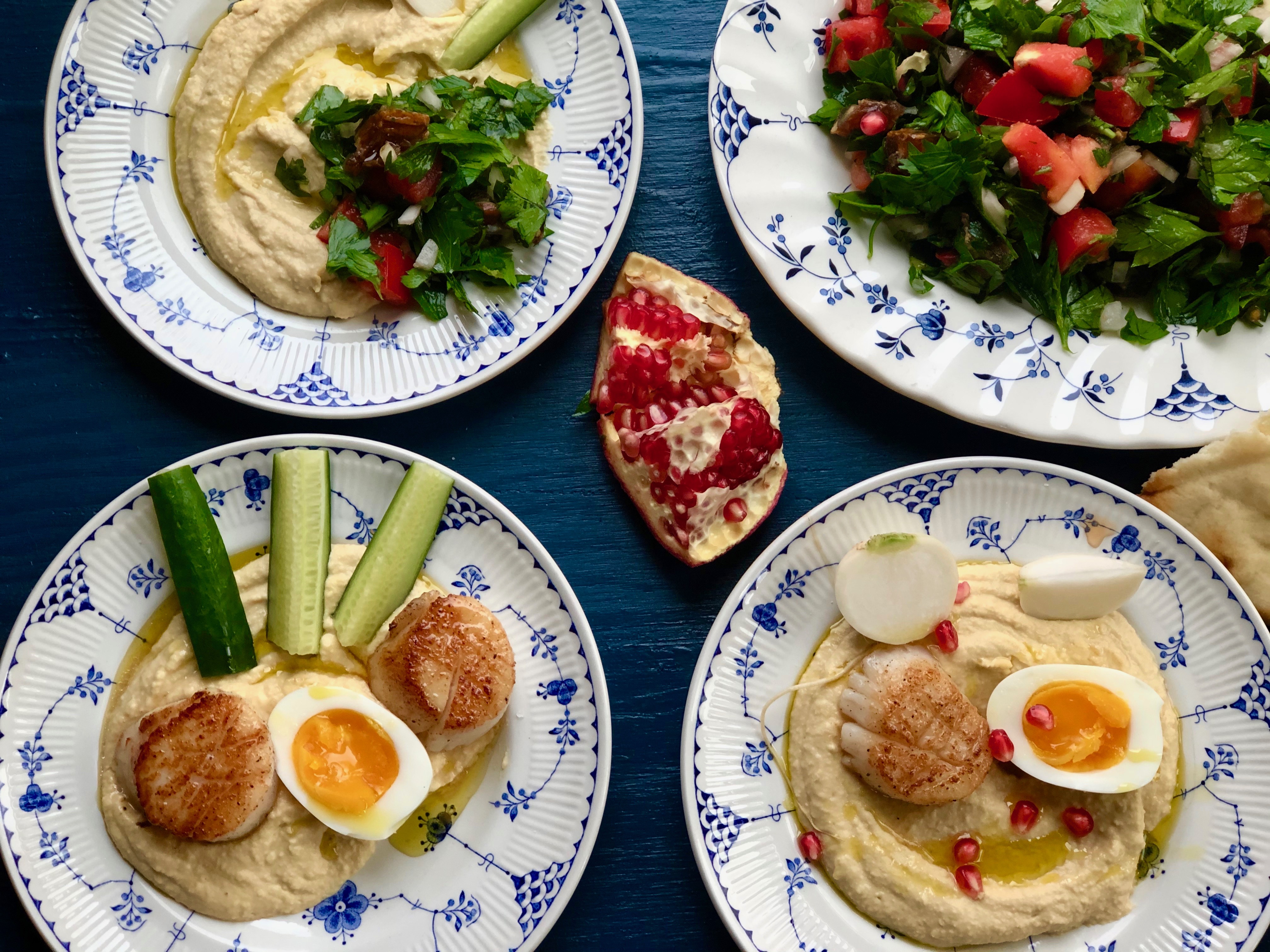 ---
Hummus, the go-to dip of chickpeas blended with sesame seed paste, lemon and garlic, is often so hit-or-miss I stopped eating it for a long time. But during the past seven months, I discovered a new love for it mostly due to the fact that I, like many of us, had possibly panic-shopped for both dried and canned peas, which are still overflowing in the pantry. Along with nothing but time to work my way through favorite cookbooks including some by kitchen wizards Yotam Ottolenghi and Sami Tamimi, I now always have homemade hummus in the fridge.
Homemade hummus requires few ingredients, so make sure they are top-shelf. Either start with dried chickpeas, which Ottolenghi and Tamimi suggest soaking overnight and cooking with baking soda to tenderize them. Otherwise, stock up on good-quality canned chickpeas aka garbanzo beans. Fresh-squeezed lemon juice and excellent olive oil are almost as important as the requisite tahini, a ground sesame paste that gives hummus its distinct nutty quality. You can often find tahini in the aisle with other nut butters. If you're feeling adventurous, try substituting sesame for another nut butter. Or replace half of the chickpeas with roasted and peeled beets or butternut squash. The key to making a truly great hummus is to process it for at least 3 to 4 minutes as it gets whipped into a frenzy with ice-cold water to render the consistency light and creamy.
There are many ways to dress up hummus for a larger feast. Think soft-boiled eggs, a bright parsley-leaf salad, roasted vegetables, seared scallops or roasted lamb with harissa. Try a drizzle of tangy, syrupy pomegranate molasses or cook down balsamic vinegar on the stovetop in a small saucepan until vinegar is thick. If you don't like the taste of raw garlic, mince it and soak it in the fresh-squeezed lemon juice for a few minutes before blending.
ingredients
1 (29-ounce) can chickpeas (garbanzo beans) (do not drain liquid)
1/3 cup extra-virgin olive oil
Juice of 1 large lemon (about 3 tablespoons)
2 to 3 cloves garlic, smashed and chopped
3/4 teaspoon salt
1/2 teaspoon freshly-ground black pepper (optional)
For Serving: seared scallops; parsley leaf and date salad; flatbread; soft-boiled eggs; raw or roasted vegetables
Garnishes: pomegranate molasses; pomegranate arils; flake salt
directions
Drain chickpeas in a strainer set over a bowl; reserve the liquid (aka aquafaba). Rinse chickpeas. If you're feeling patient and want an even smoother hummus, pinch off the skins and discard. Add chickpeas to bowl of a food processor with the blade attachment and pulse a few times until you get a stiff paste; add olive oil, tahini, lemon juice, garlic, salt, and pepper, if using, and blend to combine, at least 2 minutes, stopping to scrape down the sides of bowl. With processor still running, slowly add 2 to 3 tablespoons of reserved chickpea liquid and 2 to 4 tablespoons ice cold water; pulse and process another 1 to 2 minutes or until very creamy and light. Taste and adjust seasoning, adding more lemon juice, garlic, salt, or olive oil.  If too stiff, continue to blend and slowly add in more of the reserved aquafaba or ice-cold water.
For hummus with dried chickpeas (adapted from Ottolenghi/Tamimi): Place about 3/4 pound dried chickpeas in a large bowl and cover with cold water by at least twice the volume. Let soak overnight. The next day, drain chickpeas. Place a large pot over high heat and add drained chickpeas + 1 teaspoon baking soda and stir constantly for about 2 minutes. Add water to cover (about 7 cups) and bring to a boil. Cook, skimming off any foam and any skins that rise to the surface. Cook 20 to 40 minutes, depending on freshness of peas. Chickpeas should be very soft and tender but not mushy. Drain and proceed with hummus recipe.
For scallops: Heat 2 teaspoons oil in a large skillet until hot but not smoking. Pat scallops thoroughly dry with paper towel and remove as much excess moisture as possible. Score scallops on one side with a sharp knife point. Season with salt and pepper and add scallops, scored-side-down in a single layer (be careful not to overcrowd the pan) and sear, without touching, until golden brown on one side (about 1 ½ to 2 minutes). Turn and let cook 1 minute more or until just opaque in the center.
For date and parsley salad: Stir together 1 large bunch fresh flat-leaf parsley leaves + 2 Medjool dates (pitted and chopped) + chopped green onion + ripe tomato + pinch salt
For soft-boiled eggs: Bring a medium pot of water to boil. Gently lower 3 to 4 eggs into the water. Bring water back to a simmer (small bubbles will appear on the surface) and set timer for 6 minutes (for soft yolks) or up to 8 minutes for harder yolks. Rinse in cool water and peel.
---
---
---
---
---