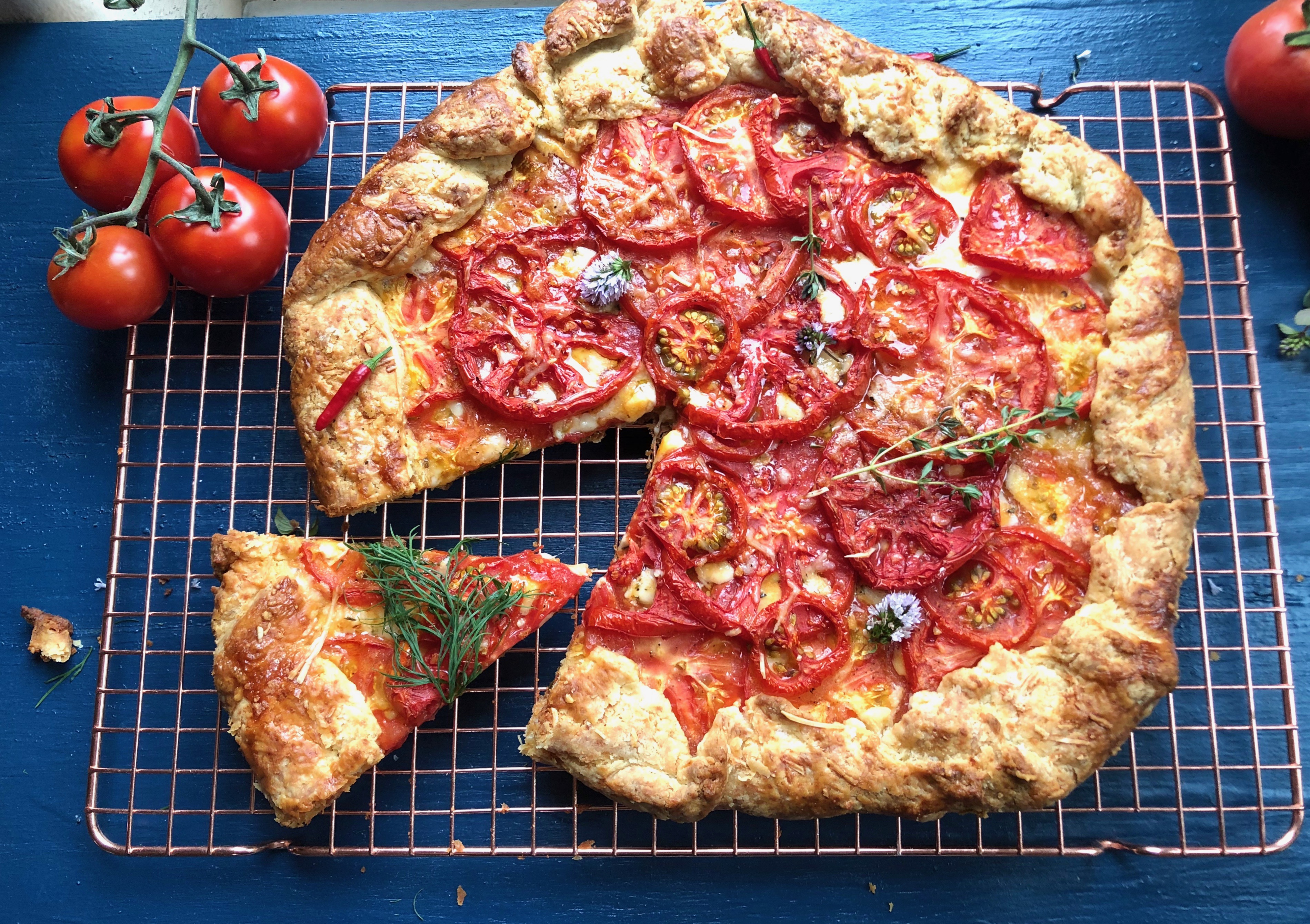 ---
A no-fuss, open-faced tart, the galette is a blank canvas for both sweet and savory cravings. Late-summer tomatoes really shine here with cheese and garlic-laced mayo. Use this as a base recipe and experiment with your favorite vegetables, herbs, and cheeses. I've often switched out the tomatoes for thinly sliced zucchini or caramelized onion or carrots. And instead of garlic-mayo, try whole-grain mustard, a bright pesto, or even a smear of sour cream maybe topped with crisped up lardons. And use your favorite cheese, including mozzarella or fontina; chèvre; feta; or even a vegan, cashew-based "cheese" spread. As for the tomatoes, if available, seek out ripe heirloom varieties and a combination of different sizes and colors. A single layer (as opposed to several stacked layers) helps against a soggy crust, but to be safe, it's best to lightly salt and drain the tomato slices at least 20 minutes ahead of time. You could always opt for a store-bought crust, but if you have time, this galette dough–which comes together quickly either in a food processor or a mixing bowl–is worth the tiny bit of extra effort. The all-butter flaky crust is my go-to for pies and galettes; replace the cheese with granulated sugar for a sweet fruit-forward dessert. You can make one large galette or 8 individual ones.
ingredients:
1 recipe Galette Dough (recipe follows)
1 1/2 to 2 pounds firm, ripe tomatoes, thinly sliced (about 4 to 5 medium)
Salt and pepper, to taste
3 tablespoons garlic mayo, whole-grain mustard, pesto, or sour cream
For the garlic-mayo: 1/4 cup mayonnaise + pinch smoked paprika + 1 minced small clove garlic
1 cup grated Cheddar (or other cheese such as Provolone, mozzarella, Gruyère, or chèvre)
1 teaspoon dried herbes de Provence or Italian seasoning (optional)
1 egg white (use the yolk for the dough)
Olive oil
Flake salt
1 to 2 tablespoons chopped fresh herbs such as dill, thyme, basil
For the Galette Dough: 
2 cups all-purpose flour
1/2 teaspoon salt
3 tablespoons finely grated Parmesan cheese
1 cup cold unsalted butter, cut into pieces (about 16)
1 large egg yolk (save the white for the egg wash)
3 to 4 tablespoons ice cold milk (or water)
directions:
Preheat oven to 400°. Line two baking sheets with parchment paper. Thinly slice tomatoes and place in a single layer over a wire cooling rack or on paper towels and sprinkle lightly with salt and pepper and let tomatoes sit to release excess liquid. If dough is refrigerated, let sit at room temp about 20 minutes. Using a rolling pin, roll out dough on a lightly-floured surface, into a 13-inch circle (don't worry if it's not perfectly round) or, divide dough evenly into 8 pieces and roll out into approximately 6-inch rounds. Spread a layer of garlic-mayo in the center, leaving about 1 1/2 inches around the rim bare, that you'll fold over the filling. Scatter cheese over garlic-mayo. Transfer to baking sheet or sheets if making individual galettes. Arrange tomato slices neatly in a circle over the cheese. Top with dried herbs, if using. Fold about 1 inch of dough over tomato-cheese filling, pleating as you go to seal the edges.


Combine remaining egg white (from making the dough) and 1 teaspoon water and whisk; brush rim of each galette with egg wash. IMPT: Bake at 400° for 10 minutes and reduce temp to 375° and bake another 30 to 35 minutes, rotating baking sheets halfway through to ensure even cooking, and until filling is bubbling and the crust is golden brown. Let cool on pan 5 minutes. Remove to a wire rack to cool at least 10 more minutes before slicing and serving. Drizzle with good olive oil, top with flake salt, and garnish with fresh herbs.
For the Galette Dough:
Combine flour, salt, and Parmesan cheese in the bowl of a food processor (or a large bowl if not using a processor). Add butter and pulse a few times or mix in butter with a pastry blender or two forks until mixture resembles breadcrumbs. Add egg yolk and 3 tablespoons of milk and pour into flour mixture, pulsing or mixing, until dough comes together and starts to form a ball. If dough is still dry, add up to another tablespoon of milk but try not to add too much. Press together with lightly floured hands and form into a flat round; wrap in plastic wrap and chill at least 20 minutes and up to overnight. Note: Dough can be frozen and thawed just before using.
---
---
---
---
---