---
---
by
Kim Sunée
• July 18, 2020
---
Yield:
12 TO 14 PINWHEELS •
Total Time:
TOTAL TIME: 40 MIN
---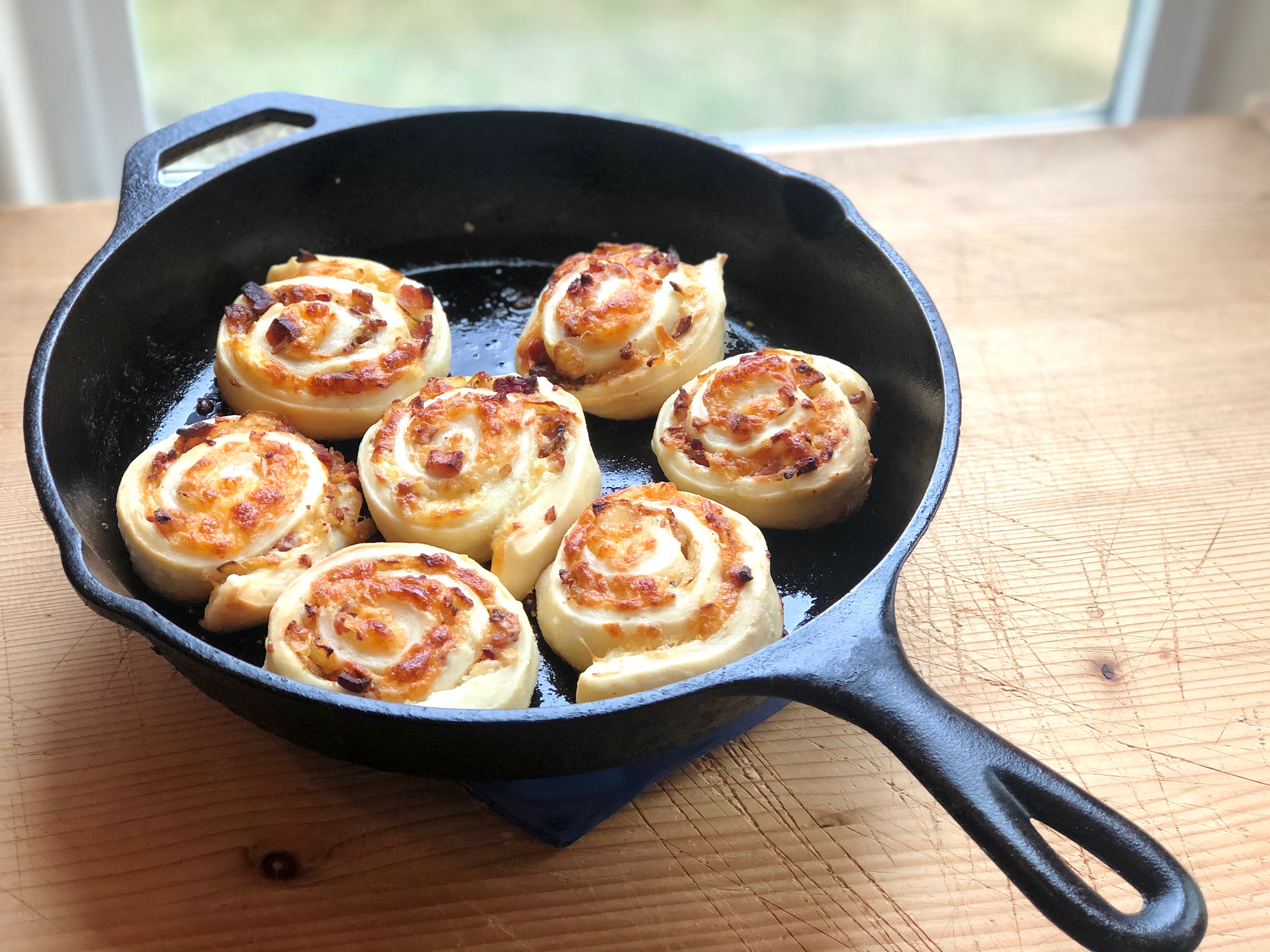 ---
Isn't the best part of eating pizza that first bite that immediately tells your brain more, more, more? The same for these pinwheels, but they're a little deceptive in that they come in a small package and eating just one could be borderline offensive to the maker and an affront to the whole essence of pizzaness. 
If you feel the need to knead some dough, make your own. But if you're mostly inspired by the heart of the matter, then call ahead to your favorite pizzeria or bakery and pick up a few portions of dough—they freeze well, too. For testing purposes, we used a medium-size dough ball from my local pizzeria (which yielded 12 to 14 pinwheels) and made a few versions with whatever I could find in my kitchen. A well-seasoned cast-iron skillet works best, greased and lightly dusted with a sprinkle of cornmeal or semolina for a nice crunchy bottom. (I've also made these in glass and metal pie plates and they work just fine.)
So you might want to pull on some looser pants, buy or make some dough balls and start filling and rolling. While perfect warm out of the oven, they travel well and are equally addictive at room temp or lightly toasted the next day for breakfast.  
Other Suggestions:
-Kimchi sautéed in butter 10 minutes/until caramelized + cheese + black sesame seeds
-Pesto + Provolone
-Cooked bacon/lardons + sour cream + onion + grated nutmeg/fresh thyme
-Mozzarella + fresh basil + garnish with arugula
-Cinnamon + sugar + melted butter + chopped pecans
-Almond paste + maple-cream cheese glaze
ingredients:
14 to 16 ounces pizza dough, homemade or ready-made
1 cup marinara sauce (or other favorite sauce, see suggestions), plus more for serving
1 to 1 1/2 cups/4 to 6 oz. shredded mozzarella (or provolone, fontina, Parmesan)
1 cup optional ingredients: sliced pepperoni; sliced mushrooms; sautéed kimchi, olives, etc.
Marinara sauce, for serving (optional)
directions:
Preheat oven to 375°. Lightly dust a clean work surface with flour. Roll or push/stretch pizza dough into a rectangle about 10-x-14 inches. Gently press fingertips all over to make small dimples; this will help prevent air bubbles. Spread with a layer of sauce, if using, and sprinkle with mozzarella and pepperoni (or other ingredients). Starting from the longest side, roll (as you do with a cinnamon roll or jelly roll) into a log and pinch edges to seal; place on a baking sheet, uncovered, and let chill in refrigerator 15 minutes (this will result in a cleaner slice).


Lightly grease (with butter or cooking spray) two (8-or-9-inch) pie plates or a large heavy cast-iron skillet (or a baking sheet). Dust bottom of skillet/pie plate with cornmeal, if desired. Remove logs from refrigerator and cut, using a serrated knife, into 12 to 14 pieces. Place pinwheels close together, leaving some room for them to expand, in skillet/pie plate. NOTE: consider adding a dusting of more cheese or herbs or pepper before baking. Bake 30 to 35 minutes and until tops are golden brown. Remove from oven and let cool 10 minutes. Serve, if desired, with more marinara sauce.
---
---
---
---
---