---
Summer Squash Confit with Lemon and Garlic
---
by
Kim Sunée
• July 1, 2020
---
Yield:
4 to 6 •
Total Time:
40 min
---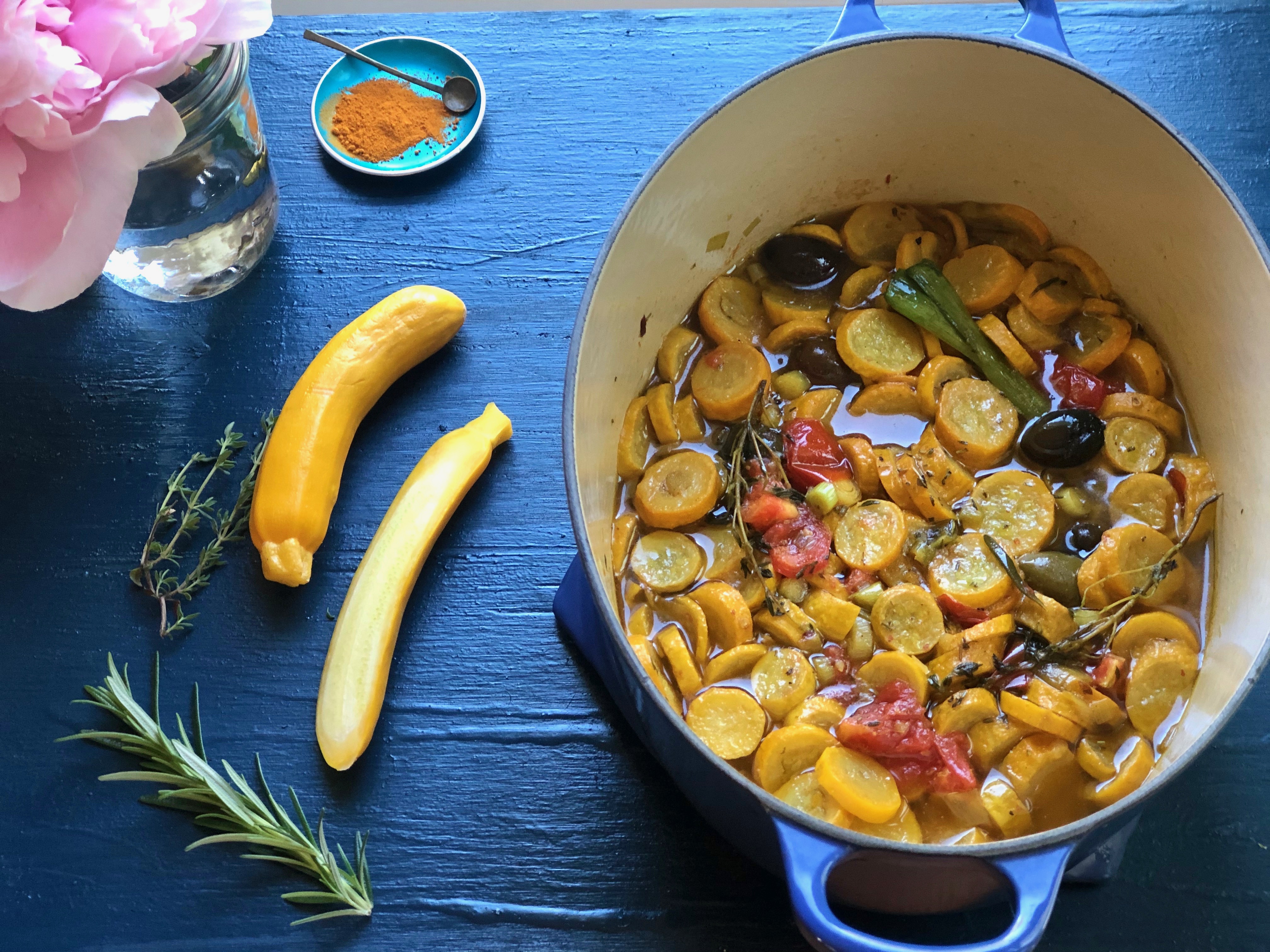 ---
This time of year, I go a little crazy at the farmers' markets and this past week has been no different, including picking up three types of summer squash. Ridged Italian Costata Romanesco, and creamy yellow zucchini, which is very much a heat seeker and should be available through the summer until the first frost. Summer squash is versatile—take a vegetable peeler to make thin long strips for a veg carpaccio topped with good olive oil, lemon, and fresh herbs, and perhaps a few shavings of Parmesan cheese. Grate some zucchini into sweet or savory cakes, or a creamy cornbread. Throw on the grill before tossing with salty creamy feta and pumpkin seeds for a quick side dish.
This treatment, slow-cooked with lemon and olive oil, goes against how I mostly treat peak summer vegetables—either enjoying them raw in salads and dressings or quickly sautéing or grilling them as noted above. But, like with ratatouille, the zucchini cooks down into a confit, a jam-like consistency. You could lean more towards the traditional dish and add onion and eggplant, tomato, etc. but I love the simplicity of focusing on the zucchini in all its glory. Delicious warm or at room temp or even chilled, try it with crusty bread for dipping into the sauce or serve with fresh mozzarella or ricotta; alongside eggs for brunch or with grilled salmon or steak.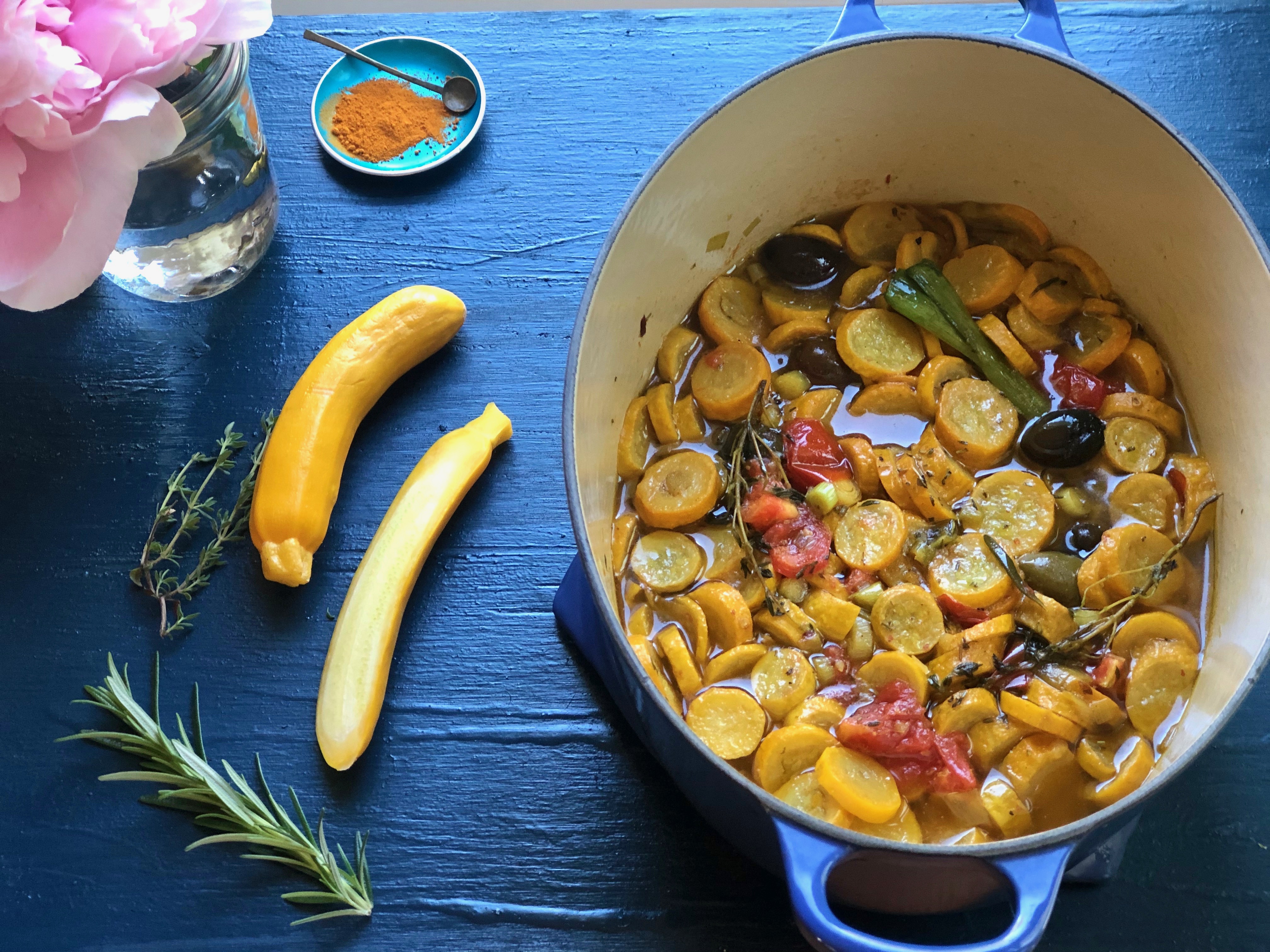 ingredients
1 1/2 pounds zucchini/yellow summer squash
Juice of 2 large lemons (about 1/2 cup)
1/2 cup extra-virgin olive oil
2 to 3 sprigs fresh thyme
2 to 3 sprigs fresh rosemary
1/2 teaspoon dried herbes de Provence (optional)
4 to 6 cloves garlic
Pinch red pepper flakes (optional)
1/4 teaspoon ground turmeric
1 small tomato (4 ounces) optional
Black or green olives (optional)
directions
Cut zucchini into 1/2-inch circles or half-moons. Place lemon juice, olive oil, and 1/2 cup water in a wide preferably shallow pan; add zucchini slices, thyme, rosemary, herbes de Provence, if using, garlic and about 3/4 teaspoon salt and some cracks of fresh black pepper. Bring liquid to a low boil, reduce heat to a low simmer (you'll see tiny bubbles just on the surface); cover with a lid and let cook on low 25 minutes. Uncover and stir. Taste and add more salt or pepper, as needed. Let cook, uncovered, another 25 to 30 minutes, stirring occasionally, until tender and jammy. Serve warm or at room temp. Or place in a clean sterile jar and store in refrigerator up to two weeks.
---
---
---
---
---