---
Raw Asparagus Salad with Lemon Vinaigrette
---
by
Kim Sunée
• April 25, 2013
---
Yield:
2 •
Total Time:
10 min
---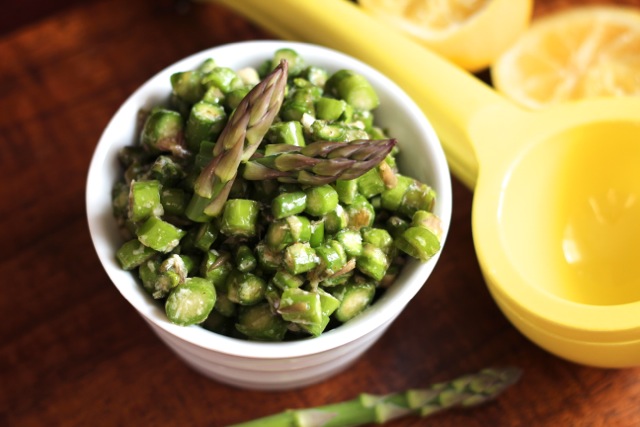 ---
Editor's Note: This is a guest recipe post by prolific food blogger, Maya Evoy, who recently left sunny California with her husband and three children for an adventure on Alaska's gorgeous Kenai Peninsula. "So far," Maya says, "it's been the adventure of a lifetime as we've started our life over from scratch." Read more about Maya and her adventures in Alaska and in the kitchen.
A fresh and delicious easy recipe from Maya Evoy.
"Spring in Alaska is much different than springtime in my home state of California. While trees are blossoming and sun is shining down south, we have a seemingly endless continuation of winter up north. While the snow still falls readily from the sky, I long for all things fresh, crisp, and green. I love to eat asparagus raw and prepare it with a clean, simple lemon vinaigrette while I dream away the cold and long for warmer, greener days. It makes a lovely light, but flavorful side dish."
–Maya Evoy, Alaska from Scratch
ingredients
1 bunch asparagus, stem ends trimmed and finely chopped*
2 tablespoons freshly grated Parmigiano-Reggiano 
For the Vinaigrette:
1/4 cup extra virgin olive oil
Juice of 1 small lemon
1 small garlic clove, minced
Pinch of sugar
1/4 teaspoon sweet paprika
Salt & freshly ground black pepper
*You can also thinly shave the asparagus and Parmigiano-Reggiano
directions:
Add the asparagus to a small serving bowl. In another small bowl, whisk together the olive oil, lemon, garlic, sugar, and paprika. Season with salt and pepper to taste. Drizzle vinaigrette over the asparagus and toss gently to combine. Sprinkle with the grated Parmigiano-Reggiano. This is equally delicious served chilled.
---
---
---
---
---