---
American Kobe Beef Poke Recipe
---
by
Kim Sunée
• February 12, 2013
---
Yield:
4 to 6 •
Total Time:
15 min
---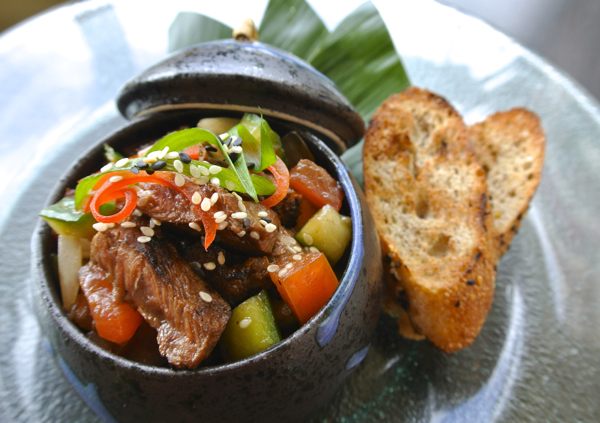 ---
American Kobe Beef Poke at Ko Restaurant, The Fairmont Kea Lani, Maui.
Recipe kindly shared by Chef Tylun Pang, Ko Restaurant. Photo by Kim Sunée for kimsunee.com.
Poke, Hawaiian for "to slice or cut," usually consists of raw fish with soy sauce, chile peppers, seaweed, and sesame; this is Chef Pang's beefy take on the classic dish.
ingredients
4 (4-ounce) Kobe-style beef flat-iron steaks
For the steak rub:
1 teaspoon minced garlic
1 teaspoon chopped fresh parsley
1/2 teaspoon dried chili pepper flakes
2 tablespoons turbinado sugar (Maui raw sugar)
2 tablespoons Hawaiian 'alaea salt
For the relish:
1/4 cup diced Kula onion (1/4-inch dice)
1/4 cup diced sun-dried tomato (1/4-inch dice)
1/4 cup diced Japanese cucumber (1/4-inch dice)
1 1/2 tablespoons sesame oil
1 teaspoon sambal oelek (Indonesian chili paste)
Toasted sesame seeds, for garnish
directions
For the rub: Combine garlic, parsley, chili flakes, salt, and sugar in a small bowl; set aside.
For the Relish: Combine onion, tomato, and cucumber with sesame oil and sambal oelek in a small bowl: set aside.
Massage the rub into both sides of the steaks. Heat grill or grill pan over high heat. Sear steaks about 1 minute each side–they should be rare in center. Let steaks rest 10 minutes.
Cut the seared steaks into 1-inch cubes. Place cubes into a serving bowl, add relish and toss to combine. Serve at once.
---
---
---
---
---