---
Creamy Roasted Eggplant and Onion Dip
---
by
Kim Sunée
• February 1, 2013
---
Yield:
2 to 4 •
Total Time:
45 min
---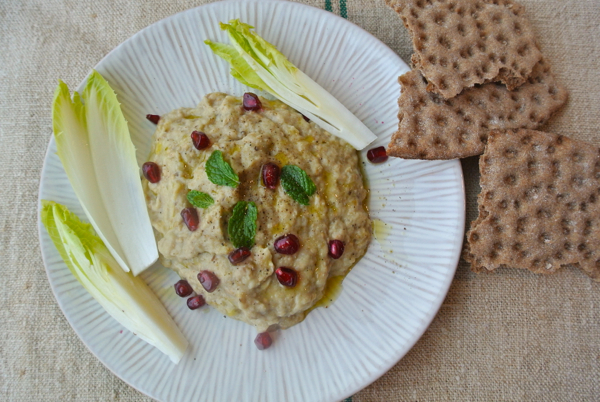 ---
Roasting eggplant and onion together makes for a luscious combination that satisfies as a snack or salad.  For color and a flavorful crunch, top with fresh pomegranate arils.  In summer, add fresh chopped tomato and cucumber.  This is a recipe I originally made for Sukhi's.
ingredients:
1 large eggplant (about 1 1/2 pounds)
1 large onion, quartered
2 cloves garlic
1 1/2 tablespoons tahini paste (sesame paste)
1 teaspoon ground cumin
1 to 2 tablespoons fresh lemon juice
1/2 teaspoon fine sea salt
Drizzle of extra virgin olive oil or walnut oil
Fresh chopped cilantro, parsley, or mint leaves, for garnish
Fresh pomegranate arils, for garnish
directions:
Preheat oven to 425°.  Place whole eggplant and onion quarters on a baking sheet and roast in oven for 45 minutes or until eggplant is tender when pierced with tip of knife.  If onion is starting to brown too much, remove and continue roasting eggplant until tender.  Let eggplant and onion cool.  When eggplant is cool enough to handle, cut in half lengthwise and scoop roasted eggplant out of shell, discarding peel, and place eggplant in bowl of a food processor.


Add roasted onion, garlic, lemon juice, and  ground cumin to eggplant; blend until smooth and well combined.  Taste and add more salt or lemon juice, as needed.  Place in a shallow bowl and garnish with fresh chopped cilantro, parsley, or mint, a drizzle of extra virgin olive or walnut oil, and top with fresh pomegranate arils.  Serve at room temperature with crackers or flatbread.
---
---
---
---
---