---
Peaches Poached in Lillet Blanc
---
by
Kim Sunée
• July 15, 2013
---
Yield:
6 •
Total Time:
45 PLUS CHILLING TIME MIN
---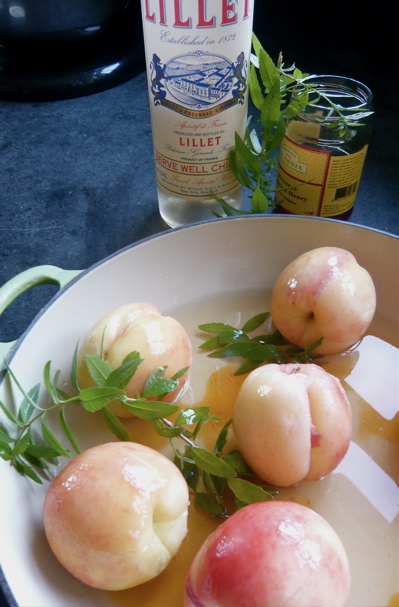 ---
When I lived in Provence, we used to pick pêches de vignes, a rare fuzzy heirloom variety of peach, direct from our trees; they are delicate in flavor with lovely blush colored streaks throughout the flesh.  If you don't have access to wild peaches, use ripe yet slightly firm and blemish-free fragrant white peaches.  Substitute aromatic Pineau des Charentes, Monbazillac, or your favorite white wine for the Lillet Blanc, one of my favorite French apéritif wines.  What's so special about Lillet? This aromatic concoction is a rich blend of Bordeaux wines, macerated (mostly citrus) liqueurs, and a bit of quinine. Lemon verbena is magical with the citrus-laced Lillet, but try fresh basil or tarragon or mint.  I've experimented poaching these in red wine and the peaches, although delicious, are not as pretty.
ingredients:
6 medium-size ripe wild or white peaches
1 (750-ml) bottle Lillet Blanc
1/3 cup sugar
2 to 3 tablespoons honey
1 (3-inch) piece orange rind
A squeeze of fresh orange juice
A handful of fresh lemon verbena leaves, plus more for garnish
directions:
Cut an X in blossom end of each peach.  Plunge peaches in boiling water, about 30 seconds.  Remove and peel peaches. 


Place peeled peaches in a large, wide heavy-bottomed pot.  Pour Lillet Blanc over.  Add sugar, honey, orange rind, and juice.  Gently crush lemon verbena leaves with hands to release fragrance and add to pot.  Bring to a boil, reduce heat to medium and poach, occasionally turning peaches gently for even cooking, 20 to 30 minutes (depending on ripeness) or until peaches are tender (but not mushy) when gently pierced with tip of knife.  Gently remove peaches and place in a large serving bowl. 


Turn heat to high and cook poaching liquid 6 to 8 minutes or until thick and syrupy.  Pour over peaches.  Let cool and then chill in refrigerator at least 4 hours or overnight.  Garnish with more lemon verbena leaves.
This is also delicious with a swirl of crème fraîche or soft vanilla ice cream, and grated Amaretti di Saronno cookies. 
---
---
---
---
---