---
---
by
Kim Sunée
• December 17, 2018
---
Yield:
8 TO 10 •
Total Time:
20 PLUS CHILLING TIME MIN
---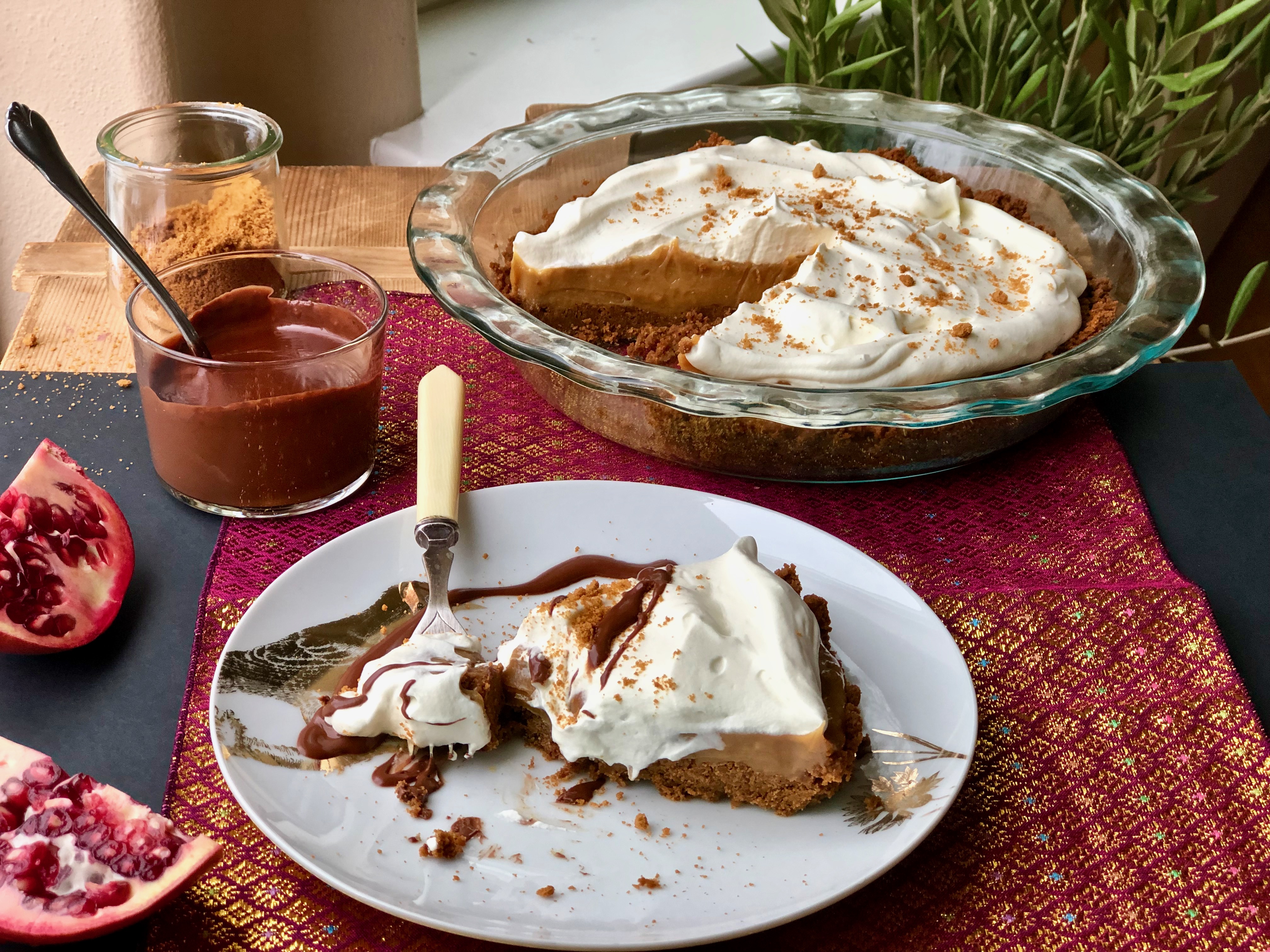 ---
For thoughtful cooks and hosts, it's easy to bite off more than we can chew during the holidays. For weeks ahead of time, I keep a list of guests and menu options, noting allergies and aversions, in order to accommodate everyone's tastes. Even for the most seasoned cooks, though, it's easy to get overwhelmed.
I always like to have one dessert option that's quick and easy to put together, even when it comes to traditional pies for the holidays. And speaking of, I just came back from a trip with  chef and cookbook author, Sara Foster, who recently published a book ("Pie") filled with inspiring recipes, including a simple apple sour cream slab and buttermilk cardamom pie that I might add to the dessert offerings this year.
As for another easy option, I'm going way back to my food editor days and opting for an old-school pantry pie that turns cookie crumbs and shelf-stable condensed milk into something luxurious and show stopping. But keep in mind that this combo is for the relentless sweet tooth, so it might be wise to have some lighter fruit options on hand as well. There are crock-pot and stove-top versions but this one gets a little help from a water bath. Graham crackers make for a classic crust but I've had a bit of an obsession lately with the  cinnamon-flecked Biscoff cookies (thanks Alaska Air) and am happy to report that you can buy whole sleeves of the addictive biscuits in the cookie aisle of many grocery stores. Top pie with fresh whipped cream and some finishing salt or add a drizzle of glossy chocolate ganache and a few crushed cookie crumbs or some bright pomegranate arils or candied cranberries. Make sure to let pie sit out a good thirty minutes before serving.  
ingredients
1 (8.8-ounce) package Biscoff cookies (or graham crackers)
1 tablespoon packed light brown sugar
1/8 teaspoon ground cinnamon
6 tablespoons unsalted butter, melted
2 (14-ounce) cans sweetened condensed milk
1/2 teaspoon Maldon flake salt or Fleur de sel
1 teaspoon vanilla extract
1 1/2 cups heavy whipping cream
1 teaspoon powdered sugar
Garnish: chocolate ganache; cookie crumbs; pomegranate arils
directions
Heat oven to 350°F. In a food processor, combine cookies (leaving 1 to 2 tablespoons for garnish), brown sugar, and cinnamon together and pulse into fine crumbs. Pour in the melted butter and pulse until well blended. Press cookie mixture into bottom and up sides of a 9-inch pie plate. Bake for 12 to 15 minutes until golden brown. Remove and let cool. Increase oven temperature to 400°F.
Pour condensed milk into a 9-x-13-inch ovenproof glass baking dish and sprinkle with salt. Cover dish with foil and place dish in a larger pan, such as a roasting pan. Add enough hot water to the larger pan to reach at least half way up the side of baking dish. Bake, lifting foil to stir 2 to 3 times, until milk is deep golden and thickened, about 2 hours and 15 minutes. NOTE: add more water, as needed, to the larger pan. The consistency of milk should be like a soft deep caramel. If lumpy, don't worry, it will smooth out as it cools.
Remove pan and carefully whisk vanilla extract into the hot caramel. Scrape caramel filling into pie crust and smooth top. Spray a sheet of plastic wrap with cooking oil and place on top of filling. Chill in refrigerator until filling is set, at least 4 hours and up to overnight.
Remove pie from fridge at least 30 minutes before serving. Whip cream and sugar together until medium peaks form. Pile on top of pie and garnish with reserved cookie crumbs; slice and serve, if desired with chocolate ganache or pomegranate arils.
---
---
---
---
---