---
Dark Chocolate Pudding with Sea Salt
---
by
Kim Sunée
• February 14, 2019
---
Yield:
4 to 6 •
Total Time:
10 MIN. + CHILLING TIME MIN
---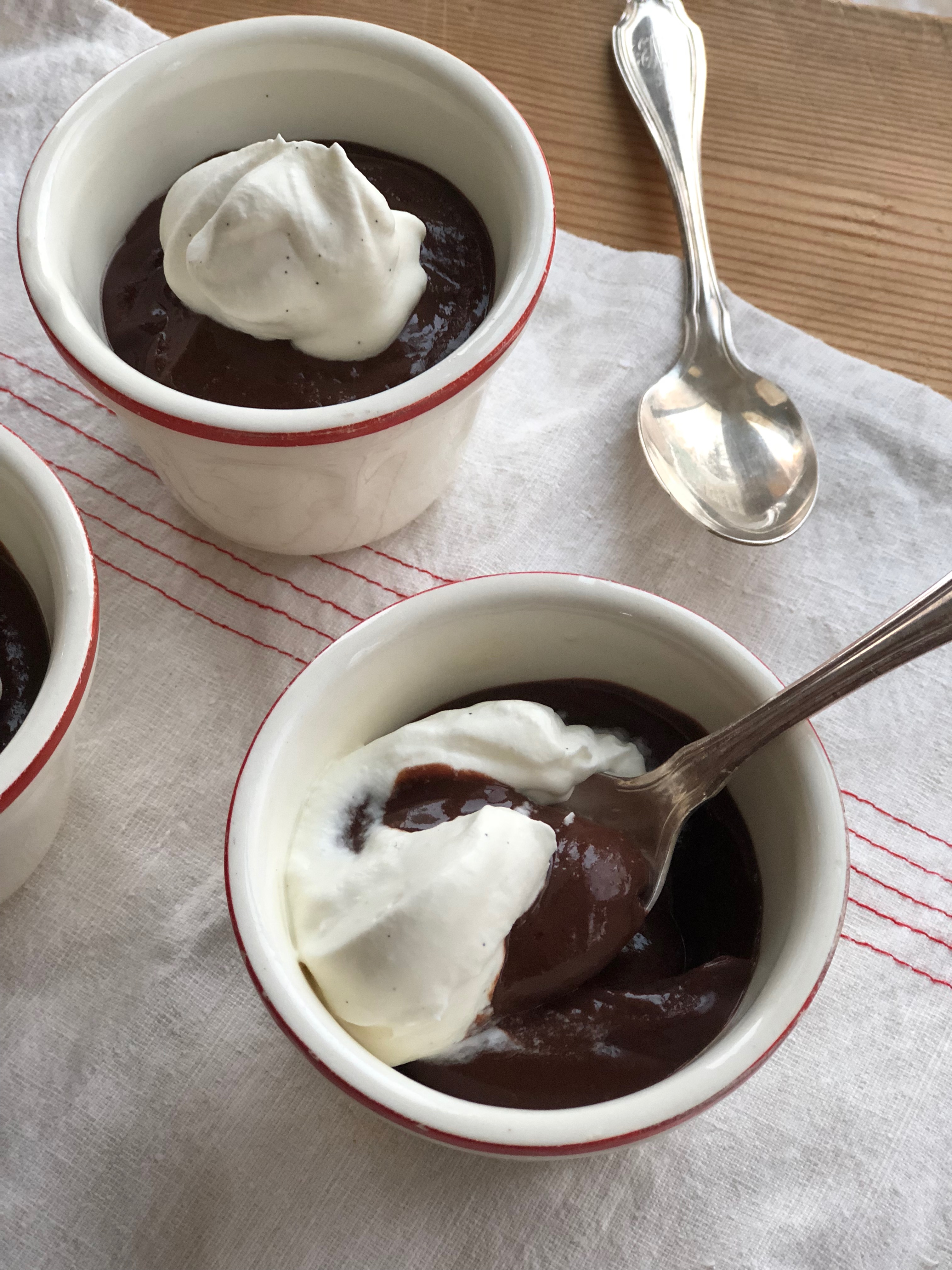 ---
Sometimes only chocolate will do. And when those moments arise, I like to whip up this creamy pudding using bittersweet chocolate; if you prefer yours a bit sweeter and less intense, reduce the amount in half and sub in semisweet or milk chocolate. Try to use the best quality you can find as this will be the star of the show. For testing purposes, I used Scharffenberger bittersweet and semisweet. Top with finishing salt such as Maldon sea salt flakes or fleur de sel and a soft peak of freshly whipped cream. 
ingredients:
4 large egg yolks
1/3 cup sugar
1/8 teaspoon fine salt
1 cup whole or 2 % milk
1 1/2 cups heavy whipping cream, divided
9 ounces (about 2 cups) chopped bittersweet chocolate (not chocolate chips) or combo bittersweet and semisweet
1 teaspoons sugar (optional)
1/4 teaspoon vanilla bean paste or vanilla extract
Garnish: sea salt flakes or fleur de sel
directions:
Whisk together egg yolks, 1/3 cup sugar, and salt together in a medium heatproof bowl.
Combine milk and 1 cup cream (reserve remaining 1/2 cup for topping) in a medium saucepan and place over medium heat until hot (but not boiling). Whisk in 2 to 3 tablespoons of hot milk mixture into egg mixture, whisking constantly; whisk in remaining hot milk mixture until smooth. Return mixture to saucepan, reduce heat to medium-low and, stirring constantly with a heat-proof spatula (or wooden spoon), cook 5 minutes or until mixture thickens slightly and coats spatula.
Remove saucepan from heat. Add chocolate and let stand 5 seconds; whisk until smooth and glossy. Pour chocolate into individual serving bowls or in one large bowl. Place plastic wrap directly on the surface of the pudding and chill to set in refrigerator at least 3 hours. If chilling overnight, remove from refrigerator 1 hour before serving. 
To Serve: whip remaining ½ cup cream, 1 teaspoon sugar, if using, and vanilla bean paste or extract just until soft peaks form. Garnish, if desired, with sea salt flakes and soft whipped cream.
---
---
---
---
---