---
Pan-Seared Salmon with Citrus, Brown Butter Radishes, and Zhoug
---
by
Kim Sunée
• March 8, 2019
---
Yield:
4 •
Total Time:
30 min
---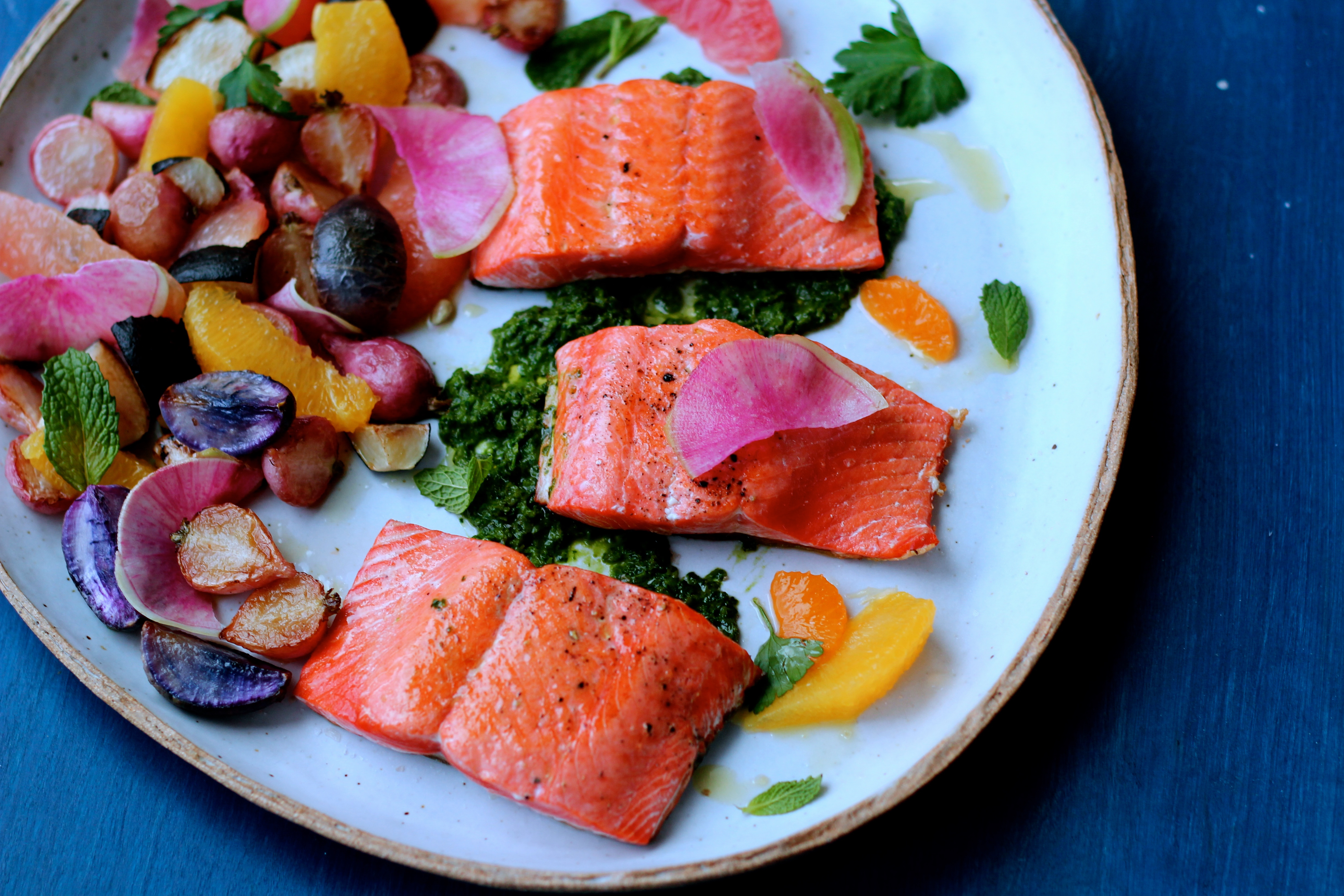 ---
A bowl of winter citrus on the kitchen counter seems to disappear faster than the afternoon light. Small, juicy clementines add heft to lunch bags, lemon curd tops yogurt and flaky biscuits while fresh-squeezed blood orange goes straight into cocktails. The salmon in my freezer also gets new life with a supporting cast of bright citrus and crisp colorful radishes, including watermelon, French breakfast, or Daikon. Sautéeing the radishes in golden brown butter coaxes out some of their natural sweetness and the zhoug, a fresh and spicy Yemeni herb sauce brings it all together. Any extra sauce will easily brighten up everything from sandwiches and grilled meats to roasted or raw vegetables and omelets. And if you have any leftover salmon, toss with the herb sauce and some yogurt for a light and satisfying salmon salad or dip.
ingredients
1 (one-pound) fillet wild Alaska salmon, preferably Sockeye or King, cut into 4 fillets, pin bones removed, skin-on is fine
1 ruby grapefruit; 1 to 2 oranges; 1 Meyer lemon, peel and pith removed; fruit cut into segments
2 tablespoons unsalted butter
1 bunch red or black radishes, trimmed and cut in half
About 1 tablespoon neutral oil, such as grapeseed or avocado (plus olive oil for Zhoug)
For the Zhoug (Herb-Jalapeño Sauce):
3 bunches herbs, combination of fresh parsley, basil, cilantro, and mint
1 to 2 cloves garlic, peeled and smashed
1 to 2 jalapeños or serrano chiles, stems removed, coarsely chopped
1 teaspoon ground cumin
1 teaspoon ground coriander
Salt and freshly ground black or white pepper, to taste
1 to 2 tablespoons fresh lemon juice or white wine or rice vinegar
About 1/3 cup good quality olive oil or grapeseed or avocado oil
directions
Make Zhoug by combining herbs (reserve a few for garnish, if desired), garlic, jalapeño, cumin, coriander, 1/2 teaspoon salt, and lemon juice in the bowl of food processor; blend to combine (or crush with a mortar and pestle). Drizzle in oil until the sauce comes together and is well blended but not too smooth. Taste and add more salt, garlic, chile, or lemon juice, as needed. Sauce can be stored, in an airtight container, in refrigerator up to 5 days.
Peel citrus and cut into segments, reserving juice with the segments in a bowl; set aside.
Make Radishes and Salmon: Place a large skillet over medium-high heat; add 2 tablespoons unsalted butter; let sizzle and foam, swirling pan, about 1 minute, being careful not to let it burn. Add radishes and season lightly with salt. Cook, stirring occasionally, about 7 minutes until radishes are just tender and browned and butter smells nutty. Reduce heat if butter begins to burn. Remove radishes from pan to serving platter or bowl.
Remove any radish bits from skillet but do not wipe out butter; set pan back over medium-high heat. Pat salmon fillets dry and season both sides lightly with salt and pepper. Add 1 to 1 1/2 tablespoons oil to pan and when oil is hot place salmon fillets, skin-side down and cook, undisturbed, 3 minutes. Reduce heat slightly if oil is smoking. NOTE: You can keep cooking salmon, skin side down, or gently turn fillets over; scatter cooked radishes around the fillets in the pan and let cook, another 2 to 3 minutes, or until fish is cooked to preferred degree of doneness. Toss radishes and citrus segments together; serve with salmon and zhoug. Garnish, if desired, with fresh herbs.
---
---
---
---
---