---
Slow-Roasted Spicy Salmon with Garlic
---
by
Kim Sunée
• November 7, 2018
---
Yield:
4 PEOPLE •
Total Time:
20 min
---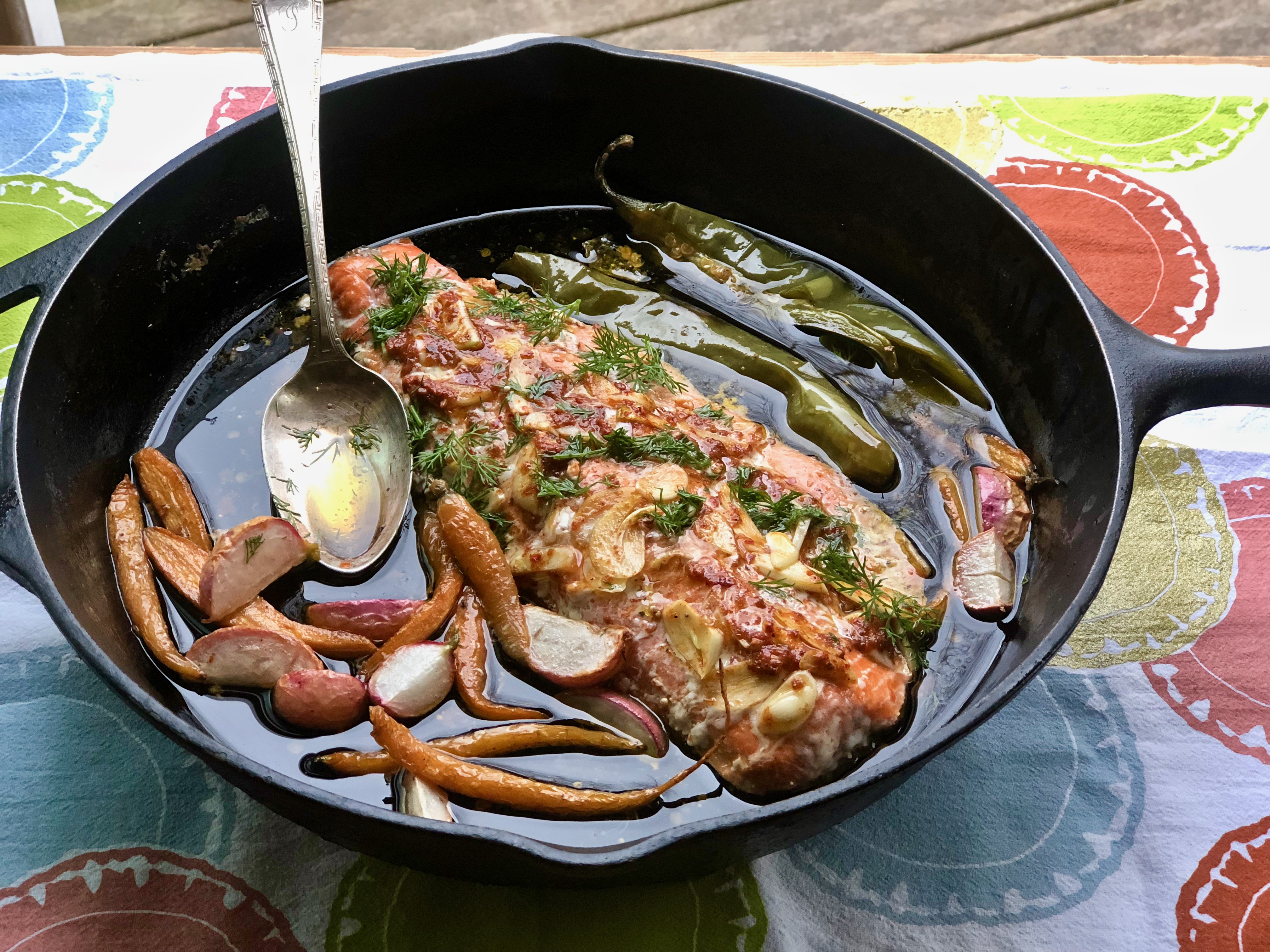 ---
For me, pre-holiday season is a time to slow down and enjoy being in the kitchen. Last week, I pulled out some frozen Copper River salmon and gave it the low-and-slow treatment in good olive oil, tossed in some root veg, and added lots of thinly sliced garlic and a bit of heat. I often reach for Sriracha and Korean gochujang but wanted to use up a bit of leftover harissa, a North African paste that offers slow heat from chiles and garlic. 
The result: An unfussy dish, but sizzling in a cast-iron skillet and bright with some vinegar and a last-minute sprinkling of fresh herbs, this makes for an elegant easy mid-week meal that comforts and nourishes. Serve with a green salad and buttered couscous or mashed potatoes. Leftovers go well in a chowder or mixed into a dip or stirred into scrambled eggs.
ingredients
1 small carrot or parsnip, thinly sliced
1 Anaheim or poblano pepper, halved
4 to 5 radishes, halved
Fine salt and freshly ground black pepper
1/3 cup good quality extra virgin olive oil
2 to 3 teaspoons hot sauce/paste, such as harissa or gochujang
1 to 2 large cloves garlic, very thinly sliced
1 (1-to-1.5-pound) fillet wild salmon, and preferably center-cut for even thickness, pinbones removed, if desired
1 tablespoon white wine or red wine vinegar
2 to 3 tablespoons fresh chopped dill (or parsley or cilantro)
Optional: Lemon wedges, for serving
directions
Heat oven to 375°. Add vegetables to a 12-inch oven proof skillet, preferably cast iron. Season vegetables lightly with salt and pepper and pour olive oil over. Roast vegetables 12 minutes or until mostly tender. Remove pan from oven. NOTE: Reduce temperature to 275°F. Add 2 teaspoons hot sauce/paste to a small bowl. Remove about 1 tablespoon oil from pan and mix with the hot sauce until combined; add garlic slices. 
Add salmon to pan and season very lightly with salt (note that some chili pastes can be salty). Spoon hot sauce-garlic oil over salmon. Place pan back in oven and roast 15 minutes at 275°F.  Baste salmon again with oil from pan and cook another 5 minutes or until cooked to desired degree of doneness. Stir vinegar into oil. Top salmon with fresh dill and serve with vegetables and a few teaspoons of the seasoned vinegar-olive oil and lemon wedges, if desired.
---
---
---
---
---