---
Winter Citrus Couscous Salad
---
by
Kim Sunée
• January 23, 2020
---
Yield:
6 to 8 •
Total Time:
20 MIN
---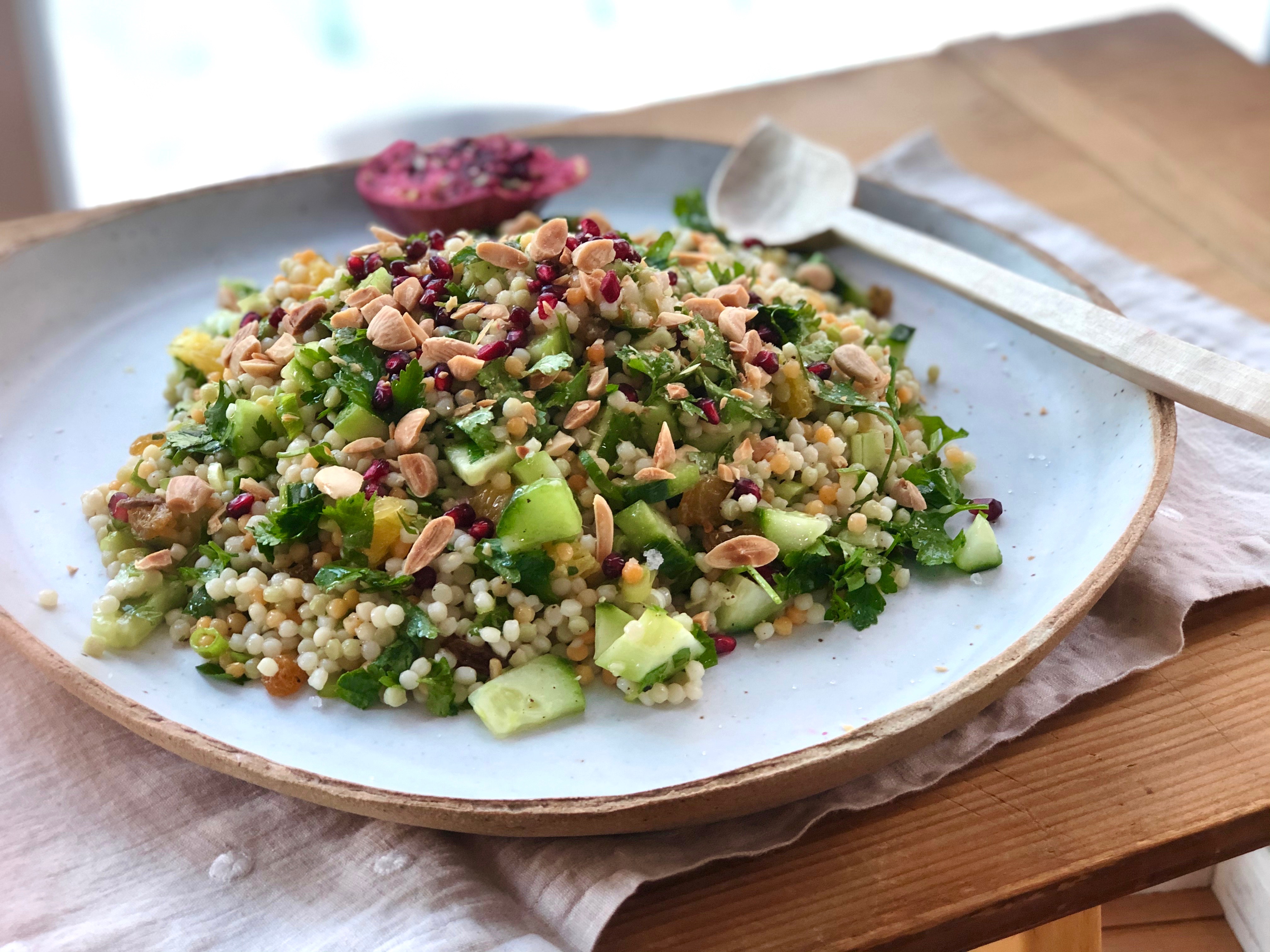 ---
This make-ahead salad is easy to transport—think desk lunch or post-workout snack. Feel free to add your favorite vegetables, fruit, and nuts. In season, make the most of citrus, pomegranate, and dried fruits, maybe even some roasted squash or pumpkin. A generous amount of fresh herbs brightens up the whole salad and a high-quality olive oil is a must. I've been loving this Blood Orange Olive oil by Global Gardens to add more citrus flavor. Enjoy as a main course or as a side with grilled fish or meat or vegetables.
ingredients:
14-to-16 ounces pearl (Israeli) couscous or plain non-pearl couscous
1/3 cup extra virgin olive oil
2 plump, juicy oranges; 1 peeled and cut into segments; the other juiced
3/4 teaspoon salt
1/2 teaspoon freshly-ground black pepper
1/2 small red onion or 4 green onions, chopped
1 to 2 cups packed chopped or torn fresh herbs such as flat-leaf parsley, cilantro, mint
1 cucumber, seeded as needed, and chopped
2/3 cup golden raisins or currants or chopped and pitted dates
Optional: fresh lemon juice; chopped Marcona almonds, pecans, or walnuts; pomegranate arils
directions:
Prepare pearl couscous according to package directions, being careful not to overcook. If using quick-cooking plain (non-pearl), pour couscous into a large bowl and add boiling water to cover couscous by about one inch; cover tightly with plastic wrap or a lid and let steam 10 minutes. The water should absorb into the couscous. If it seems dry, add a bit more boiling water and let steam another 5 minutes. The couscous should be tender and light and not soggy or dry. Fluff with a fork and proceed with recipe. 
If using pearl couscous, drain any excess liquid from the cooked pearl couscous and pat dry with paper or kitchen towels to remove any excess water. Add olive oil, orange segments and juice, salt and pepper, onion, herbs, cucumber, dried fruit and toss gently to combine. Top, if desired, with nuts and pomegranate. Taste and add more salt, olive oil, or lemon or orange juice. Serve chilled or at room temp. If making one day ahead, add nuts and pomegranate just before serving. 
---
---
---
---
---