---
Hasselback Beets with Savory Granola and Orange Horseradish Cream
---
by
Kim Sunée
• December 17, 2019
---
Yield:
6 to 8 •
Total Time:
1 hour
---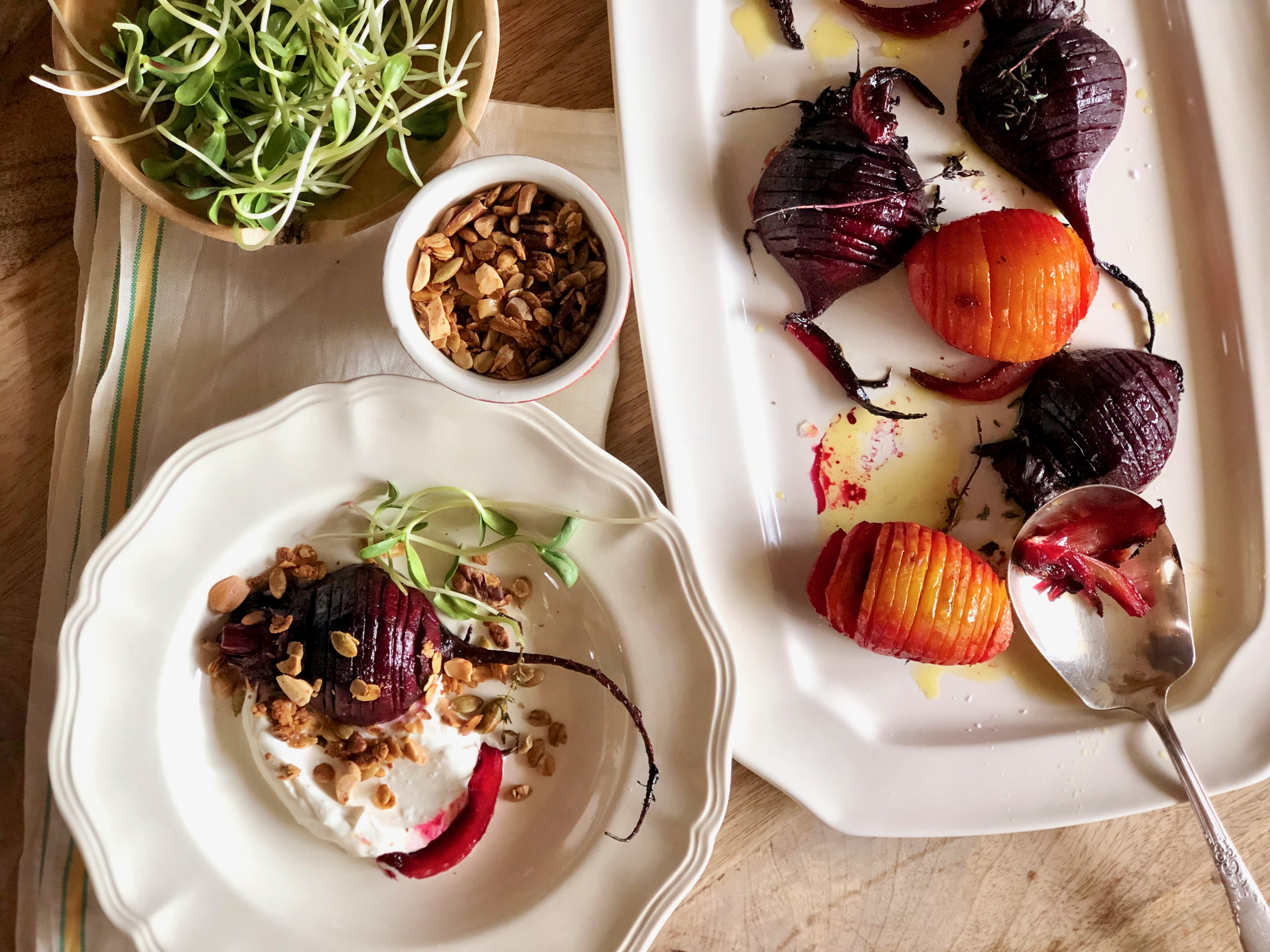 ---
How to honor winter beets this time of year? Like the famous Swedish hasselback potato dish in which the edible tuber is thinly sliced, but not all the way through, and then fanned out for a pretty presentation, why not give the humble beet the same star treatment? If you have a bunch with leaves intact that are still fresh and bright, chop them up and add during the last 15 minutes of roasting time or sauté, dress with raspberry vinegar and good olive oil, and maybe a pinch of chile flakes and serve as a side or small banchan.
For this particular dish, I like to make a batch of savory granola to add some texture and crunch to the soft roasted beets. The granola also perks up salad, yogurt, pancakes, etc., and you can switch out the nuts depending on personal taste. The sweet earthiness of beets love some tang and creaminess, such as a spoon of fresh ricotta, burrata cheese or, my new favorite, this orange-scented horseradish sour cream. Garnish with sunflower sprouts or other microgreens.
ingredients
For the Beets
4 to 6 medium red or golden beets or combination of both (1 1/2 to 2 pounds)
Salt and freshly-ground black pepper
2 to 3 fresh thyme sprigs
1/2 cup extra-virgin olive oil
Juice and zest of 1 orange
2/3 cup sour cream or crème fraîche
1 tablespoon prepared horseradish
Savory Pumpkin Seed Granola (recipe follows)
1 cup sunflower sprouts, pea shoots or sautéed beet greens, for serving
For the savory Pumpkin Seed Granola
1 cup old-fashioned rolled oats
1/2 cup shelled unsalted pistachios, coarsely chopped
1/2 cup Marcona almonds (or walnuts), coarsely chopped
1/2 cup raw pumpkin seeds
1/2 teaspoon fine salt
1/2 teaspoon ground Cayenne pepper
1 large egg white, lightly beaten
2 tablespoons olive oil
1 to 2 teaspoons Maple syrup, or liquid honey
directions
For the Beets
Heat oven to 425° F. Scrub, trim, and peel beets. If beets are large, cut in half lengthwise.  Otherwise, cut a thin slice from one end of each beet; place beet snugly, cut-side down, between the handles of two wooden spoons. Using a sharp knife, cut beets crosswise (1/8-to-1/4-inch slices) just until knife hits the wooden handles; be careful not to cut all the way through.


Drizzle a little olive oil on the bottom of an 8-x-8-inch or 9-x-13-inch baking dish. Separate golden and red beets, if using and spread across bottom of dish. Nestle some thyme sprigs in between a few of the slices. Season lightly with salt and pepper. Pour 1/2 cup olive oil in a glass measuring cup. Remove zest from orange and mix with horseradish and sour cream in a small bowl; reserve. Add fresh-squeezed juice to make up 2/3 cup liquid (add a little more juice or water, as needed) and pour into the bottom of baking dish. Cover dish with foil and bake 40 minutes or until beets are just starting to get tender when pierced with a knife. Remove foil, carefully fan out slices and baste with cooking juices. Bake another 15 minutes or until beets are cooked all the way through. Spoon some of the roasting juices over the beets and serve with horseradish sour cream, the savory granola and, if desired, sunflower sprouts and some finishing salt flakes.
For the Granola
Heat oven to 350° F. Line a large rimmed baking sheet with parchment paper. In a large bowl, toss together oats, pistachios, Marcona almonds, pumpkin seeds, salt, Cayenne, egg white, olive oil, and maple syrup, if using; stir until mixture is well-coated. Spread out in a single layer on baking sheet.


Bake 25 minutes, stirring once or twice during the cooking process, so that granola bakes evenly. Stir and bake another 5 minutes or until granola is golden and dry; be careful not to overcook granola or it might become bitter. Remove pan from oven and let granola cool in pan.  Make up to 3 days in advance; let cool completely in pan before storing in an airtight container on kitchen counter, or freeze for up to 6 months.
---
---
---
---
---