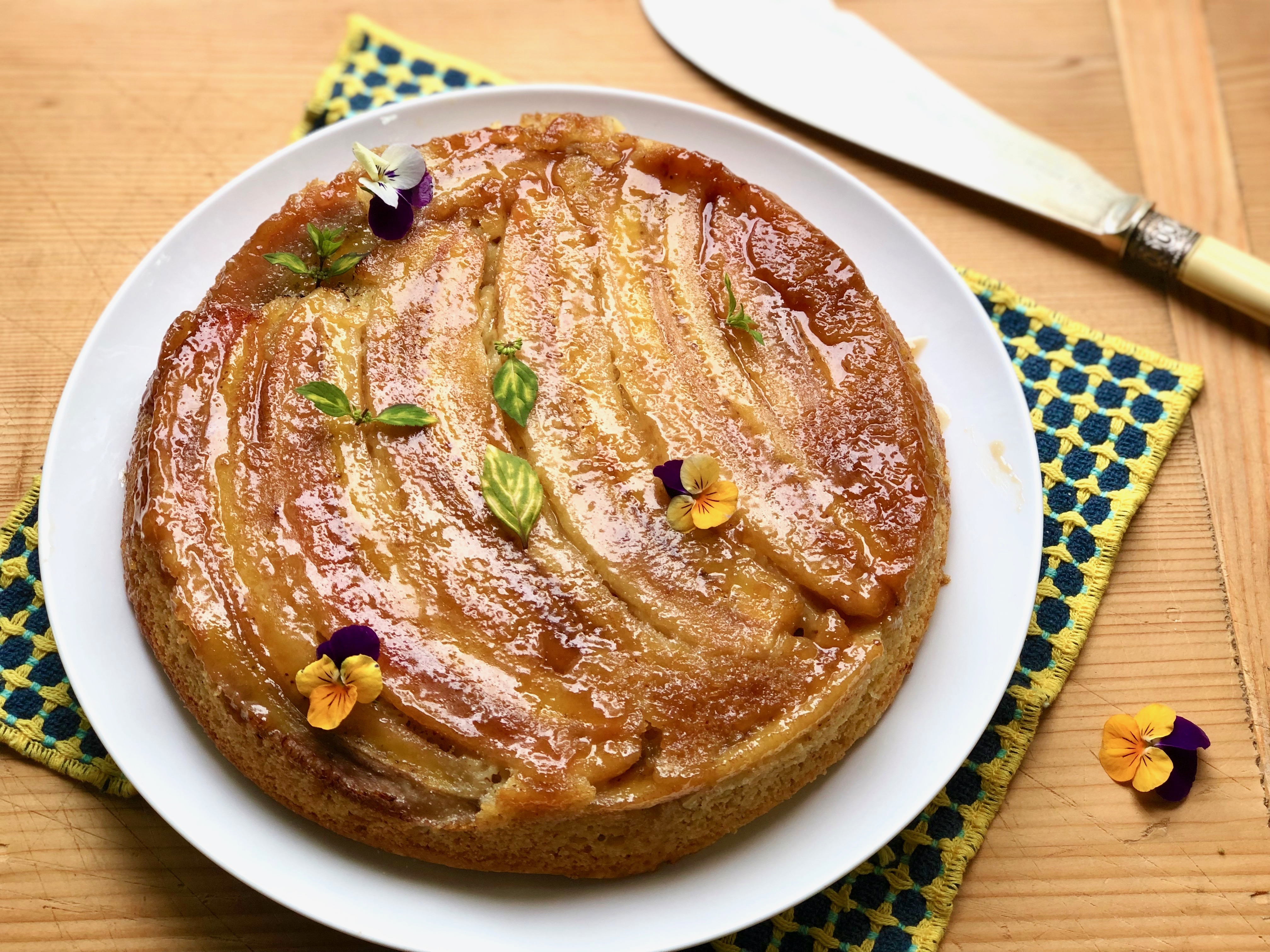 ---
In my continued quest to honor neglected bananas, here's another quick and (mostly) easy recipe that looks more impressive than it is difficult. Mostly made of ingredients you might already have on hand; if you lack buttermilk, combine one tablespoon lemon juice or white vinegar mixed with scant one cup of milk, or substitute with one cup plain or vanilla yogurt. As for the fruit, I love making this with pineapple or bananas. However, you might want to consider peaches and cherries in summer or fall apples and pears. Spice up the batter with some cinnamon or nutmeg or a pinch of ground cardamom. A well-seasoned cast-iron skillet makes for a great bake, but I've included directions if you prefer to use a lighter 9-inch, deep cake pan. And, if you want to make it a lot easier but less showy, bake the cake and serve the brown sugar bananas, cut into round slices over the cake.  Serve as is or garnish with some chopped nuts or a drizzle of chocolate sauce.
ingredients
5 tablespoons unsalted butter
1/3 cup brown sugar
1/2 teaspoon fine salt
Pinch ground cinnamon or cardamom
4 medium ripe bananas (not overripe)
1 1/2 cups all-purpose flour (or 1 1/4 cups a-p, plus 2 tablespoons almond flour/meal)
1 1/2 teaspoons baking powder
1/2 teaspoon fine salt
1/2 cup good-quality oil such as grapeseed, sunflower-coconut, almond, avocado
3/4 cup sugar
1 large egg
1 large egg yolk
1 cup buttermilk* (see note above if you don't have buttermilk)
2 teaspoons vanilla extract
directions
Heat oven to 350° F and place rack in center of oven. Melt butter in a 10-inch cast-iron skillet over medium heat. Add brown sugar and cinnamon; stir, occasionally, until well combined.  NOTE: If you prefer to use a cake pan for baking, melt butter and sugar in skillet; lightly butter a 9-inch round, deep cake pan and pour melted butter and sugar combo in pan. Slice bananas lengthwise and arrange bananas, cut side-down, in a nice pattern.


Whisk together in a medium bowl, the flour, sugar, baking powder, and salt. In another bowl, whisk together oil and sugar, then stir in egg, egg yolk, buttermilk, and vanilla. Pour wet ingredients into dry ingredients, and whisk or stir just to combine, being careful not to overmix. Pour batter over bananas and set pan or skillet on a rimmed baking sheet (to catch any overflow). Bake, rotating pan once or twice for even baking, 33 to 36 minutes, or until tester inserted in center comes out with a few moist crumbs but mostly clean. 


Let cake cool in pan/skillet on counter 5 minutes. Find a plate or cutting board/serving dish that's a bit larger than the cake pan/skillet. Place it over the cake and carefully but swiftly turn cake over onto plate and gently remove pan, tapping on it as needed. You should hear the cake "land" on the plate. Remove pan/skillet. If any bananas stick to the pan, just carefully arrange them back on top of the cake. Serve as is or with whipped cream or ice cream.
---
---
---
---
---